Why Everyone Needs to Calm Down About Rebel Wilson's Age Controversy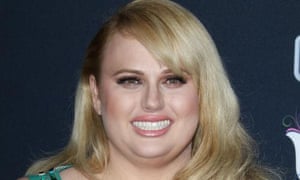 Facts vs. Fibs: Rebel Wilson's Real Age Is 35, Records Confirm.
The Pitch Perfect 2 actress became the center of a media firestorm earlier this week after an Australian tabloid published a report that Wilson had taken liberties with her age – and more, including her name and where she grew up. Business records filed with the Australian Securities and Investment Commission show that Wilson, who has previously said she was 29, was in fact born on March 2, 1980, making her 35 years old, according to the Sydney Morning Herald. This revelation has dominated headlines across the world for the past 48 hours, with agencies as diverse as Australia's Mamamia, Britain's Daily Mirror and E!

The Australian Electoral Roll lists her real name as Melanie Elizabeth Bownds, though she later changed her last name to Wilson, as has been previously reported. Former workmates – though not particularly close ones – have spilled to the papers, high school yearbooks have been dredged from dusty bookshelves and even an Asic business registry has been consulted to expose Wilson's real age. She has said that her parents gave all their children eccentric names; and indeed, records show that her brother is named Ryot, while her sisters are named Liberty (a.k.a. This, too, has been confirmed: Wilson's mother, Sue Bownds, is a fourth-generation breeder who has been judging dog shows for more than 30 years and has bred and exhibited many Best in Show winners. As an entertainer in an industry built on delightful illusion, the persona delivered to the public here is deliberately not a private person: it's a manufactured brand.
As a product marketed as youthful, challenging and unique, Rebel the 29-year-old is a part more appropriate for the provision of Fat Amy and Bogan Pride than the 35-year-old graduate of Tara Anglican Girl's School, who runs her own companies and once went by the name of "Melanie". The famous spider dancer of the Australian goldfields, Lola Montes, perhaps would have not enjoyed such exotic renown had she appeared as Irish immigrant, Elizabeth Gilbert. For equal and opposite reasons, Natalia Zacharenko's appeal as the quintessential 1950s all-American girl may have been compromised had she not renamed herself Natalie Wood. Archibald Leach was no Cary Grant, until he became him via deed poll, and in the outrage around Wilson's claims about her age, please consider that Grant's co-star in 1933's She Done Him Wrong was Mae West.
Historical examples of politicised, institutionalised rebranding deserve criticism, certainly: obscuring the nature of her migrant heritage informed the rebranding of dancer Margarita Cansino into actor Rita Hayworth – it also demanded a recolouring of her tresses. Merle Oberon's Indian background was suppressed in order to prevent her onscreen romantic partnerships falling foul of social antagonism to mixed race relationships.
Dirk Bogarde and Rock Hudson were but two of countless performers whose particular brands as male romantic leads demanded their intimate relationships with other men to be hidden from public view. In the wake of the exposure of frauds like Belle Gibson, who faked having cancer to sell wellness products, suspicion of public personalities is deserved. She's a performer performing – and if Wilson can convince casting directors and the public that she's 29, not 35, then she's clearly very good at the performing she does. To demand otherwise is to strip the wig from the drag queen, the punchline from the joke, the decorations from the party – and, not to mention, the experience that civic life does not otherwise allow us: to revel in a falsity that means us no harm.
Share this article: