Why David Lynch's return to 'Twin Peaks' isn't surprising
David Lynch Heeds the Pleading Masses, Will Return to Direct.
Surrealist filmmaker David Lynch announced that he will direct the sequel of the cult classic 'Twin Peaks' television series, a month after saying a pay dispute had scuttled his return. 'Dear Twitter Friends, the rumors are not what they seem.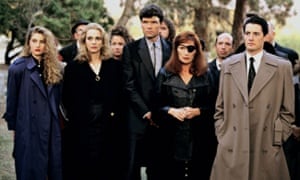 "You know, this is, excuse me, a damn fine cup of coffee," Special Agent Dale Cooper famously says to a waitress in cult TV series Twin Peaks. "I've had I can't tell you how many cups of coffee in my life and this, this is one of the best." It's a line that has been entrenched into every hardcore Twin Peaks fan's memory. The project has hit several snags since its announcement in October, including an impasse due to contract difficulties, a series of tweets from Lynch about how he was leaving the production entirely, and a fan- and cast-led campaign to bring the director back into the fold. Fast forward 25 years, and it's once again making the rounds, after it was confirmed that the Golden Globe-winning show about a murder in the titular small town is set to return for a new series. The US television network Showtime announced in the fall that the series, based on a small-town murder in quirky Twin Peaks, would return as a limited series in 2016, 25 years after the show's last airing. When the show reboot was announced, Lynch was onboard, but in April, after budget negotiations with Showtime stalled, Lynch said there was not enough money for him to take part.

Writing on Twitter at the time, he said he had not been given enough money "to do the script in the way I felt it needed to be done." Much to the horror of fans and cast alike, Lynch seemingly walked away from the project. Happening again. #TwinPeaks returns on @SHO-Network." Not only is the stalemate over, but Showtime has now committed to producing more than the nine episodes originally ordered. Pre-production starts now." Showtime announced it would revive Twin Peaks in October and scheduled to air the programme in 2016, with Lynch and Frost sharing the roles of writer and director. Preproduction starts now!!" The news is a huge relief to fans of the surreal murder mystery who couldn't imagine anyone but the Blue Velvet and Mulholland Drive director at the helm of the show. Jane Tranter, the head of BBC Worldwide Productions based in Los Angeles, previously told the Guardian: "I suspect there are very few people of a certain age working in TV today who weren't enormously influenced by Twin Peaks.

Share this article: