What if Amy Winehouse had been left alone?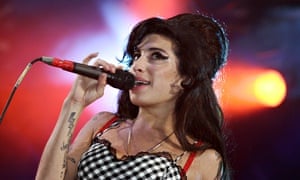 Acclaimed Amy Winehouse doc looks beyond the addict.
Every now and then in Camden in the early 2000s you'd see a mob of photographers moving like a single ball of flashing fire, and you'd know Amy Winehouse was in there somewhere. Amy – a powerful film by the British director Asif Kapadia about the late singer who died aged 27 in July 2011 of accidental alcohol poisoning – has been given five-star reviews.

CANNES, France – The director of an acclaimed new documentary about Amy Winehouse, premiering in Cannes on Saturday, said he hoped the film would shatter the image of a hopeless junkie that has dogged the singer since her death. "That's exactly why I needed to make the film, because — what a horrible thing to say about a kid.Vocal powerhouse Amy Winehouse dominated the 2008 Grammys with her album "Back to Black." Three years later she was dead from alcohol poisoning compounded by drug addiction. At the time she appeared to have been roughly drawn in hair and Rimmel, but strong in the way a cartoon is strong, like anvils could fall on her and she'd be fine, once the birds had stopped circling.

In a review in The Guardian, critic Peter Bradshaw said it was "stunningly moving and powerful: intimate, passionate, often shocking, and almost mesmerically absorbing." According to Lawless this is particularly poignant when a teenage Winehouse says at one point: "I don't think I'm going to be at all famousI don't think I could handle it." Kapadia, who made acclaimed documentary Senna about Formula 1 driver Ayrton Senna — another star who died young — interviewed 80 of Winehouse's friends, family and collaborators for the film, layering their words over footage of the musician from childhood onwards. That term only tells half the story, however, in Asif Kapadia's factually exhaustive, emotionally exhausting documentary "Amy," which calmly identifies multiple collaborators — some with intentions better than others — in Winehouse's demise. There's a bit towards the beginning of the new Amy Winehouse documentary (it premiered yesterday in Cannes) when her father, Mitch, remembers the time her friends were urging him to send her to rehab. Amy's father, Mitch Winehouse, has spoken on British television about his unhappiness with the documentary, which he claims is unbalanced and misrepresents his own role in his daughter's life.

Hardly innovative in form, but boasting the same depth of feeling and breadth of archival material that made Kapadia's "Senna" so rewarding, this lengthy but immersive portrait will hit hard with viewers who regard Winehouse among the great lost voices not just of a generation, but of an entire musical genre. It relies on audio interviews with Winehouse's closest friends and family — including her mother, her father, her managers and her bodyguard — juxtaposed with personal never-before-seen videos of Winehouse. They recently criticised the film, calling it "unbalanced" and saying it suggests family members did too little to help the singer overcome her addictions.

Associated Press journalists are on the ground, too, and here's a look at what they're reporting: She wore an elegant dress from Dior Couture's spring-summer 2015 collection with an A-line skirt in black-patterned pale blue silk and a black strapless bodice. Kapadia also deploys a wealth (if that's the word) of ostensibly private cellphone video footage, home movie stuff, shot in cars, backstage, at her home in Camden when she was deep into crack cocaine. "Amy" in its totality is a film about a woman who rarely enjoyed an un-filmed moment in her 27 years. One of the great strengths of Amy, though, is that it doesn't indulge in simple-minded accusations about who may or may not have been responsible for Winehouse's untimely death. Enduring local fascination ensures soaring returns when "Amy" arrives in Blighty this summer; across the pond, A24 should find success in a lower key.

Kapadia said everything in the film had been triple-checked and that it was an honest interpretation from around 100 interviews with family and friends. Without a heavy hand, Kapadia's "Amy" depicts a musical phenomenon afflicted with a father who saw nothing wrong with dragging a reality-TV crew with him to visit his daughter in recovery. The positioning of "Amy" in the Midnight Screenings strand at Cannes is arguably misleading, implying a lurid, cult-seeking streak to Kapadia's film that isn't there — even if its methodical charting of its subject's personal decline is akin to a horror narrative without any possible escape route. There were many contributory factors: her parents' separation; her lifestyle when she moved to Camden; the wayward influence of her ex-husband Blake Fielder-Civil; the pressure of the enormous fame that came with her second album Back to Black; her often appalling treatment at the hands of the media and her own self-destructiveness.

Absent are any sensational gimmicks or theories here: Instead, with its absence of guiding perspective and strictly linear rise-and-fall structure, the pic could be likened to an extended, abnormally intelligent episode of "Behind the Music." What elevates it from such territory is the access Kapadia has gained to private materials, including voicemails and disarming homevideo, astutely selected and seamlessly integrated by editor Chris King. Even at her most disarranged, Winehouse presented a highly mannered image to the public; in deepening and humanizing that indelible pop-culture brand, the intimacy of Kapadia's approach places the film alongside Brett Morgen's recent anatomy of an icon, "Kurt Cobain: Montage of Heck." Like Cobain, of course, Winehouse is a member of the so-called "27 Club," the group of prodigious popular musicians who died at the same tender age. The film argues that Winehouse's adolescence was influenced by her parents' divorce: her father, Mitchell, left her mom, Janis, after carrying out a long affair.

This is not an easy train wreck to watch, but it actually says something about how we package, revere, undermine and chew through all sorts of talent today. Ahead of the film's official premiere, McConaughey was sanguine about the reaction. "The Sea of Trees," which was picked up for U.S. distribution by Lionsgate and Roadside Attractions ahead of the festival, is about a man who wrestles with guilt over a bitter marriage (Naomi Watts plays his wife) and travels to Japan to kill himself.

Seeing the film at Cannes, the epicenter of paparazzi-infested media attention this month, added another layer of irony to this cautionary tale. "Amy" played out of competition. From its first appearance on the soundtrack — a teenage rendition of "Happy Birthday" for longtime friend Lauren Gilbert — that richly cracked, merlot-hued voice will be identified even by those passingly acquainted with Winehouse's music. Although Amy's husband Blake is cast convincingly as the villain, first introducing her to heroin and then keeping her using, her dad appears at best ignorant of his daughter's best interests, at worst exploitative – when she escaped to St Lucia to get clean, he turned up with a Channel 4 documentary crew. Never one to plays it safe, the 33-year-old Chinese actress always turns heads on the red carpet with dramatic, sometimes jaw-dropping gowns — and in past week at the Cannes Film Festival, she has stayed true to her credo.

In competition, and worthy of it, was Todd Haynes' "Carol," starring Cate Blanchett and Rooney Mara in screenwriter Phyllis Nagy's adaptation of the 1952 Patricia Highsmith novel "The Price of Salt." The press screening Saturday evening was greeted warmly, and jury co-presidents Joel and Ethan Coen may be favorably inclined to go with Blanchett for best actress next weekend. But that also meant that Winehouse had to work through her demons in the full glare of the tabloid press, and "Amy" serves as a savage indictment of the paparazzi who hounded her. "The journey from there to the loneliness of her looking into the paparazzi lens and being so afraid — it was a very short space of time." — Agence France-Presse Haynes's previous period dramas include the HBO miniseries "Mildred Pierce" and, flooded with its visual ardor for Douglas Sirk melodramas, "Far From Heaven." The latter clearly provided Haynes with a few signposts regarding "Carol," which exists as a period piece in the realm where forbidden desires meet highly color-coded and meticuliously coiffed post-World War II fashion statements. The evolution will be less startling to British fans who caught wise to Winehouse with the 2003 release of her precociously jazz-toned debut album "Frank"; it's with the development process behind it that Kapadia effectively begins his study, as friend and talent scout Nick Shymansky persuaded the unconfident music enthusiast that her notebooks of poetry could be converted to songs. Fan, who was in last year's "X-Men: Days of Future Past," told The Associated Press that she's not afraid to take fashion risks, and believes that fashion should be "played with." "There should be a sense of ease and more of a playful feeling to it.
The legendary crooner Tony Bennett, with whom Winehouse collaborated late in her career, puts the best perspective on the problems that faced Winehouse as a performer. In an early interview extract, she says that she "wouldn't write anything unless it was directly personal (to her)"; it's the kind of claim made by many a more banal pop artist, but the film's biographical findings often serve to flesh out this statement, revealing real-life parallels for narratives already familiar from her songs. (In one of many archive nuggets illustrating her mouthy, PR-averse wit, she delivers a withering putdown of wholesome hitmaker Dido after an interviewer suggests they come from the same school of heart-on-sleeve songwriting.) One example of that ruthlessly reflective songwriting is "What Is It About Men," a scathing meditation on infidelity ("I can't help but demonstrate my Freudian fate / My alibi for taking your guy") inspired heavily by her own father's domestic negligence. That's very hard to do with a dress." In 2013's "Locke," Hardy played a construction manager who on a speedy nighttime drive fields a series of calls to confront a painful marital indiscretion.
An unashamed opportunist who parlayed his daughter's fame and subsequent downfall into tabloid-celebrity status — complete with an unauthorized reality show, "Amy: The Untold Story" — Mitch Winehouse is presented here as one of two key male influences who inadvertently assisted her decline, with a cavalier attitude to her long-term bulimia and initial denial of her need for addiction treatment. I cringe today at the carelessness of silly jokes, because now, looking back at that life and rare painful talent, it looks awfully as though, if she had only been left alone, with just a fag and her voice, playing to the small jazz crowds she says she craved, she would have lived. It was Fielder-Civil who introduced Winehouse — a habitual user of modest narcotics from adolescence — to crack cocaine and heroin, setting in motion a perilously swift downward spiral, every stage of her descent chronicled in cruel close-up by Britain's unrelenting tabloid media.
This time, however, the action extravagance of director George Miller's dystopian sequel makes for a much bumpier ride. "It's kind of the physicalized, athletic stunt version of 'Locke,'" Hardy said, laughing, in a recent interview. "I did all the dialogue in 'Locke' and now it's just the physical dance piece in S&M clothes." While the drama of "Locke" relied entirely on Hardy's verbal dexterity and subtle movement, "Fury Road" is essentially a nonstop two-hour car chase. That said, Blanchett is so spectacular in a key late scene, set in a lawyer's office, the performance becomes a different performance, and the film becomes a different, subtler, richer sort of film.
The singer called her old friend out of the audience, they went backstage together and Winehouse blithely confided: "This is so boring without drugs." It is easy to understand why Mitch is upset by the film. "My dad was never there," says his daughter of her childhood. Though the film features no editorial voice of its own, it collates the observations of variously involved parties — friends, lovers, bodyguards, record executives, producers Salaam Remi and Mark Ronson — to create the impression of a woman with numerous investors but no assertive support network, and an abundance of hangers-on keen to commodify her frailty. (Footage from a photo shoot with noted provocateur Terry Richardson, playing on the singer's history of self-harm, is positively chilling.) The last act makes for grueling yet riveting viewing, as Winehouse's Sid-and-Nancy-style relationship with Fielder-Civil is forcibly terminated by the latter's imprisonment for burglary segues into a more desolate loneliness. It's the story of 38-year-old Joyce Vincent, whose body was found in 2006 decomposing in her bedsit in Wood Green after she died unnoticed three years earlier, surrounded by Christmas presents.
In Cannes, Hardy apologized to Miller for "being so myopic" about the project during production, which took place over a lengthy, sometimes trying, shoot in Namibia in southern Africa. "He chooses a very simple narrative, which is: 'Drive out to the middle of the desert and drive back. Others question his decision not to put her into rehab in 2005 and there is an excruciating scene in which he turns up in St Lucia, where she is trying to hide away, with a camera crew in tow.
Even her tentative recovery from drug addiction comes with a bitter kicker, as her commercial fortunes rest on revisiting songs from the most painful period of her life. But the movie goes easy on Fielder-Civil, suggesting that he too was a troubled addict, which may be controversial to Winehouse fans who blame him for accelerating her drug use.
Even in its most despairing stretches, it's the music that gives "Amy" air: While Kapadia includes sequences from shambolic concerts performed at the singer's lowest ebb, there are as many a spellbinding instances of her voice emerging robustly from internal chaos. While Vincent was a solitary, elusive woman, Winehouse was never alone – she was worth too much money to be left to walk down Parkway by herself – and yet the feeling you get when you reflect on their lives and deaths is similar. A 2007 performance of the torch song "Love Is a Losing Game" from Britain's Mercury Music Awards is as pristine as it is devastating; at the film's close, tender rehearsal footage of a duet recorded with her idol, Tony Bennett, only a few months before her death signifies the musical recovery she might have enjoyed.
Bennett himself is among the most emotionally unguarded of the film's interviewees, demanding that Winehouse's memory be preserved in the company of Ella Fitzgerald and Billie Holiday. In the Amy documentary, much of the footage looks like it was filmed by the paparazzi, which, as we see her through that blaze of flashes, adds an uneasy complicity. It's the most openly gushing testimony in this reserved yet profoundly felt film; after two hours of heartache, "Amy" has earned a simple valentine.
Directed by Asif Kapadia. (Color/B&W); editor, Chris King; music, Antonio Pinto; music supervisor, Iain Cooke; sound, Don Nelson; supervising sound editors, Stephen Griffiths, Andy Shelley; re-recording mixers, Dafydd Archard, Tim Cavigin. In one scene, with the cameras rolling, he starts to lecture his daughter about being more polite to her fans when they ask her for photos, which causes Winehouse to erupt in anger. "Dad, you don't want to make a mug of me," she says. "Be nice to me on camera." In 2008, Winehouse won the Grammy for Record of the Year for "Rehab." She's in London on live feed when the category is announced, and she scowls when Justin Timberlake's name is announced "His [song] is called 'What Goes Around … Comes Around?" Winehouse asks in a mocking tone.
Amy Winehouse, Tony Bennett, Salaam Remi, Yasiin Bey, Lauren Gilbert, Juliette Ashby, Nick Shymansky, Andrew Morris, Raye Cosbert, Mark Ronson, Blake Fielder-Civil, Mitch Winehouse, Janis Winehouse, Tyler James, Nick Gatfield, Lucian Grainge, Guy Moot, Darcus Beese, Monte Lipman, Chris Taylor, Alex Clare, Ian Barter, Sam Beste, Phil Meynell, Chip Somers, Alex Foden, Shomari Dillon, Cristina Romete, Dale Davis. But even if they weren't, Winehouse's invasion of privacy is documented with chilling precision throughout "Amy." She's shown stumbling through the streets of London in a zombie daze, as a parade of paparazzi trail her, a byproduct of the TMZ celebrity culture.
Share this article: