West sorry for 'over-censored' show
Kanye West APOLOGISES to Billboard Music Award viewers for "seriously misrepresented" performance.
The 37-year-old rapper, who has won 21 Grammy Awards in his career, closed out the ceremony by performing his songs All Day and Black Skinhead with onstage guests Theophilus London and Allan Kingdom. Kim Kardashian's husband left viewers disappointed with his All Day performance after producers were forced to bleep him out continually – leaving up to 30 seconds of silence at a time for those watching at home. But fans viewing the show didn't hear much of the tunes as most of the set was muted and Kanye is incensed about his largely blacked out performance. "Kanye West was grossly over-censored at the Billboard Music Awards. A statement released by the rapper's publicist reads: "Non-profane lyrics such as 'with my leather black jeans on' were muted for over 30 second intervals.

The audience at Las Vegas' MGM Grand Garden Arena booed as West performed his songs 'All Day' and 'Black Skinhead' at Sunday's ceremony, which was broadcast on ABC. As a result, his voice and performance were seriously misrepresented," it read. "Although West was clearly set up to face elements beyond his control during the live broadcast, he would like to apologize to the television audience who were unable to enjoy the performance the way he envisioned."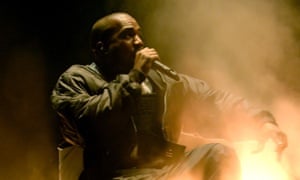 According to some reports, the rapper – who was joined onstage by Allan Kingdom and Theophilus London – was booed at the start and end of his performance. Verified email addresses: All users on Independent Media news sites are now required to have a verified email address before being allowed to comment on articles.

Share this article: