Watch Coldplay Adapt 'Game of Thrones' Into Ridiculous Musical
Chris Martin v George RR Martin: watch Coldplay's Game of Thrones Musical.
"George R.R. In what is being billed as 'Chris Martin meets George RR Martin', Coldplay in collaboration with television series Game of Thrones have released a full 12-minute video packed with song performances by the lead stars of the show.Wise words spoken by Ygritte herself, Rose Leslie, in last night's hysterical "Game of Thrones" spoof featured on NBC's three-hour charity telecast, "Red Nose Day." The "GoT" cast came together (albeit not all at once, and certainly not until Kit Harington – whom Martin kept calling "Jon Snow" – got involved) to help Coldplay stage a Westeros-worthy musical based on the HBO phenomenon.It's all been rather downbeat in Camp Chris Martin of late: the divorce, the subsequent songs about the divorce, the (alleged) fending off of beautiful young Hollywood a-listers. Martin meets Chris Martin — what could go wrong?" asks Emilia Clarke (Daenerys Targaryen) in "Game of Thrones: The Musical," a comedy video in which Coldplay attempt to adapt HBO's epic fantasy-drama for the Broadway stage.
The Starks, Lannisters, Crows and Wildlings, irrespective of their alliances, united under a common banner and contributed towards producing this video for Red Nose Day, a charity drive organised by UK's Comic Relief. But perhaps they should have trusted their initial instincts to not participate, because not only was the end result a hot mess, but "A Song of Ice and Fire" series author George R.R. The Coldplay singer directed proceedings as cast members Kit Harington, Nikolaj Coster-Waldau, Emilia Clarke, Iwan Rheon, Thomas Brodie-Sangster, Mark Addy, John Bradley, Rose Leslie, Alfie Allen and Charlotte Hope belted out tunes based on their adventures in Westeros.
The clip is a one of several songs penned by Coldplay for a Game of Thrones-themed musical, with other sketches including a song by Peter Dinklage celebrating his character's longevity on the show. Stars who lent their support included, Julia Roberts, Coldplay, Jennifer Aniston, Julianne Moore, Jodie Foster, Reese Witherspoon, Sienna Miller, Paul Rudd, Eddie Redmayne, Benedict Cumberbatch, Sir Ian McKellen, Orlando Bloom, Simon Cowell, Naomi Campbell, Will Ferrell, Jack Black, Emily Blunt, Michelle Rodriguez, Gwyneth Paltrow, Sam Smith, John Legend, Christina Aguilera, Pharrell Williams, Bill Gates, Jeff Goldblum, Sean "P.
Coldplay has also brought together actors who have been killed in the show: special mention to the Late Robert Baratheon for walking away in disgust from the recording studio. The band begins to flesh out 16 ridiculous songs – from the reggae-tinted "Rastafarian Targaryen" to the Coldplay-sounding "Closer to Home" ("the first romantic ballad about incest in Coldplay's career") to the dramatic show-tune "Red Wedding." The group attempts to recruit the Thrones cast, but the actors are skeptical. But eventually, thanks to Harington's involvement (and the offer of free food), other cast members agreed to participate, and Clarke was persuaded to lend her pipes to the song "Rastafarian Targaryen." Soon enough, Nikolaj Coster-Waldau recorded the emotional ballad "Closer to Home," a love song from Jaime Lannister to his beloved sister, Cersei (sample lyric: "Are you thinking about Joffrey/Such a spirited lad/I was his uncle, but I was also his dad"). Clarke compares the production to "Titanic, but not in terms of the successful movie – in terms of the unsuccessful boat." But the cinematic arrival of Kit Harington (Jon Snow) and the promise of free food convinces the cast to take the plunge. And Peter Dinklage brought the house down on "the greatest rock opera of all time" with "A Man for All Seasons (Still Goin' Strong)," a jazzy, sultry number dedicated to his survivor of a character, Tyrion Lannister.
The band's Facebook page initially posted teasers of the performances, including a solo by Tyrion Lannister (Peter Dinklage) that mocks the deaths of the Starks in the show. Undeterred by the bad news, Chris Martin promises to rework his songs, teasing projects like Breaking Bad: The Ballet, Downton Abbey: The Opera and Taken: On Ice! The collaboration is definitely something to light up your day, especially if you are a fan of the series and of the band that has released hits like Fix You and Charlie Brown. The only thing missing from the video is some of our other favorites from the show including Arya Stark (Maisie Williams), Sansa Stark (Sophie Turner) and the Queen Mother Cersei Lannister (Lena Headey).
Mad Max will roar back out of the apocalypse while Mad Men rides off into the sunset, rock's Antichrist Superstar and hip-hop's Yeezus will rise again. After months of escalating protests and grassroots organizing in response to the police killings of Michael Brown and Eric Garner, police reformers have issued many demands. The moderates in this debate typically qualify their rhetoric with "We all know we need police, but…" It's a familiar refrain to those of us who've spent years in the streets and the barrios organizing around police violence, only to be confronted by officers who snarl, "But who'll help you if you get robbed?" We can put a man on the moon, but we're still lacking creativity down here on Earth.
While law enforcers have existed in one form or another for centuries, the modern police have their roots in the relatively recent rise of modern property relations 200 years ago, and the "disorderly conduct" of the urban poor. Rather than be scared of our impending Road Warrior future, check out just a few of the practicable, real-world alternatives to the modern system known as policing: Unarmed but trained people, often formerly violent offenders themselves, patrolling their neighborhoods to curb violence right where it starts. Stop believing that police are heroes because they are the only ones willing to get in the way of knives or guns – so are the members of groups like Cure Violence, who were the subject of the 2012 documentary The Interrupters. There are also feminist models that specifically organize patrols of local women, who reduce everything from cat-calling and partner violence to gang murders in places like Brooklyn.

While police forces have benefited from military-grade weapons and equipment, some of the most violent neighborhoods have found success through peace rather than war. Violent offenses count for a fraction of the 11 to 14 million arrests every year, and yet there is no real conversation about what constitutes a crime and what permits society to put a person in chains and a cage. Decriminalization doesn't work on its own: The cannabis trade that used to employ poor Blacks, Latinos, indigenous and poor whites in its distribution is now starting to be monopolized by already-rich landowners. To quote investigative journalist Christian Parenti's remarks on criminal justice reform in his book Lockdown America, what we really need most of all is "less." Also known as reparative or transformative justice, these models represent an alternative to courts and jails.

From hippie communes to the IRA and anti-Apartheid South African guerrillas to even some U.S. cities like Philadelphia's experiment with community courts, spaces are created where accountability is understood as a community issue and the entire community, along with the so-called perpetrator and the victim of a given offense, try to restore and even transform everyone in the process. Communities that have tools to engage with each other about problems and disputes don't have to consider what to do after anti-social behaviors are exhibited in the first place. In Mexico, where one of the world's most corrupt police forces only has credibility as a criminal syndicate, there have been armed groups of Policia Comunitaria and Autodefensas organized by local residents for self-defense from narcotraffickers, femicide and police. Obviously these could become police themselves and then be subject to the same abuses, but as a temporary solution they have been making a real impact.

In New York, Rikers Island jails as many people with mental illnesses "as all 24 psychiatric hospitals in New York State combined," which is reportedly 40% of the people jailed at Rikers. We have created a tremendous amount of mental illness, and in the real debt and austerity dystopia we're living in, we have refused to treat each other for our physical and mental wounds. Mental health has often been a trapdoor for other forms of institutionalized social control as bad as any prison, but shifting toward preventative, supportive and independent living care can help keep those most impacted from ending up in handcuffs or dead on the street.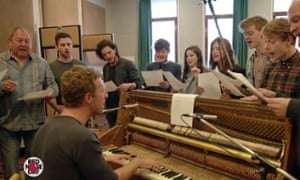 Share this article: