'Walking Dead' star Norman Reedus to host AMC motorcycle docuseries
'Walking Dead' Star Scores Biker Reality Show on AMC.
Set to debut in 2016, each hourlong episode "Ride With Norman Reedus" (working title) will see the actor behind "The Walking Dead's" Daryl Dixon explore local motorcycle culture and its history by taking rides through different cities with a riding companion.

Norman Reedus' portrayal of Daryl Dixon, the sensitive survivalist on AMC's hit zombie drama "The Walking Dead," has made him a pop-culture icon, as well as the most popular character on the series. Along the way, they'll stop at locations including custom bike shops, tattoo parlors, collector warehouses and more, in addition to showcasing various types of motorcycles, including vintage, minis and cruisers. The actor previously starred in such films as "The Boondock Saints" and "Vacation." "Walking," which is a huge hit for AMC and often sets viewership records, is currently airing its sixth season. The pair will visit mechanics, builders and riders; showcase different motorcycles, like minis or cruisers; and make pit stops at tattoo parlors, roadside smokehouses or collector's warehouses.

Ride reunites Druckerman and Tarver with the network after their unscripted series "Small Town Security" ended its run after three seasons in 2014 when it largely abandoned reality fare and shifted its focus on scripted. "We love being the home of people's passion projects, and there is nobody more passionate about motorcycles than Norman Reedus," AMC and SundanceTV original programming and development president Joel Stillerman. "He is an avid rider and aficionado who is deeply immersed in motorcycle culture. The series, which is scheduled for six one-hour episdoes, will also celebrate noted motorcycle collectors, mechanics and craftsmen around the country. The network is also set to premiere the second installment of their docu-drama The Making of the Mob next year, with a focus on Al Capone's Chicago; and a new documentary series, The American West, executive produced by Robert Redford, was recently greenlit.

According to a press release, each episode of "Ride" will begin in a different city where Reedus and his riding companion – a fellow actor, musician, friend or local chopper fanatic who shares his passion for motorcycles – will journey to a new destination. Ahead of Season Four, Reedus told Rolling Stone why he chose to live outside Atlanta, where the show shoots, instead of in the city proper. "I like Atlanta, but there's a mall and a Chick-fil-A," Reedus said. "What do I need to go up there if I live in Manhattan? This show will bring those two elements together for a weekly ride into the incredible world of motorcycles and the people who live and breathe them." "I'm incredibly excited and thankful to AMC for giving me the opportunity to share a passion of mine with our fans, and hopefully a whole new audience.

Ratings were big for the series premiere, but its numbers toward the end of the season were far below those for an episode of "Walking." However, there are few shows on cable TV that are harder to live up to in terms of ratings. I'd rather be out here on the country roads, driving home." 2015 may not bring everything that Back to the Future II promised it would: flying cars, self-lacing shoes, we don't see 'em happening over the next 12 months. (Then again, don't bet against Nike.) But this year will definitely pack plenty of punch when it comes to cultural happenings. Mad Max will roar back out of the apocalypse while Mad Men rides off into the sunset, rock's Antichrist Superstar and hip-hop's Yeezus will rise again.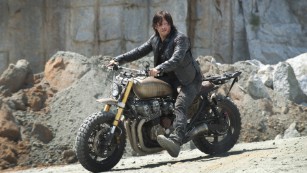 It's a unique shot that breaks the mold of stereotypical country album covers, and also one that carries an underlying message that the singer lives — and writes songs — by. "The idea of just drinking a lemon straight is, life is going to hand you a lot of things that you don't necessarily want to deal with and you should not water it down and sweeten it up," Cam tells Rolling Stone Country. "Drink it straight, and deal with it head-on. But since AMC doesn't have many unscripted TV shows on right now, viewers looking for TV based on real life may have gotten used to heading someplace like TLC or A&E, both of which have multiple popular unscripted programs. Following the LP's carefree, breakthrough hit, "My Mistake" is the haunting "Burning House," which has already been certified gold and is one of the most buzzed-about tunes of the year. Another track sure to have tongues wagging is the album's opener, which was an easy choice for Cam when naming the album. "Untamed" is a song that suits both her personality and musical strategy. "That song is about going to the place that the cops don't go and having a party — but also doing things your own way," she explains. "We weren't being rebels on purpose; we just didn't know how things were done."

Share this article: