Vegas Metro: Police department not probing King's death
BB King's attorney says poison claims forced 'disrespectful' autopsy.
The singer's daughters Karen Williams and Patty King have accused LaVerne Toney and personal assistant Myron Johnson of killing their 89-year-old dad this month.The Clark County coroner's office in Nevada is investigating claims that blues legend BB King was poisoned, but coroner John Fudenberg said there was no immediate evidence to support the allegations.An autopsy has been performed on legendary blues singer and guitarist BB King, following accusations from his daughters that he was poisoned by his own staff. King, the guitar legend and King of the Blues, died earlier this month at the age of 89, under hospice care, and after surviving numerous health scares over the years.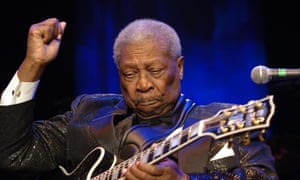 Two of King's daughters claim the guitarist was poisoned and not properly cared for before his death at age 89 on 14 May, and accused his aides of past elder abuse. "Until such time as the Clark County Coroner determines Mr King's death to be from other than natural causes, the Las Vegas metropolitan police department is NOT moving forward with any investigation," the police public information office said in a statement emailed to the Guardian. "At this point, we don't have evidence that these allegations of foul play will be substantiated," said Fudenberg in a statement. "However, we are taking them very seriously and will be conducting a thorough investigation." The new allegations appear to be part of a long-running feud between King's 11 surviving children and his long-time attorney, LaVerne Toney, who has power of attorney over his estate. But lawyer Toney, who is the executor of King's estimated £20million estate, said of the pair: "They've been making allegations all along, what's new?" Authorities have repeatedly rejected the family's claims however, most recently finding in May that King did not need a guardianship as he already had an attorney, the Associated Press reported. Test results from an autopsy performed Sunday will take eight weeks to be processed, but police say there is no active homicide investigation, and an attorney for B.B. I believe my father was murdered," they said, according to documents submitted to AP by their lawyer, Larissa Drohobyczer. "He did not want invasive medical procedures," Bryson added. "He made the decision to return home for hospice care instead of staying in a hospital.

These unfounded allegations have caused Mr King to undergo an autopsy, which is exactly what he didn't want." Toney, who worked for King for 39 years, is named on King's will as an executor of his estate – which could total tens of millions of dollars, according to court documents. A petition alleged that Toney had blocked King's friends from visiting him, that large sums of money had disappeared from the singer's bank accounts, and that Toney had added her family members to King's payroll. A procession and memorial are scheduled in Memphis on Wednesday, followed by a Friday viewing and burial in King's hometown of Indianola, Mississippi. A procession on Beale Street in Memphis, Tennessee, is scheduled for Wednesday, with a viewing on Friday and burial Saturday in Mississippi, according to the Hollywood Reporter.

He is largely credited with bringing blues to mainstream rock and roll, and was often called "king of the blues" and "ambassador of the blues". He started his career touring on what was called the "chitlin' circuit" of small bars in the Jim Crow south ("chitlin'" or chitterling refers to the soul food dish made of the small intestines of pigs, often sold at the clubs).

Share this article: