UPDATE 1-'King and I' gets royal treatment in new Broadway revival
Broadway Review: 'The King and I'.
If you loiter on the Lincoln Center Plaza late most evenings, you can watch the audience dispersing from the latest revival of that mid-20th century modern masterpiece The King and I.In its heart of hearts, the extraordinarily deep and often underutilized thrust stage of Lincoln Center's Vivian Beaumont Theater has probably always yearned to host an opera. That's pretty much what director Bartlett Sher has wrought with his sumptuous revival of Rodgers and Hammerstein's 1951 musical, "The King and I." Broadway's darling, Kelli O'Hara, is ravishing as the English governess to the children in the royal household of the King of Siam, played by the powerfully seductive Japanese movie star Ken Watanabe.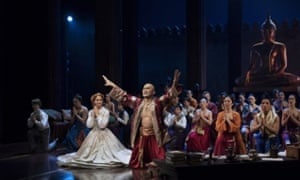 It's enough to make Lincoln Center Theater's previous Rodgers and Hammerstein effort, 2008's "South Pacific," seem almost undefed in comparison. In creating the Far Eastern nation of Siam circa 1862, yards seem to turn into acres before your very eyes as Sher's unsurpassed scenic designer Michael creates an opulent vista that judiciously stops short of fetishizing Eastern culture, as in other productions of King.

In visual language (which set designer Michael Yeargan speaks fluently), that's a powerful image for the show's still pertinent theme: the dissonant dynamic when Western civilization tries to assert its values on ancient Eastern cultures. The uplifting score features a number of beloved songs, including "Getting To Know You," ''Shall We Dance?" and "Something Wonderful." Christopher Gattelli's graceful choreography is based on the original choreography of Jerome Robbins, so the production feels fresh and yet familiar, too. But thankfully, everything contained within this magical realm (including one jaw-dropping, built-to-scale mode of transport) is as impressive as the theatrical eye candy.

Five-time Tony Award-nominated O'Hara, most recently seen in "The Bridges of Madison County," gives a warm, loving persona to young widow Anna Leonowens, who must navigate sexism and cultural differences to get along with the capricious king. When Anna and her young son, Louis (Jake Lucas), arrive at the palace of King Mongkut (the magnificently regal Watanabe), the sheer splendor of the monarch and his court is breathtaking. Their push-and-pull battle of the sexes is juxtaposed against that of the passionate affair between burgeoning lovers Lun Tha (How to Get Away With Murder's Conrad Ricamora) and Tuptim (Ashley Park), the latter a gift to the King from the leader of Burma and the target of much side-eye from the King's chief wife Lady Thiang (Ruthie Ann Miles).

You spend a lot of the first act hoping designer Michael Yeargen will unfurl something equally nifty, but the rest of the scenes are set more minimally. The true beauty of the King's household takes human form in "The March of the Siamese Children," a heart-melting procession of the monarch's many, many darling children and their proud mothers, all costumed in generously draped, richly decorated, but surprisingly delicate court dress. Much of the story — a governess clashing with the forceful man who hired her — parallels the authors' "The Sound of Music." Both even feature a romance between younger characters.

O'Hara is perfectly suited to her role as a prideful Englishwoman, and sings rapturously throughout the show, especially on her poignant renditions of "Hello, Young Lovers." Watanabe, best known in America for his Oscar-nominated performance in the film "The Last Samurai," is making his American stage debut as the King. It will take months before Anna will find the footing to turn out in her own Western splendor — the gorgeous, bare-shouldered, full-skirted mauve ball gown (Catherine Zuber's piece de resistance) that she wears in "Shall We Dance?" for her jubilant polka with the King. He delivers a layered performance despite some difficulties enunciating English, notably in the song "Puzzlement." His king is, by turns, mischievous and morose, and generally commanding except for some distractingly childish moments.

In this production, it's not a mere classroom charm-song one-off, but an outward reflection of the uneasy feelings the characters are struggling with in that moment ("day by day", as the song informs us). Until then, the cultural transference is slow and, as far as the proud and petulant King (whose subjects refer to him as "the royal tiger") is concerned, quite problematical. Michael Yeargan's set gives us a palace that's refreshingly not packed with exotic knick-knacks, and Jerome Robbins' original choreography, overseen by Christopher Gattelli, pulses with renewed life. Many audience members will compare Watanabe's work to the iconic portrayal by Yul Brynner, who basically owned the role for more than three decades. Watanabe channels that confusion with manly charm in "A Puzzlement," in which the Japanese star makes his own difficulties with the English language work in his favor.

Starring in the 1951 Broadway premier and the popular 1956 movie version, Brynner performed as King for a record 4,625 performances, both on Broadway and on the road in two long national tours. Without hammering away at the point too impulsively, Sher's intents seem to sway the story back to a uniquely feminist state of mind–even the way the residents of Siam keep calling Anna "Sir" seems to take on a whole new meaning; she seems to be the leader they'd all truly want but cannot have. However, Watanabe is quite natural in the role, and creates a pleasing chemistry with O'Hara as their characters establish a friendship despite obstacles that include differing attitudes on racism and slavery. And for those wondering if numbers like "Western People Funny" still hold the sting of discomfort, rest assured that the creators have found a way to flip the implied intent; like the production as a whole, the question of race and tradition (not to mention science versus faith), is shrewdly integrated to include different points of view. She has that rare capacity for making goodness seem interesting and so the character of Anna, warm and principled, fits her as closely as the graceful bodices Catherine Zuber supplies. (Zuber, who also designed the pastry-cream couture of Gigi, is having a splendid Broadway season.) The King often speaks of favouring the scientific, but in many of Watanabe's interactions with O'Hara, there's a distinct lack of chemistry.

These objectives might explain why the central males do not loom as large as previous mountings have let them, or perhaps it's the varied performances. Ricamora, a treat in Here Lies Love a few seasons ago, is surprisingly affectless (though in excellent voice) as the love-torn emissary Lun Tha, and Watanabe is a charismatic and relatively subdued King, but often very hard to decipher; his big number "A Puzzlement" ends up being just that. Strangely though, the latter's surface debit sometimes works to some advantage—after all, the King is a man struggling with the ability to fully connect to others.
Following the impressive opening arrival of a British ship that fills the stage, the generally spare set design by Michael Yeargan serves as an elegant frame for the actors, who are sumptuously garbed in Catherine Zuber's colorful, meticulously detailed costumes. Sets, Michael Yeargan; costumes, Catherine Zuber; lighting, Donald Holder; sound, Scott Lehrer; orchestrations, Robert Russell Bennett; dance & incidental music arrangements, Trude Rittmann; music direction, Ted Sperling; production stage manager, Jennifer Rae Moore. Kelli O'Hara, Ken Watanabe, Ruthie Ann Miles, Ashley Park, Conrad Ricamora, Edward Baker-Duly, Jon Viktor Corpuz, Murphy Guyer, Jake Lucas, Paul Nakauchi, Marc Oka
Share this article: