Top honor at Cannes goes to story of Sri Lankan immigrants in France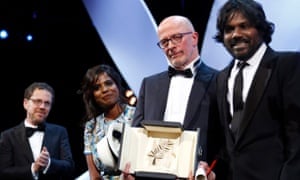 Audiard's 'Dheepan' Wins Palme d'Or in Upset Cannes Finale.
Jacques Audiard has said he hopes the Palme d'Or win at Cannes for his seventh feature, Dheepan, will "help the situation" for migrant workers in Europe. CANNES, FRANCE—Dheepan and Son of Saul, both movies about humanity trapped by evil, have taken the top two prizes at the close of the 68th Cannes Film Festival. The win for the Jacques Audiard-directed film was something of a surprise in a competition that featured few genuinely standout films. "Carol," Todd Haynes's adaptation of a Patricia Highsmith novel, was considered a front-runner, having won over critics when it premiered at the festival last weekend. True to eccentric form, the American filmmakers and 2015 Cannes jury heads brought this year's festival to a close with an offbeat, even controversial set of prizes that had journalists in the press room wiping away tears one minute, scratching their heads — and even booing — the next.

Speaking after the ceremony, Audiard said that it was "important to reflect" on the current situation, although he wrote the script five years ago, "when it wasn't so critical". "What interested me was the position of someone different in society. The only award the film took home was Rooney Mara's honor for best actress, which she shared with the French actress Emmanuelle Bercot, who co-starred in the drama "Mon Roi." It's significant that Mara and Bercot won for similar roles: Each actress played a woman consumed by passion, in Mara's case an aspiring photographer in 1950s New York who falls in love with a suburban housewife (Cate Blanchett). Not that the brothers care: "This isn't a jury of film critics, this is a jury of artists," Joel Coen said with a touch of snark at the news conference following the awards ceremony. The emotion-charged film by France's Jacques Audiard, which brought comparisons here to David Cronenberg's A History of Violence and Martin Scorsese's Taxi Driver, stars newcomer Jesuthasan Antonythasan as a peace-seeking former Tamil Tiger who is forced to reconnect with his fighting instincts to survive in a new land. Faced with a competition slate generally considered subpar, the jury (which also included Jake Gyllenhaal, Sienna Miller, Guillermo del Toro and Xavier Dolan) handed the coveted Palme d'Or to Jacques Audiard's somewhat polarizing Dheepan.

Bercot's award also served as a tacit recognition of the cardinal theme of gender equity at Cannes this year: She directed the festival's opening-night film, "La Tête Haute" ("Standing Tall"), the first time a female-directed movie opened the prestigious festival in several years; "Mon Roi" was also one of only two female-directed films to be selected for competition. (The continuing underrepresentation of women was exacerbated by a kerfuffle midway through the festival when overzealous security personnel reportedly barred two women from entering the Grand Theatre Lumiere for not wearing high heels.) Still, if women were still scarce behind the camera, they showed up in full, if ambiguous, force in front of it. The drama about Sri Lankan immigrants in Paris was hailed by some (mostly Anglophone) critics for its solid storytelling and sharp critique of French society, but slammed by others for its abrupt, brutal denouement.

Jury members, though, said "Dheepan" was chosen for its overall strength as a film, rather than any topicality. "We all thought it was a very beautiful movie," said Ethan Coen, calling the decision "swift." ''Everyone had some high level of excitement and enthusiasm for it." "To receive a prize from the Coen brothers is exceptional," said Audiard, who added that only receiving one from Luc and Jean-Pierre Dardenne, the Belgian filmmaking siblings, could equal it. But it was clear the panel was also caught up by its Grand Prix, or second-place winner: Holocaust drama Sonof Saul, a first feature by Hungary's Laszlo Nemes. A number of films in and out of competition were female-driven stories, albeit ones in which women were either wives, mothers, pining lovers or other conventional archetypes. Notably, a significant portion of France's press seemed to take umbrage with the movie's portrayal of underprivileged, minority-heavy Parisian suburbs as ghettoized hotbeds of literally explosive violence.

Set inside the Auschwitz concentration camp during the Second World War, it stars Geza Rohrig as an imprisoned Hungarian Jew, working the Nazi death ovens, who seeks to obtain a proper religious burial for the body of a boy whom he believes is his son. As one Gallic critic said to me: "It's a sensitive subject here right now; you have to be careful and responsible in how you depict it." Coming just months after the Charlie Hebdo attacks, the decision to give the top prize to a film about people of color struggling to integrate in a France rife with tensions was in many ways a timely one. Some expected Nemes' horrifying plunge into the life of an Auschwitz worker to take the top award, but it's been 26 years since a debut film (Steven Soderbergh's "Sex, Lies, and Videotape") was given the Palme. In the dramas "Louder Than Bombs" and "Valley of Love," Isabelle Huppert played a mother who has died and one who's mourning the death of her son, respectively. English actress Sienna Miller and Canadian actor Xavier Dolan, both jury members, sounded especially moved by "Son of Saul." Miller called it "breathtaking" and an extraordinary accomplishment for a first-time filmmaker.
These included giving the Best Director prize to Taiwan's Hou Hsiao-Hsien for The Assassin, a first foray into wuxia martial arts action for this master of the composed frame and long take. But Spanish actor and fellow juror Rossy de Palma did draw parallels between the film and "the people in the streets you see and wonder where they come from.
Female agency got a jolt with the screening of "Mad Max: Fury Road," in which Charlize Theron steals a movie that brims with post-apocalyptic feminism; the Taiwanese actress Qi Shu utters barely a word in the title role of "The Assassin," Hou Hsao Hsien's ravishing but soporific historical drama set in 9th-century China that earned Hou the festival's prize for best director. Dheepan is a straightforward, hard-hitting, meat-and-potatoes work with not a shred of the irony, screwball mischief or deadpan humor typical of the Coens' filmography; its realism and restless handheld camerawork are a far cry from the brothers' meticulous compositions.
Hou Hsiao-Hsien, the masterful 68-year-old Taiwanese filmmaker, won best director for his first feature in eight years: "The Assassin," a lushly painterly martial arts drama. In fact, perhaps the most bracing portrait of womanhood wasn't found in Cannes's main competition at all, but in one of its sidebars, Directors' Fortnight: There, a first-time director from Turkey, Deniz Gamze Ergüven, delivered a bracing portrait of a young girl and her teenage sisters coming of age while defying the strictures of Muslim patriarchy in a remote seaside town. Mainstream maestro Steven Spielberg similarly stepped outside his "comfort zone" by crowning the emotionally and sexually raw epic lesbian romance Blue is the Warmest Color when he chaired the Cannes jury in 2013. The Coen-led jury also tilted toward the art house with their Jury Prize, or third-place winner: The Lobster, a quirky dystopian satire by Greece's Yorgos Lanthimos about a future society where single people who fail to speedily find a mate are turned into animals.
The film, "Mustang," won the Fortnight's Europa Cinemas Label for best European film. "Mustang" represented an exhilarating respite from the dreary, downbeat and formally uninteresting movies that dominated Cannes this year, a large number of which possessed an elegiac, almost funereal tone of unresolved grief. A more baffling move was giving a double Best Actress prize to Rooney Mara, for her understated turn as an enamored young woman in Todd Haynes' Carol, and…Emmanuelle Bercot, the leading lady of Maiwenn's widely dismissed Mon Roi. It was given to both Rooney Mara, half of the romantic pair of Todd Haynes' '50s lesbian drama "Carol," and Emmanuelle Bercot, the French star of the roller coaster marriage drama "My King." (Bercot also directed the festival opener, "Standing Tall," about a delinquent teenager.) Any split was presumed to go to Mara and her "Carol" co-star, Cate Blanchett. That French entry — in which Bercot plays a ski accident survivor haunted by her roller-coaster relationship with a sexy sketchball (Vincent Cassel) — yielded a much-noted gender divide among critics, with many women praising its attention to female desire and most men responding with a collective groan. Best actor was awarded to Vincent Lindon, the veteran French actor of Stéphane Brizé's "The Measure of a Man." He plays a man struggling to make a living after a long period of unemployment.
He won it over some big-name competition, including Michael Caine, the star of Paolo Sorrentino's unrewarded "Youth," a wryly melancholy portrait of old age. The only explanation anyone could fathom was that the jury figured Blanchett has already snagged enough statuettes in her time, and may continue to do so for this very role when awards season kicks off in earnest. Franco and Roth met three years ago when Roth, on the Un Certain Regard jury, helped award Franco the Un Certain prize. "It's a Cannes story," said Franco. Another prize that drew eye-rolling from journalists was Best Screenplay for Michel Franco's Chronic, an austere drama about a terminal care nurse (Tim Roth) that features a pared-down script, as well as a sketchily plotted third act and a broadly unpopular shocker of a final sequence. The Camera d'Or, Cannes' award for best first feature film, went to "La Tierra Y la Sombra." César Augusto Acevedo's debut, which played in the Critics Week section, is about an old farmer returning home to tend to his gravely ill son.
A visibly moved Lindon, the most macho-looking of France's leading men, embraced each jury member individually before noting in his speech that he had never won an award before. Many of these films, and others from Cannes 2015, are likely to show up later this year at TIFF and other film fests, with commercial theatrical, DVD and VOD releases to follow. It was one of the few moments in the ceremony to be heartily applauded by journalists, one of whom broke down in loud sobs when the actor thanked his recently deceased mother. Picking up his first major honour at the age of 55, the actor beat much-fancied contenders Michael Caine (in Paolo Sorrentino's Youth) and Tim Roth, who plays a traumatised palliative care nurse in bleak drama Chronic.
The festival was dominated by discussion about gender equality with many — from Blanchett to Jane Fonda — speaking strongly about female opportunity in the movie business. "You hope it's not just the year," said Blanchett. "It's not some sort of fashionable moment." An honorary Palme d'Or was also given to French filmmaker Agnes Varda, the first woman to receive one and only the fourth director after Woody Allen, Clint Eastwood and Bernardo Bertolucci. The pair forged a plan to work together at the after-party. "You should always treat festivals as a way of getting employment," said an ebullient Roth, calling himself Franco's "mum when mum can't be around". Somewhat predictably, Hou seemed to split critics into two camps: formalists who were enraptured by his ravishing visuals and traditionalists who bemoaned the diffuse, hard-to-follow plot.
Franco used the platform of the press conference to do what he'd forgotten in the ceremony: dedicate the prize to his grandmother, whose suffering after a stroke inspired the movie. In the days preceding the closing ceremony, some speculated that The Lobster, Yorgos Lanthimos' bleakly funny dystopian fantasy, would strike the Coens' fancy; of all the competition entries, it's probably the one that comes closest to their satirical sensibilities. The Colombian director concluded his speech by leading the audience in singing Happy Birthday to Lobster and Tale of Tales actor John C Reilly, who had presented him with the award.
But the film, for all its many pleasures (including a funny, pot-bellied Colin Farrell), loses steam in the final act; it ended up with the third-place Jury Prize. Perhaps the greatest irony of the winners' list was the strong showing by France — best film, actor and actress — given that the country's whopping five films in competition (including Valerie Donzelli's staggering misfire of an incestuous love story, Marguerite and Julien) were considered, as a group, underwhelming. Best director went to Taiwanese film-maker Hou Hsiao-hsien, whose martial arts epic The Assassin marks his return to cinema after an eight-year absence.
Jane Birkin presented the honorary Palme to veteran director Agnes Varda, now 86, who made an emotional tribute to her late husband, the film-maker Jacques Demy, who died 25 years ago. The programme of the artistic director, Thierry Frémaux, was at pains to promote homegrown talent, with nine of the 19 competition films either French productions or co-productions and US and UK directors thin on the ground. Although there has been an absence of high-profile turkeys such as last year's opener, Grace of Monaco, the number of flat-out classics was also felt to be lower. Last year's festival saw the premieres of Leviathan, Winter Sleep, Mr Turner, Jimmy's Hall, Foxcatcher, Wild Tales, Clouds of Sils Maria, Mommy and Two Days, One Night. Dolan, whose new movie begins shooting in 24 hours, said the process had been unique. "Never have I discussed movies with such generosity and emotion.
I somehow feel like a better person." Joel Coen echoed the sentiment, saying that "an experience this intense changes your life", while de Palma expressed her enthusiasm for "making love to cinema all day".
Share this article: