Too few transgender characters on TV, GLAAD study finds
GLAAD TV Report Praises Streaming Services Like Amazon & Netflix For The Visibility They Give To Transgender Characters.
(The Hollywood Reporter)Jeffrey Tambor may have won an Emmy this year for his portrayal of a transgender woman in Transparent, but LGBT representation is still sorely lacking on television, according to GLAAD.It's still a white man's world for LGBT characters on scripted series but diversification is improving, according to GLAAD's annual "Where We Are on TV" report.Transgender characters are flourishing on streaming services such as Netflix and Amazon, but have yet to make inroads on broadcast television, a new report from GLAAD revealed.

When Ellen DeGeneres came out on ABC's Ellen back in 1997, announcing "I'm gay" for everyone in the airport and the country to hear, it made television history. The advocacy organization's annual report on diversity in scripted programming released Tuesday morning, which analyzes the quantity and quality of LGBT characters in the current season, dug up some overwhelmingly negative data about the number of transgender characters on TV. On Tuesday, the GLAAD TV diversity report was released, forcing us all to take a long hard look at the representation of LGBTQIA characters on broadcast, cable, and streaming television networks.

The findings tracked scripted series which air or are expected to air in primetime between June 1, 2015 and May 31, 2016 for which casting has been announced. Streaming services also boasted two transgender leads — Maura on Amazon's "Transparent," played by Jeffrey Tambor, and Nomi on Netflix's "Sense8," played by Jamie Clayton. "When you think about the audiences that streaming services are trying to attract and how they are trying to form heir own content brands, it makes a lot of sense that they would want to tell stories that are being under-served by traditional content providers," Matt Kane, GLAAD's director of programs for entertainment and media, told TheWrap. "So we weren't surprised to see them pick up the slack so readily in those areas. They learned that, of the 881 regular characters expected to appear on broadcast primetime programming (ABC, CBS, the CW, Fox and NBC) in the coming year, 35 (4%) were identified as gay, lesbian, or bisexual with an additional 35 LGB characters recurring. On the broadcast networks, LGBT characters represented 35 out of 881 series regular characters — an increase from 32 reported last year, according to GLAAD. Add to that the 43 LGBT series regulars and 16 recurring characters on Amazon, Hulu and Netflix, and there are 271 LGBT characters appearing across all TV platforms.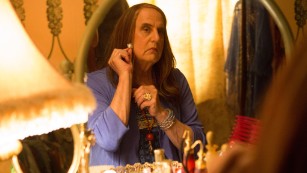 The report found that between broadcast and cable, there is only one recurring character who is depicted as HIV-positive – on ABC's How To Get Away With Murder. African-American characters made up 16% of all regular characters on television –the highest percentage since GLADD began compiling racial data 11 years ago. Some things, it seems, are still better left in the TV closet. "We hope to see more creators fairly and accurately sharing the stories of people living with HIV going forward," the report said.

Sarah Kate Ellis, CEO & President of GLAAD stated, "Each of us lives at the intersection of many identities & it's important that television characters reflect the full diversity of the LGBT community. While cable programming can only boast two percent of repeating characters as transgender, streaming services took a staggering lead with seven percent of characters identifying as transgender. It is not enough to just include LGBT characters; those characters need to be portrayed with thought & care to accurately represent an often tokenized community." Surprisingly with all the success of Amazon's "Transparent" & the media blitz surrounding Caitlyn Jenner there weren't any transgender characters counted on primetime broadcast programming, while only three recurring trans characters were counted on cable (2%). Much of that growth was thanks to NBC, which boasts 41 percent people of color among series regulars, thanks in part to midseason series "Hot and Bothered," "Superstore" and "Shades of Blue," each of which features a female Hispanic lead. However, the study argues that depictions of such characters tend to reinforce stereotypes associated with bisexual individuals (i.e. that they are untrustworthy, prone to infidelity, use sex as a means of manipulation or lack a sense of morality).

Streaming video services prove once again that they offer more diversity than traditional platforms, boasting a nearly equal percentage of gay and lesbian characters (39 percent and 36 percent). Transparent, a comedy-drama on Amazon, revolves around a Los Angeles family whose lives are changed when the main character, Maura, reveals that she is transgender. There are 135 series regulars of color on broadcast, 59 of whom are black women, followed by 33 Latinas, 27 Asian Pacific-Islander women and 16 women who belong to another ethnicity or are multiracial (12%). Throughout the first season, I found myself enraptured by the show's characters as they struggled with their pre-existing family dynamics, and the news that the person they knew as their father is, in fact, a woman.

The report singled out Netflix's prison drama Orange Is the New Black as the show with "more LGBT regular and recurring characters than any other scripted program tracked in this report." The report, in addition to examining LGBT issues, also looked at the overall employment of women and minority actors on television. I am glad that their work is being recognized, and I'll cross my fingers that cable and broadcast networking step up to the plate as far as transgender characters are concerned. Yes, sometimes we are still criminals and gang members, but these roles are balanced by Latinos playing lawyers, teachers and good citizens within the same program.

According to Guy Aoki, founding President of the Media Action Network for Asian Americans: "The biggest problem continues to be the exclusion of Asian-Americans in places where we're found disproportionately in real life. Despite the fact that one out of every six doctors in this country is of Asian descent, there has only been one Asian regular on Grey's Anatomy in its first 10 seasons and none since Sandra Oh left. LGB personalities also are prominently featured on daytime talk shows, including Sara Gilbert on CBS' The Talk, Clinton Kelly on ABC's The Chew and of course, the trailblazing DeGeneres on The Ellen DeGeneres Show.

Twenty-five years before DeGeneres' coming out on ABC, the network aired That Certain Summer, a TV movie starring Martin Sheen and Hal Holbrook that was the first TV show to explore the lives of same-sex life partners. A year later, NBC aired the first primetime lesbian wedding on an episode of Friends titled, aptly enough, "The One With The Lesbian Wedding," and in 1998, NBC began airing the long-running Will & Grace, which co-starred Eric McCormack as a gay lawyer.

Share this article: