This is who won the Nicki Minaj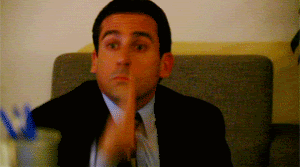 In her response to Nicki Minaj, Taylor Swift has just proven that she's white feminism's off-beat, bambi-legged Patronus.
Katy tweeted on Monday a not-so-subtle dig at Taylor over the former country singer's response to Nicki's argument that she wasn't selected for the Video Of The Year category because she wasn't skinny or white enough for the guys who made the shortlist: Katy seems to be talking about Taylor's song Bad Blood – which was nominated in the VotY category – and is said to be written about their ongoing feud. Swift jam-packed the video with all her celebrity friends including Cara Delevingne, Ellie Goulding (and basically every hot model/actress/singer who'd ever met Taylor) then went into battle against other women led by Selena Gomez. To be fair neither Taylor or Nicki's offerings really push the music video boundaries really, and once again Katy points out a rathr obvious error in MTV's selection. She then let off a series of tweets about her disillusionment towards the fact that her record-breaking Anaconda video, which amassed 19.6 million views in its first 24 hours on VEVO, was not deemed worthy of a Best Video nomination.

Swift appears to have been so dazed by her own blinding white privilege that she couldn't see Minaj's tweets extended far beyond usual pop princess pettiness. Her tone deaf response proves the music industry's well-documented issues with race aren't on her radar because they don't affect her and instead of taking heed, took offence. Because when you look beyond the millions of dollars, fans and followers, Minaj is simply another black woman being accused of divisiveness by a white feminist for pointing out racial inequality. Those who adhere to "white feminism" acknowledge that patriarchy gives men a warped sense of entitlement, but believe themselves to be immune to the effects of white supremacy.

They are more than willing to tell men to "check their male privilege", but suggestions from black women they do the same with white privilege leaves them balking and sulking. Swift responded that perhaps "one of the men" had taken Minaj's spot, because in her mind the patriarchy both artists suffer from is more pervasive than the racism only affecting Minaj.

The article that was linked in the tweet (which still exists) asked "WHEN will someone make this woman PM?", and and praised her for responding with "grace and kindness". Meanwhile, CelebBuzz claimed Minaj's sole gripe was that she didn't receive as many nominations as Swift, while Hollywood Life one-upped anyone using the usual "angry black woman" tag, describing Minaj as a "furious black woman". Any valid criticism of Rihanna's recent Bitch Better Have My Money Video was lost amid the hypocrisy shown by feminist commentators unable to offer a satisfactory explanation as to why other equally violent content was not worthy of the same criticism. Amy Schumer's dismissal of concerns caused by her racist jokes was reported as "defiant" rather than insolent, and Azealia Banks' anger at the same music industry discrimination Minaj decried was documented as baseless rage that her competitor Iggy Azalea was white.
This inability to acknowledge how racism informs the views of white feminists on race – in a movement that asks men to recognise how patriarchy shapes their views on women – is tiresome. Until it is understood that the feminists that ignore racism are in no significant way different to the men that ignore gender inequality, the fracturing of feminism will only continue to worsen.
Share this article: