'The Walking Dead' recap: Viewers get 'Heads Up' on Glenn's ambiguous death
'The Walking Dead' Recap: Welcome Back?.
Years from now — hell, months from now — when The Walking Dead's sixth season is up on Netflix and the streaming crowd is binging it, the whole "death of Glenn" bait-and-switch may be no big deal.As many had predicted, the guts and gore that filled our screens a few weeks back were that of cowardly Nicholas, and Glenn was able to escape becoming zombie kibble by sliding underneath a dumpster and waiting out the madness.Last month, The Walking Dead fan favorite Glenn Rhee (Steven Yeun) fell headfirst into a giant herd of hungry zombies — and let's just be honest, it did not look good.
Run away like Daryl should have from those motorcycle, crossbow stealing forest thieves—and we'd like to say to those dirtbags, we hope Daryl haunts your dreams. Yes, the cliffhanger of Glenn's fate from that episode has been answered. "Heads Up" wastes no time showcasing the reveal that Glenn is alive, saved by Nicholas' body and a dumpster, in its opening moments, but, as much as we have all waited weeks to find out Glenn's true fate, the episode is not solely focused on Glenn's plight. And they won't have dealt with the incessant Internet chatter, fan theories ("Damn, Glenn got ate!" "Nope, he ducked under a dumpster!"), and cryptic postmortem interviews that popped up in between.
And so, just as the show waited several episodes to resolve this cliffhanger, it only seems appropriate to address that plotline after taking a look at how Alexandria is faring at the same time. The Safe Zone continues to be in stasis for the moment, in need of a plan to get rid of the walkers on the other side of wall while also figuring out what to do in the wake of the Wolves attack. Glenn spent much of his big episode back trailing Enid, who tossed him a water in his time of need but had no interest in having him tag along otherwise. He tells Maggie while she takes watch that the best thing to do for those in and out of Alexandria is to focus on reclaiming the town's walls from the small sea of walkers forming like a moat outside their gate.
Other than making his distaste for Father Gabriel quite apparent, tearing down his prayer-circle fliers, "Heads Up" is about giving him him a better idea of the state of these two groups. It was Nicholas' organs the zombies were devouring in that awful scene, which gave Glenn the chance to wriggle away and hide himself under the Dumpster, where the fallen bodies of walkers formed a barrier that kept the other zombies from reaching him. Ron finally wants lessons on how to fire a gun, but he doesn't seem to quite understand that live target practice will only disturb the walkers and draw them to one spot. And even if somehow, the bazooka-type guns Abraham found weren't enough to put a serious dent in the walking hoard, consider this symbolic idea: a truck drove by the Wolves brought Alexandria with its horn in the first place, so another truck should be able to lead the Walkers from Alexandria with the same method.

We've extensively reported on the casting of Negan, perhaps one of The Walking Dead's greatest villains—and that's because in addition to being a brutal, brutal killer, he also wages a war against the Alexandria safe zone. At the end of the episode, we saw the angst-filled teen approaching Carl from the back and his hand is on a gun that's hiding in the waist of his pants. And now we know where Enid (Katelyn Nacon) went after vanishing during the Wolves' attack: By coincidence, she ended up on a roof that looked right down on Glenn's Dumpster. Incredibly, despite having just spent 24 hours under a Dumpster, Glenn still had the energy to go up against Enid's jaded teenage-ness and teach her some important lessons about love and friendship before they spotted the walled perimeter of their home — and the giant horde of zombies standing between it and them. And in the one real moment of action, Deanna Monroe's son, Spencer, tried to rope his way over the massing zombie hordes, in a headstrong attempt to restart the process of leading the undead away from town.

And finally, Maggie (Lauren Cohan) spent the entirety of this episode up on the wall, watching hopefully and helplessly for any sign of her approaching husband — which meant that she was the one to spot his signal, a bunch of helium balloons soaring into the sky. His resolve is tested, of course, moments later when a smiling Deanna, filled with much more life than before, shows her plans about how to expand Alexandria once they're beyond this hurdle.

But that's not the only reason the people of Alexandria should have been looking skyward: That damaged church tower just outside the wall, the one that had been ominously creaking and cracking all throughout the episode? What makes this all so frustrating is that anyone familiar with the source material knows the comics start getting really interesting around this point, by bringing in new characters and new challenges, based around the idea of what it actually takes to rebuild human society. Tobin is up-front with Rick that the Alexandrians were initially afraid of him — his Tom Hanks-in-Castaway beard didn't help things — and then suddenly life moved faster than any of them had experienced. The man with the ass-kicking stick skills made some strong points about the vagaries of cause-and-effect, pointing out that because Rick saved his life eons ago, he then saved Aaron and Daryl, in a rescue operation…which ended up tipping off the Wolves.

If there's one theme that has been holding strong this year, it's the classic one about "best laid plans." This week's chapter also ended on a strong note, with a scene of Ron walking behind Carl with a secretly loaded gun, followed soon after by a shot of a tower collapsing. With the help of Tobin and Morgan, Rick is able to pull Spencer up, where he's more annoyed about losing his shoe than risking the lives of his fellow Alexandrians. Still, after this week's unfortunate resurrection, it's going to take a lot of clever plotting to rebuild trust among a fanbase that may have been faked out a few too many times.

Not just at Spencer, who wanted to do what Rick and Michonne had in mind to distract the walkers (get outside, grab a car, and drive it away to distract them), for never having made a climb like that. Carol and Morgan's ideologies have been at odds since he arrived, and so she's keeping a watchful eye on him as he heads over to Denise's for medical assistance. Everything on TV last week retroactively fell under the shadow of what happened in Paris on Friday, which made the weekend shows feel like either a welcome escape or an act of mass commiseration. He begrudgingly brings her over to the house of his locked-up Wolf (after helping the town doctor restore some of her faith in her own medical know-how). Last Week Tonight With John Oliver kicked off with the host addressing the terrorists with, "Fuck these assholes." Saturday Night Live — coming back strong from last week's Trump debacle — served up both remembrance and relief, with a touching bilingual nod to France.

Carol follows the two, first dropping Judith off at Jessie's house, where she quite clearly enumerates her state of mind when it comes to their safety. Oddly — or appropriately — this was actually a good week for small-screen escapism, thanks to kick-ass action from a pair of effects-heavy adventure shows, some long overdue comedy from a beloved duo, and a strange trip into the thoughts of an eccentric movie star.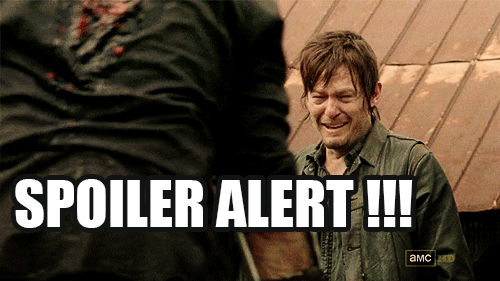 He then asks one final question about whether killing turns you into a monster, the not-so-subtle metaphor here posing the eternal question of who the true monsters in this world are. Carol responds: "The only thing that keeps you from becoming a monster is killing," which is just about as far from Morgan's "all life is precious" mantra as you can get. Morgan's secrets are thrown into the light, though, as Carol trails him to Morgan's makeshift jail cell, demanding to know who he has locked up in there.

Show creators' return to sketch comedy. (Seriously, thank you, Netflix.) Comedians don't get participation medals, however, and the duo's new show, W/Bob and David, wouldn't have been so welcome if the old gang weren't still funny. Yes, not every single gag lands in the series' too-brief four-episode run, but when the troupe hits on a good idea — a "no-nonsense" TV judge replaced by one who tolerates some nonsense; an anti-police harassment activist encountering a friendly cop — they perform the bit with the precision timing of an atomic clock.

Show career serves him well here, with his richer acting experience bringing more depth to sketches like the one where his "bad cop" is sensitive over what his "good cop" partner says about him to crooks. In that sense, Deanna doesn't believe Rick is giving the right answer when he says he saved Spencer instead of deciding to make a break for it himself in the confusion and gotten a car to enact the plan. In the midst of the afternoon, a prayer circle in one corner of town and Ron possibly deciding to kill Carl in another (he stole bullets from the armory), Maggie spots a burst of green balloons floating into the air.

Set in 1979, at a time when the Gipper was on the campaign trail, this week's episode — "The Gift of the Magi" — brought him to southwest Minnesota, where he delivered a stump speech so heartfelt that it choked up the local anti-government cynic Karl Weathers (played by Nick Offerman). On some other shows, Campbell might've been asked to do a broad, cartoonish Ronnie; here, he's so convincingly sincere that even lifelong Democrats may wish they could go back in time and vote for him. Fargo's second season has been telling an intricate story about the waning days of the 1970s, musing about how hippies and down-home crime families alike were steamrolled by the promises of big-time capitalism. The show's also been exploring the freaky side of this particular time in American history, evoking the prog-rock, UFOs, and macrame fringes of the Me Decade — all by way of explaining how a former Hollywood actor became a viable presidential candidate. TV fight sequences have become more kinetic and visceral over the past few years — we're looking at you, Daredevil and Strike Back — but rarely have top-quality punch-outs and slice-ups been as much of a selling-point as they are in AMC's new postapocalyptic martial arts extravaganza.

The show has a capable lead in American-born Chinese movie star Daniel Wu, and features a suitably out-there premise, about a not-so-distant future controlled by ruthless "barons" and their sword-wielding "clippers." But while there's not much here that should disappoint (or, frankly, surprise) genre fans, there's a reason why each commercial break during the series premiere was preceded by a teaser for the next round of bloodletting. That's because the most important name in the Into the Badlands credits doesn't belong to Wu, or even creators Alfred Gough and Miles Millar, but to fight choreographer Ku Huen Chiu, who's previously worked on Crouching Tiger, Hidden Dragon and the Kill Bill films. HBO gave us Going Clear, Tales of the Grim Sleeper, How to Dance in Ohio, and Kurt Cobain: Montage of Heck, while Showtime has come through with Mormon bigamist exposé Prophet's Prey, and now this peek inside the Method actor's mind.

The latter actually has a lot in common with the Cobain film, in that it too taps the private archives of a pop-culture icon to let him tell his story in his own words. In the case of Marlon Brando, director Stevan Riley had access to caches of audio-tapes of the eloquent, thoughtful actor, who later in his career became more reclusive and more inscrutable. The doc spans the star's career, giving as much space to his string of 1960s flops and his enthusiasm for Tahiti as he does to On the Waterfront or The Godfather.

Pretty much the only voice here is the big guy's, which makes the movie feel like a frank, personal behind-the-scenes look at what drove an oft-mercurial man. From the scenes of a handsome-as-hell young Brando hitting on lady reporters to the tapes of him talking about civil rights and showbiz phoniness, Listen to Me Marlon captures what made this actor so difficult to those who knew him intimately, and so beloved to those who watched him raptly from afar. Season Two has required a lot more set-up, with episode after episode of new characters popping by hype up the Machiavellian alternate-Earth speedster known as "Zoom." All of that finally paid off last week in a long visit from the ultimate rogue and some peak Flash action. Even before the Big Bad zipped over from Earth-2 to pummel our hero into near-paralysis, this was a packed episode: a jailbreak by tragic antagonist Dr.

Light; a hilariously awkward Zoom-baiting ruse involving Light's Earth-1 doppelgänger; and multiple attempts by the newly psychic Cisco to pick up "vibes" from the morally questionable scientist Harrison Wells. "Enter Zoom" sported the brightness, humor, and camaraderie that's been setting this show apart from its much grimmer DC-derived brethren Gotham and Arrow (not to mention Marvel's Agents of S.H.I.E.L.D). But the episode also gave us a lingering look at a seemingly unbeatable foe, which could lead to some nerve-wracking but entertaining complications for Barry Allen and company in the months to come. Mad Max will roar back out of the apocalypse while Mad Men rides off into the sunset, rock's Antichrist Superstar and hip-hop's Yeezus will rise again.

Share this article: