The Walking Dead: Michael Traynor provides intel on Nicholas' 'crisis of faith …
All the Reasons Your Favorite The Walking Dead Character Isn't Dead.
Last night's episode of The Walking Dead – due to air tonight in the UK – shocked viewers after it appeared to depict the death of popular main character Glenn Rhee (Steven Yeung).For a moment — no longer than the time it takes Rick to sprint several miles, the sound of a truck horn to carry across a few states, or an unknown Alexandrian to reveal his lack of survival skills — it looked like The Walking Dead's ratings were headed in an unprecedented direction: down. A gawky but brave pizza delivery boy turned zombie-slashing hero, Glenn was one of the longest-surviving characters on the show, and featured in its very first episode back in 2010 – albeit as a disembodied voice on a radio in a tank, guiding Andrew Lincoln's Rick to safety. Yes, AMC's herd was still unimaginably massive, but two episodes into the juggernaut's sixth season, a few bored or frustrated viewers were peeling off at the edges, summoned by the distant sounds of Sunday Night Football or the siren call of premium TV.

A dazed and confused Nicholas got a moment of clarity and then blew his own brains out, causing both him and Glenn to fall to the ground where we know at least one of them was devoured. But despite what we saw on Sunday, there's a pretty decent chance Glenn did not get eaten by zombies on the latest episode of "The Walking Dead." ▪ It's too soon: Entertainment Weekly lays out a case for and against Glenn's demise here. The man who played Nicholas, Michael Traynor, called into Entertainment Weekly Radio (SiriusXM, channel 105) on Monday morning to discuss the big scene with Jessica Shaw and yours truly. Glenn saved people, starting with a man he didn't even know – Rick Grimes – continuing through Tara after the prison attack, and going all the way through to Nicholas, a man who actively tried to kill him. Like Rick redirecting wayward walkers — but far more effectively — showrunner Scott Gimple brought any roamers back to the fold with an eventful third episode, "Thank You," which ended with one major character presumed dead and another bleeding and marooned in a walker-flanked RV.

The pair were on a mission to set fire to a building, creating a diversion to help other members of their group, but instead ended up trapped, surrounded by clawing, biting zombies, and pushed up against a wire fence. And while he would not reveal whether Glenn was actually dead or alive, he provided insight and intel for why things went down the way they did, what filming that scene was like, whether Nicholas is a coward or a hero, and what memento he may have scored from the set. (Read through both pages for the entire interview, and also make sure to read our verdict on whether Glenn is really dead or alive.) MICHAEL TRAYNOR: Before we started shooting season 6, [showrunner] Scott Gimple was lovely enough and brave enough to give me a call and talk about their ideas and plans for the Nicholas story line. For the third consecutive week, AMC spared no expense on special effects or speaking parts for strangers, making the most of the hours it took to get an army of extras in costume. And I really think that was a commendable thing to do, because to tell an actor, "Hey, your time on this amazing job may be short-lived," is a really brave thing to handle. But this time, the crew capped off a frantic 44 minutes with the completely confirmed, only semi-off-screen, not-at-all dubious death of fan favorite Glenn, who dove off a Dumpster into an undead mosh pit after Nicholas — the stringy-haired Alexandrian whom he'd tried to redeem — gave the walkers easy access to his skull via self-inflicted gunshot wound.

While we didn't actually see Glenn get bitten, the last shot was of him on the ground, completely surrounded and covered by the Walkers: it was clear he wasn't coming back. Who was always quick to remind Rick not to lose his hold on humanity, lest the show surrender its capacity for future debates about etiquette in a kill-or-be-killed world.

Whose death not only promised to make Maggie more sad than she'd been since that bad cop killed Beth, but also made Abraham and Rosita the only survivors still certifiably doing it in a strangely non-promiscuous postapocalyptic America. On the other hand: No publicity is good publicity. ▪ Jon Snow: HBO seemingly has pulled something similar with another fan favorite, Jon Snow, on "Game of Thrones." On the other hand: That kind of switcheroo feels sooo cheap (see season two of "True Detective"). ▪ Glenn has been spotted on set. "The Spoiling Dead" and "Entertainment Tonight" both have had shots with Yeun on set, in costume with characters who have not yet been introduced. As soon as Glenn's head hit the ground, geysers of blood blocking our view of his body, and entrails of unknown origin beginning to be gobbled, the Internet entered super-sleuth mode, inspecting suggestive set photos, parsing Comic-Con comments, counting upcoming credits, and dissecting Steven Yeun's absence from Talking Dead, where the actors who play recently killed characters traditionally take one last lap on Chris Hardwick's couch.

When we caught up with Yeun at the season six premiere in New York in early October, he said this when asked if he was tired of getting asked when Glenn would die on the show: "We do hear that. I thought it was a very interesting continuation of the argument of not only is humanity an attribute that is a positive or negative in the apocalypse, but what are the elements of survival? I think he's gotten himself out of pretty ridiculous circumstances, but we'll see, we'll see when it's time to tell that story or if it's ever time to tell that story." Sure, it doesn't mean he's alive or dead. Maybe he'll bide his time until his undead assailants are distracted by the next unforeseen crimp in Rick's FUBAR plan to free the black-and-white walkers from Pleasantville. And I think you have the dichotomy of Glenn, who is always focusing on solutions, and somebody like Nicholas, who seems to have had a crisis of faith in himself and in the opportunity to survive.

I keep thinking this show does stir both wild fan reaction and emotion and throwing of remote controls at TVs, but it also does have that conversation: How would you survive the apocalypse? Until then, we'll wait and wonder whether we'd rather watch a Walking Dead without Glenn or a Walking Dead in which someone survives this: Option A would deprive us of a likable character, albeit one who's spent most of his screen time on supply runs.

So I'll say this: In some way, we will see Glenn, some version of Glenn, or parts of Glenn again, either in flashback, or in the current story, to help complete the story." Yeung is also apparently still credited for episodes later on in this season, although it's possible that the character may just be appearing in flashbacks, or as a zombie.

Option B would force us to question everything 70 episodes have taught us about the odds of survival after being buried beneath a writhing pile of the undead. For you, Kubler-Ross right now looks something like this: Regardless of the absolute impossibility that Glenn singlehandedly survived an onslaught of hundreds of flesh-craving zombies, the Internet is buzzing with theories about how he may indeed have survived an onslaught of hundreds of flesh-craving zombies.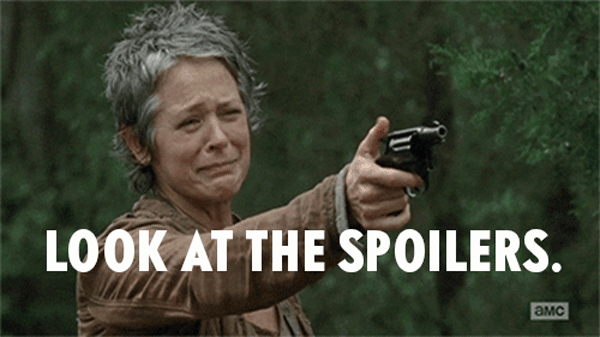 Is this a cowardly move of giving up, or is he sacrificing himself for Glenn, thinking the zombies will get me and maybe he can get out of here alive? There are two main tenants to this desperate attempt to remain in stage three: one about the events in that alley, and the other about some cryptic, tea-leaf reading type stuff on the aftershow, "The Talking Dead." This is what happened to Glenn in that alley, and the sooner you get to stage five on this the better you'll feel: He and Nicholas were cornered in an alley by hundreds of walkers.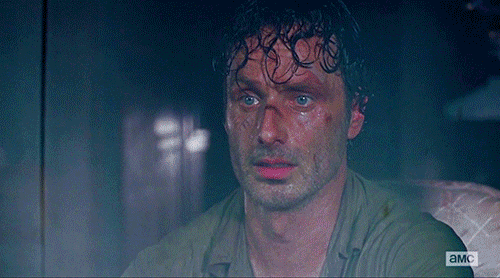 She's seen her father beheaded by a crazed eyepatch-sporting maniac; was reunited with her sister after months apart, only to find out that Beth had been shot – and now her husband's been killed by Walkers. But either way it suggests something else: we may have reached the point where major character deaths are losing their power to stun us, or to convince us, in and of themselves. So while we keep candles burning for Glenn and Rick, who's nursing a nasty wound from a walker's face-knife, let's take a moment to remember five fallen citizens of Night Vale–esque Alexandria, where the population is whatever-we-feel-like-this-week and any unfamiliar faces have "been there the whole time, just quite busy." Barnes spoke truth to power. "[Rick] brought us all out here to die," he said, shortly before dying after being brought out there by Rick. "He killed Carter," he added, which we all indisputably saw in the previous episode. "Now they're in trouble back there, and we're done," he concluded. "We're good as dead." A minute later, the only walker within a hundred yards was giving him a hickey. Rick, Daryl (Norman Reedus), Carl (Chandler Riggs) and Carol (Melissa McBride) are the only main characters introduced in season one who are still part of the show.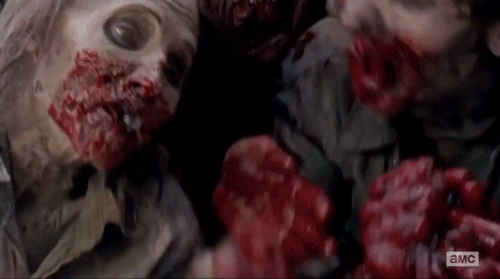 Say this about Barnes: He could've passed a polygraph. "Nothing is known about Barnes' life before or during the outbreak," his Walking Dead Wiki stub says, but we can assume he led his life like he left it: without telling a lie. "I'm going to get killed by a katana," he might have said in his final seconds, had he been able to form sentences through the huge hole in his throat. But I do think the TV fan base suspects that even the most violent shows are reaching the limits of what they can do to top themselves, and beginning to see the whole bloody business — originally a refreshing change from the stunts of TV past — as a kind of stunt in itself. And while the two of them have gotten out of sticky scraps before (Glenn's use of "dumbass" in this episode was a nice callback to his perilous gut-smeared meet cute with Rick), it's clumsy to put two such important characters in danger only to rescue them both at the last minute. Killing off major characters became the way a show made its bones, proved no one was safe, proved it was willing to "go there." But now we "go there" so often we practically have our mail forwarded there.

With Sturgess tending to the great garden in the sky, Alexandria faces a far greater threat to its tranquility than walkers and damaged walls: runaway weeds. We only did it a few times because Michael Slovis was like, "No, we got it." He was very confident in the story he wanted to tell and he knew when he had it.

Maybe Glenn really is no more, and it's our fault for not being able to see a character's death even when someone literally rips out his guts and shows them to us. There are echoes of "we have a plan," and then when the plan starts to go wrong, how do you handle that pressure of not just executing the plan, but of dealing with the bumps and the turns and the unexpected events?

But she does die a hero, taking out two walkers instead of saving a slug for herself or firing a few into the backs of the comrades who used her as bait instead of letting her wait out the walkers inside the store. But they're supposed to announce their approach with an audible groan, just as a SWAT team is supposed to say "Police!" before bashing down the door.

David was dealt a bad break, being bitten by one of those rotting, rule-breaking Solid Snakes that sneak around noiselessly until they've inflicted a fatal wound. Despite the utter unfairness of his fate, he handled his bloody back like a pro. "I know what it means," he said, confronting his fate with Barnes-esque honesty.

David uses his time in the store to write her a note, which begins, "Betsy my love, if you are reading this it's because I didn't make it." But if Betsy ever reads it, it's because she slaughtered the walkers who ate her husband and dug the paper out of the abattoir where his body lay until it turned. Not only did Michonne refuse to take his letter as a misguided motivational tactic, but she watched David die screaming in the most gruesome death scene since Noah's without bothering to give him the same katana kindness she showed Barnes. If, in two weeks, we see Glenn crawl out from under that dumpster, covered in Nick's blood, and walk out of that alley, Gimple will have made a good number of fans happy. But he will have destroyed the show's integrity, and we frankly think that is something that he and creator Robert Kirkman and everybody else involved in it understands.

In the history books Nicholas might be viewed as somebody who tried — who admitted the error of his ways and tried, but unfortunately came up short. You're like "Aw, man, this coffee is the best coffee I've ever had!" It's almost an existential training camp for how you're going to handle death as a human being.

Share this article: