The Walking Dead: Is This Really the Last We'll See of Glenn?
'The Walking Dead' recap: Zombies take their toll in shocking development.
We're back outside Alexandria for this week's The Walking Dead, and there are 10 of our intrepid survivors in the woods – Rick, Michonne, Glenn, Nicholas the Coward Who Has Maybe Come Good, the New Black Dude Whose Name We Don't Really Know Yet, and a bunch of others who will almost certainly be dead 43 minutes from now because we have never seen them before.Television fans were shocked at the conclusion of Sunday's episode of "The Walking Dead" when Glenn Rhee (Steven Yeun), just the second series regular introduced in the show's pilot nearly five years ago, appeared to be torn to pieces by a zombie horde.In the heart-stopping sequence, Glenn and Nicholas – who had previously attempted to murder him – scrambled on top of a dumpster while the zombies closed in all around them. With nowhere to go, Nicholas turned to Glenn and thanked him for giving him a second chance – before putting his gun to his own head and pulling the trigger.

While the horde of zombies being led through the country seems to grow from one scene to the next, 'Thank You' continues this season's trend of thinning the herd of returning characters. Foremost in their argument is the fact that Yeun did not appear on the episode of "Talking Dead," a post-"Walking Dead" discussion show hosted by Chris Hardwick, as is tradition for characters who are killed off of the show.

Remember your nursery rhymes (or your Agatha Christie) and you'll know how this will likely turn out. "And then there were none." Surely that can't be true? Additionally, during "Talking Dead's" "In Memoriam" section, during which Hardwick recognizes all of the characters, zombies included, killed in the episode, Rhee was notably absent and in his place, a graphic repeating "Please don't let this be true" aired. Rick orders Glenn and katana-wielding Michonne (Danai Gurira) to rush back to Alexandria, even if they must abandon some of their companions with less-developed survival instincts. Glenn—the Master of Runs, half of TWD's best love story, and a general badass—went out trying to protect a group of hapless people who maybe didn't even deserve to be saved. The episode resumes not long after the closing moments of the season opener, with Rick, Glenn, Michonne and Daryl forced to rethink their plans while the on-going horn sounds from Alexandria.

While taking refuge inside an abandoned pet shop, Glenn concocts a risky plan that involves luring the walkers in a new direction by setting fire to a feed store. As Rick, Sasha and Abraham struggle to salvage the mission, Glenn and Michonne are tasked with leading the surviving band of Alexandrians back to safety. Glenn has been there since episode two, more adept at escaping than Houdini – hell, than James Bond even; I fully expect him to get out of his next tight spot by reaching into his pocket to reveal … a helicopter! An unlikely volunteer for this nearly suicidal mission is Nicholas (Michael Traynor), a supply runner whose cowardice led to the horrific death of Glenn's friend Noah (Tyler James Williams) in Season 5. Fans were certain that this couldn't be the end of Snow's story and persist to believe that he'll find second life somehow, a not wholly unreasonable thought, given the show's universe.

Glenn prevailed despite being wounded, however, and magnanimously spared Nicholas' life. "You're not that guy anymore," Glenn says, believing Nicholas has evolved into a better person. In the scuffling, a big white dude (so expendable that imdb and the official TWD website neglect to mention the poor actor's name) gets bitten on the shoulder, and Scott (Kenric Green) injures his leg. It's telling that their death scenes are perhaps their most impressive, as each of the Alexandrians seemingly tries to outdo each other for the award of 'most excruciating zombie-induced death'. Where the episode is at its most playful is with the pairing of Nicholas and Glenn, the highlight of the story that gives the episode its biggest, most rewarding dramatic moment. Rick does get a reply from Sasha Williams (Sonequa Martin-Green) and Abraham Ford (Michael Cudlitz) as they slowly drive away from Alexandria at the front of a massive zombie "parade." Rick's challenges are soon magnified, however, when two Wolves sneak into the RV and try to shoot him.

It's a genuinely shocking development, not least because it leads to the demise of Glenn, one of the few surviving characters from the start of the series. Give her an oozing brain one too while we're at it.) His wife of three months is back in Alexandria. "She made me more, more than I used to be," he says. "But if I could make it back, I'd want to say goodbye. It remains frustrating to see Daryl, Abraham and Sasha stuck on zombie babysitting duty, but at least Andrew Lincoln's Rick gets to flex his action muscles this week, using the unfolding drama as an opportunity to get some in some cardio and take out a couple of Wolves at the same time. Kirkman told fans to expect "a lot of cool stuff" with Glenn and Yeun said, "The way that we make the show — the writers and everybody really want to focus on making things poignant and purposeful and meaningful.

Lincoln remains skilful throughout the action sequences (his bone-crushing camper van fight is another highlight) but manages to find moments of quiet amongst the violence. They take refuge in a pet store, where Michonne tells Dr Dre that their only hope of escape is to lead the zombies "away from here". "Because that's been working so well lately," says Dre. Considering less important characters like Tyrese and Merl had more heroic and honorable deaths, it seems unlikely that the show runners would kill Glenn in such an offhanded way.

Take that, Rick Grimes and your crazy-ass scheme to make Alexandria safe from zombie attack by leading squillions of zombies past the front gate. "Have you ever done things that make you feel afraid of yourself afterward? I'm still with Rick, but I am definitely thinking about buying a tent and maybe heading out to that camp ground with all the other doubters if this carries on much longer.

Usually exiting actors show up to give the show an emotional goodbye. (We're still processing Emily Kinney's goodbye appearance.) In fact, during The Talking Dead's post-mortem segment, where they usually list all the characters that died in a given episode, Glenn's name was also absent. Imagine the local Pets R Us if word went around on a Saturday morning that they were giving away free kittens to every eight year-old who bothered to rock up. Beneath them, gasping faces and grasping hands reach up, looking both empty and desperate; it's like the mosh pit at a Slipknot concert and Nicholas looks like he's thinking about crowdsurfing his way to the bar.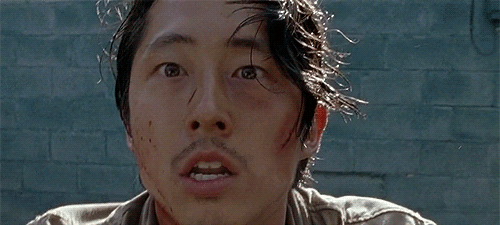 Share this article: