The Problem With Anne Hathaway Syndrome
'The Intern' gets the job done.
Everyone in Meyers' celestial casts are jolly, even when they're not supposed to be, and why not? "The Intern," the newest film directed by Nancy Meyers, opens on Sept. 24 and centers on a retiree who works as an intern at a fashion company run by a young woman.You know that person you meet who's so nice and smart and accommodating, who's almost predictably wonderful it's kind of annoying at first — but then you stop resisting and realize it's not an act, and you come to kinda love being around that individual? Delicious food and drink abound, everyone owns an Apple gadget and lives in a designer abode, and epiphanies occur every 10 minutes or so, accompanied by a triumphal soundtrack swell. For particular audiences, Meyers has become a reliable purveyor of stories about funny, flawed people of a certain age, bringing her signature brand of observant humor and fetishistic production values to such wry over-40 rom-coms as "Something's Gotta Give" and "It's Complicated." With "The Intern," she changes things up a bit: Rather than the perfect copper-plated kitchens and cozy living rooms she's become famous for, this movie inhabits the sleek, wired-in world of a Brooklyn loft, where a newly successful entrepreneur named Jules (Anne Hathaway) runs her e-tail clothing business.

The Intern offers more of the same, with Robert De Niro and Anne Hathaway being the celebrities du jour, and it must be said that gruff De Niro delivers a charming performance opposite the reliably perky Hathaway. Meyers best from her past hits like "It's Complicated," which stars Meryl Streep as a woman romantically involved with characters played by Alec Baldwin and Steve Martin, and "What Women Want," which stars Mel Gibson as a man who falls in love with his co-worker (Helen Hunt), may be surprised by the platonic relationship at the center of the film. Having launched a search for senior citizen interns (then promptly forgotten about it), Jules is urged to take one under her own wing, for appearance's sake. Ben (Robert De Niro) gets hired as a "senior" intern at an Internet startup that sells clothes (clothes that fit, evidently a concept novel enough you can base a company on it). Enter Ben Whittaker (De Niro), a 70-year-old widower who last worked producing phone books and who arrives promptly every day dressed in suit and tie, briefcase in hand, pocket square pressed.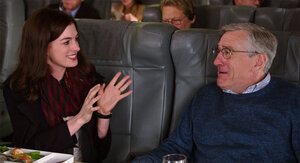 Instead of hilariously exploring domestic tangles, in the style of She's Gotta Give and It's Complicated, Meyers moves into the workplace, although home is still just a pleasant Subaru drive away. And I felt I'd covered that subject pretty well: to fall in love, and out of love, and be divorced, be ['Holiday' star] Cameron Diaz's age, or be Meryl Streep's age.

The clash of analog and digital cultures makes for the most obvious humor in "The Intern," which features an early, eye-rolling scene of Ben and a neighbor (Linda Lavin) professing mutual ignorance of how those newfangled computer-machine thingies actually work. A cross between Mary Poppins and The Devil Wears Prada, the film is another crowd-pleaser — albeit one with the knotty subtext that women seeking harmony at home and office need a father figure to light the path. There are plenty of jokes at first about Ben's age (he's 70) and how it must surely be a poor fit with the brotastic vibe at the company the eternally busy Jules founded.

Once Ben and Jules get to know each other, though, the story takes on less predictable textures: What at first threatens to be a thinly disguised Baby Boomer screed against Millennial laziness and entitlement winds up being a surprisingly affecting meditation on ambition, self-doubt, gender roles and the enduring search for balance between "love and work, work and love," as Ben intones during the film's opening sequence. I've never done that." As Meyers looks at a non-romantic relationship in her movie, it's been several years since a romantic comedy became a huge hit at the box office. Undaunted, Ben quickly becomes an indispensable member of the staff — and, with his suit-and-tie style, a sharp contrast to his young, casually dressed and more than slightly goofy colleagues. Soon, not only is he hired, but he's assigned to be the personal intern of Jules, who acknowledges that she thinks it's a bad idea and that she's hard to get along with. There's no chance of romance between the two (he becomes infatuated with the company masseuse, played by the sensational Rene Russo), so what unfolds is something filmgoers don't see every day: a genuine friendship between a grown man and younger woman, uncontaminated by jejune cliches or icky innuendo.

He volunteers as an elder intern at the booming Brooklyn e-commerce clothing firm created by Hathaway's Jules, a thirty-something workaholic who uses a bicycle to speed between the desks of her dutiful drones. For that alone, and for its feminist politics, "The Intern" deserves congratulations — but, sadly, enlightened principles aren't enough to make a film fun to watch.
Not at first, anyway. "The Intern" is the latest comedy from writer-director Nancy Meyers ("Something's Gotta Give," "It's Complicated"). Although Hathaway adroitly avoids playing Jules as yet another brittle, neurotic career gal, she's almost completely devoid of the contradictions that would make the character far more interesting. Frazzled Jules doesn't want him around — she finds him "too observant." But when her regular chauffeur turns unreliable, Ben slides behind the wheel and begins touring her around NYC, and also her life. Meyers clearly didn't want to punish Jules's ambition by making her unsympathetic, but the result is a character with no edges — sharp or otherwise — to speak of. (Her biggest flaws are a weakness for multitasking and not getting enough sleep.) The de-fanging works better with De Niro, who made a career of embodying volcanic menace and now exudes a quietly befuddled, Teddy bear-ish charm.
He offers business advice and family counselling too, assisting Jules' neglected house hubby (Anders Holm) and precocious young daughter (JoJo Kushner). This year's "The Longest Ride" and "Aloha" didn't do well financially, nor did 2014's "That Awkward Moment," "About Last Night," "Endless Love," "Blended," and "Think Like a Man Too." Perhaps audiences are looking for something different from the genre. He never takes a false step, does all the right things and has plenty of "life experience" so that he can help everyone with their problems, including the initially reluctant Jules. Somehow, she had the vision and effort to create a ridiculously successful company that reached its five-year goals in nine months but is now being doubted by her investors.
That's all very nice, but not particularly the stuff of potent or rousing entertainment. "The Intern" feels a little bit like the tai chi exercises that Ben does in the park throughout the film — you look for something to react to and laugh at and maybe even shed a tear about, but you wind up pushing against a puff of air. Ben also becomes a mentor to the other interns, literally and figuratively cleans up the office — and catches the eye of the on-site masseuse (Rene Russo, looking spectacular at 61) who doles out back rubs and foot rubs to the employees, because that's how cool this company is. The closest these two get to a bed is sitting on one while watching Gene Kelly croon "You Were Meant For Me" to Debbie Reynolds in a Netflix screening of Singin' in the Rain. With some genuinely insightful dialogue, a number of truly funny bits of physical business, and small scenes allowing us to get know and like a half-dozen supporting players, "The Intern" grows us on from scene to scene, from moment to moment.
Share this article: