"The Little Prince" Makes Cannes Premiere!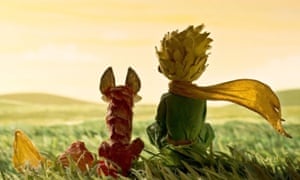 Boyhood becomes girlhood in The Little Prince at Cannes.
CANNES, France: A new animated film based on the best-selling French book "The Little Prince" was to premiere in Cannes on Friday, adding a touch of childhood magic to the red carpet of the movie festival.One advantage of animation is that you can record a whole new language dialogue track, and no one will know the difference. (It's like the silent era, when switching out title cards meant it didn't matter whether the film came from Berlin or Bognor.) So we have the new adaptation of the popular Saint-Exupéry children's tale, simultaneously presented in two different cinemas at Cannes, in French and English, with entirely different voice casts involved.

Director Osborne, voice actors Mackenzie Foy, Rio Suzuki and Riley Osborne (right) pose during a photocall for the animated film The Little Prince (Le Petit Prince). The $63-million (57-million-euro) cartoon is the most expensive France has made, and its choice of a US director, Mark Osborne, who made "Kung Fu Panda," aims it squarely at the family market dominated by Pixar and DreamWorks. It was the English one for me, with Jeff Bridges and Rachel McAdams, rather than André Dussollier and Florence Foresti; however, with Kung Fu Panda's Mark Osborne on board as director, the artistic balance is definitively tilted in the direction of the Anglo-American crowdpleaser. The starry-eyed tribute to imagination and childhood is a wonder and pleasure to behold, as an enthusiastic crowd in the Grand Théâtre Lumière did during Friday's world premiere at the Cannes Film Festival. Directed by Mark Osborne (Kung Fu Panda), the script by Irena Brignull (The Boxtrolls) and Bob Persichetti (Disney's Tarzan and Mulan, as well as Puss in Boots) takes Antoine de Saint-Exupery's ageless, delicate 1942 story, deep fries it in hydrogenated fat and then encases it in a corn-syrup-based frame story that was clearly conceived to make the source material's unsettling message about mortality and the evanescence of innocence more palatable for contemporary audiences.

And when the movie in question happens to be an adaptation of one of the most beloved children's novels of all time, the potential for disappointment looms especially large. Human and space-alien characters, along with talking animals and flowers, all voiced by a bevy of Hollywood stars, are presented in a seamless blend of modern CG and traditional stop-motion animation by French and Canadian animators. Kitted out with a big name voice cast (an eclectic bunch that includes Jeff Bridges, Marion Cotillard and James Franco) for the Anglophone version, the package has been acquired by Paramount for the US and major distributors elsewhere and surely squillions will be spent in marketing this for its summer release. Rather it takes scenes and characters from the book and weaves them into a modern-day story that stresses the importance of imagination in a regimented world. But while familiarity in Europe with the source material will ensure interest, especially in France where Le Petit Prince is merchandized up the wazoo already, elsewhere it will be a much trickier sell.

He lives in a rundown but fantastic mansion with a wrecked plane in the backyard, next door to the soulless modern home where the girl and her mother, who wants everything to be done on time and to perfection, have moved in. The male-oriented 1942 novella by French war pilot turned writer Antoine de Saint-Exupéry, which has sold more than 145 million copies worldwide, in more than 250 languages, has been expanded and given more of a female focus.

It makes a certain amount of sense that the filmmakers would choose to flesh out the running time with extra material given that the original text is a slim volume, easily readable over a one or two bedtime sittings depending on how tired your child is. Osborne's big stylistic move is to animate the "present" in big-eyed CG – very much in the contemporary manner – and then, when diving into the old man's increasingly elaborate storytelling, to switch to a very beautiful rustling-paper stop motion technique. The most typical solution chosen by numerous other adaptations for stage and screen, like Stanley Donen's trippy, somewhat sinister 1974 version (with Bob Fosse as the Snake!), is to expand with songs. From that, Saint-Exupery spun a fanciful, faintly ethereal fable about a downed airman who finds himself face-to-face with a curious, blond-haired young boy who claims to be the sole inhabitant of a distant asteroid (#B-612), and who regales the pilot with tales of the interplanetary travels that eventually brought him to earth.

The film uses stop-motion animation to re-create and expand upon the watercolours that Saint-Exupery painted for his novella, a fantasy tracking the relationship between an aviator who crashes in the Sahara and a small boy, the "Little Prince", who says that he is from an asteroid and tells the story of his life. It's a very effective, and very easy on the eye, method of demarcating the two: the former is all muted monochrome, clean lines and razor-sharp focus, while the latter has a highly-coloured sketchiness and crinkle-edged texture that accurately distils the original's design qualities. Those adventures consist largely of meetings with puffed-up, self-important adults who imagine themselves to be powerful despots but are, in fact, just orbiting the universe alone on their own similarly uninhabited rocks. Saint-Exupery fled the Nazi occupation of France and wrote the book in New York in the early 1940s but returned to join the French Free Forces in North Africa to help in the fight against Nazi Germany.
His one and only reader is his nine-year-old neighbor (Mackenzie Foy), a dutiful only child who's had her childhood written out of the schedule by her single mom (Rachel McAdams), a well-meaning helicopter parent who has literally mapped out her daughter's life using a magnetized planning board that must have required half an aisle's worth of loot from Office Depot. But there are also touches of melancholy romance, in the form of the Prince's codependent relationship with a very demanding rose (which sends him fleeing B-612 in the first place), and a darkly poetic ending that can be interpreted as either a salvation or a suicide. Osborne said he had done everything in his power to retain the book's Gallic flavour, and said he had won plaudits from Saint-Exupery's family when he gave them a rundown of his plans. "I pitched everything and they applauded it and they said, 'You have our full support' and I burst into tears," Osborne said after a media screening. "It was like a huge moment because for me it's really important for us to have that sort of seal of approval." The superstructure is complex enough in itself – with the girl scrapping with her mother and bonding with the old man as he attempts to get his plane off the ground – and binding it to Saint-Exupéry's own multi-stranded storytelling, with star-collecting businessmen, spirit-guide foxes and desert hikes, is almost too intoxicating a brew. That whole present-day, "real world" story is incarnated by computer animation, giving the characters exaggerated, "cartoony" features with big eyes and caricatured expressions but with all the high-spec modelling, dimensionality, and attention to light sources and shading audiences have come to expect from CGI stories.
There are at least three false endings as Osborne looks to tie all the layers up in the final 20 minutes, so that when "FIN" drops finally into place, it's something of a relief. Meanwhile, the Little Prince's story that the aviator tells is executed via stop-motion animation, directed by Jamie Caliri, a contrasting technique that makes it much easier for viewers to understand the difference between these two worlds. This part of the film is simply exquisite, not just because it's immaculately executed but also because the papery textures of the characters, apt but not too-literal translations of the Saint-Exupery's illustrations, evokes their fragility.
Fans of Antoine de Saint-Exupéry's book and his original watercolour illustrations will applaud the care that has been taken to preserve the hand-drawn charm of the original work, which has been called the world's most-read story and also the third-most translated one. These scenes are a joy to behold — a bliss-out of brightly colored paper and hand-molded clay that can stand shoulder to shoulder with the texturally varied and vibrant stop-motion work seen in Wes Anderson's "Fantastic Mr. And just to underscore their lack of faith in getting the ideas across of this mid-century work of whimsy and despair, there's a big old action sequence gussied up for the last act in which the little girl goes off into space to find a now-grown Little Prince in order to reunite him with his one true love, the rose (Cotillard).
For the most part, it's more than competently made, especially the background designs that create — in the framing device — a dystopian suburbia that's one part The Truman Show and two parts Mr. But even then, the film remains a consistent visual treat (the computer animation is more inspired in this section, with the grown-ups depicted as a colorless, zombified mass of tall, narrow bodies) and always echoes Saint-Exupery's core theme of looking at the world through the hopeful, uncorrupted eyes of a child, where sometimes what appears to be a hat may in fact be a boa constrictor with an elephant inside. Hulot's Holiday, all done in muted greys, olives and dusty teals.The score credited to Hans Zimmer and Richard Harvey, featuring the voice of Camille has sweep without overwhelming the action, and in all other technical respects it's a perfectly respectable piece of work. At least when it comes out on home-entertainment platforms viewers will have the option of cutting to all the stop-motion bits based on Saint-Exupery and leaving the rest out, which will make a short just long enough for pre-bedtime viewing.
Cast: Jeff Bridges, Mackenzie Foy, Rachel McAdams, Riley Osborne,Paul Rudd, Marion Cotillard, James Franco, Benicio Del Toro, Ricky Gervais, Bud Cort, Paul Giamatti, Albert Brooks Screenplay, Irena Brignull, Bob Persichetti, based on "Le Petit Prince" by Antoine de Saint-Exupery; head of story, Persichetti. (Color, widescreen); editors, Matthew Landon, Carole Kravetz; music, Hans Zimmer, Richard Harvey; production designers, Lou Romano, Celine Desrumaux; sound designer (Dolby Digital), Tim Nielsen; supervising sound editors, Nielsen, Christopher Barnett; re-recording mixers, Nielsen, Barnett; visual effects supervisor, Pascal Bertrand; character designer, Peter De Seve; co-character designer, Barthelemy Maunoury; CG character supervisor, Hidetaka Yosumi; CG animation supervisor, Jason Boose; CG lighting supervisor, Adel Abada; stop-motion creative director, Jamie Caliri; stop-motion production designer and character designer, Alex Juhasz; stop-motion lead animator, Anthony Scott; associate producers, Brice Garnie, Olivier Rakoto; casting, Sarah Finn.
Share this article: