"The Desired Effect," Brandon Flowers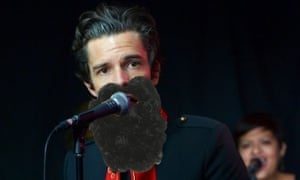 Brandon Flowers admits to carrying a bag of his hair shavings around: 'It has become a ritual'.
If the title of Brandon Flowers's second solo album refers to eliciting a positive response, than the Killers' frontman's confidence was well-placed. "The Desired Effect" absolutely brims with pop-rock goodness, spanning several styles that are tied together by the singer's gifts for combining an instantly memorable tune, clever turns of phrase, ace instrumentation, and his airy yet powerful voice. The Killers' singer, whose career was launched off the American band's 2004 debut Mr Brightside, said it has become a "ritual" for him to keep clumps of his own hair in a bag.The Killers frontman Brandon Flowers has admitted to forming a rather strange habit after ditching his bearded look for an album – collecting his hair and carrying it around in a ziplock bag. The committed Mormon told the Independent's Radar magazine, he removed his beard – grown for the Americana-inspired second album, Sam's Town, in 2006 – ahead of their third record two years later, but kept the shavings. "I'll grow five or six days' growth, make sure that the sink is dry, use an electric razor, catch it in the sink, and then I'm able to just scoop it into the bag.

Recorded with producer Ariel Rechtshaid (Haim, Vampire Weekend) and featuring contributions from many talented friends — including Bruce Hornsby, Neil Tennant of the Pet Shop Boys, and drummers Kenny Aronoff, Joey Waronker, and the Killers' Ronnie Vannucci — the 10-track collection skips from percolating rockers to winsome balladry, and shimmering synth pop to soaring arena anthems. (The deluxe edition includes two bonus tracks, the funky, fiery title song and an alternate take of "Between You and Me." The album kicks off with what sounds like a recounting of Flowers's own blessings on "Dreams Come True." In his patented U2-meets-Springsteen style, Flowers sings of being teased by the promises and visions of the highway as seen from the back of a limo, and of falling in love after the requisite kissing of frogs. A female backing vocalist provides sweet harmony as he cautions against holding one's breath, waiting for the other shoe to drop as life passes you by. The aptly urgent "Can't Deny My Love" summons a giddy '80s vibe, one that Flowers takes a step further on the Bronski Beat-sampling, Annie Lennox-channeling, Tennant-assisting "I Can Change," where he beseeches a lover by crooning the dangerously magical words of the title. Those aforementioned female vocals — some provided by the Dirty Projectors' Angel Deradoorian – return to complement vague reggae accents in the cheeky "Still Want You" — in which our narrator insists that come nuclear threat or climate change or rising crime, nothing will deter his desire — and inject fiery soul into "Never Get You Right." That last song is one high among many, as Flowers observes of someone who he's been watching that "they'll turn you into something whether you are it or not," over a going-down-easy clap track that gives way to a funky clatter and insistent synth string flourishes. It means something." Flowers recently told NME that The Killers will make another record because their previous effort 'Battle Born' "wasn't good enough" and "we all know it". "Once [the band] all get on the same page, it'll work," Flowers said.

He jokingly added: "I need to persuade them to like the same things as I do." Speaking in another interview with Shortlist, the singer said that his band's hit 'Mr Brightside' wouldn't have been a success if it was released today. "Record deals have changed. It means something." Now I don't know about you, but if there's one thing weirder than a man carrying seven years' worth of beard trimmings around with him in a Ziploc bag, then it's a man carrying seven years of beard trimmings around with him in a Ziploc bag and having NO IDEA why he's doing it. So I keep this bag in a drawer by my sink in the bathroom." While promoting his efforts away from The Killers, Flowers was also keen to blow his band's trumpet. "Whether the people want to accept it or not, we might be the best band in the last long time!

Share this article: