Taylor Swift makes history at Billboard Music Awards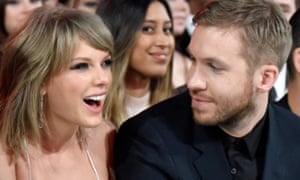 Taylor Swift is big winner at 2015 Billboard Music Awards.
Taylor Swift was the big winner at this year's Billboard Music Awards. Taylor Swift had a historic night at the Billboard Music Awards: The pop star is the most decorated artist in the show's history win 20 wins, beating Garth Brooks' 19-win record. Swift thanked "all the girls I talk to on the Internet and we talk about your feelings and you teach me your teen slang," during her speech for top female artist, and told her fans that she was "obsessed" with them: "You guys are the reason this year has happened the way that it's happened," she said.

It was also a good year for Iggy Azalea, Pharrell and Sam Smith, who each won three awards, while One Direction, Hozier, Jason Aldean, Enrique Iglesias and John Legend, took home two. All day, all day." (Video via dick clark productions) Rolling Stone did the math — Kanye was on stage for 5 minutes and 18 seconds, but viewers at home could only hear him for 4 minutes and 16 seconds. Swift swapped her first two verses with new ones from rapper Kendrick Lamar for "Bad Blood," a song rumored to be about Swift's friendship with Katy Perry. But as a writer for The Huffington Post so perfectly pondered, should we expect anything less from Kanye at this point? "It was intense, in true Kanye West fashion." Well, if we know Kanye, he'll have at least something to say about getting bleeped for more than a minute. Swift kissed the DJ-producer-singer on the cheek and gave him a hug after winning her awards. "I'm happy right now that it all was pulled off without a hitch," an excited Swift said in the AP interview about her new video. "I can't believe it didn't leak.

Right now I am just taking the biggest sigh of relief that the fans got to experience it the way I wanted them to experience it, which was a full element of surprise." Though Swift had an epic open of the Billboard Awards with her video, Kanye West's closing off the show was tragic. Van Halen was the night's first performance and rocked the crowd with its 1984 hit "Panama." The Simple Minds, introduced by Molly Ringwald, performed "Don't You (Forget About Me)" from "The Breakfast Club," which is celebrating 30 years. Britney Spears sported a sheer black cat suit when she performed "Pretty Girls" with Azalea; Mariah Carey, who recently launched a Vegas residency, was pitchy when she sang "Vision of Love" and new single, "Infinity," though she ended with a strong high note; and Nicki Minaj's performance of "Hey Mama" and "The Night Is Still Young" featured her dancing more than singing or rapping as she relied on a backing track.
The night had some emotional moments, too: Chris Brown entered the red carpet holding his daughter Royalty; Ludacris offered some words about the late B.B. King and his renowned career; and a teary and shaky Meghan Trainor won hot 100 song and digital song for "All About That Bass." Hosts Ludacris and Teigen offered some jokes Sunday night: The rapper described why he's a good host, namechecking his music and acting credits.
Share this article: