Sweden Edges Russia to Win 60th Annual Eurovision Song Contest
Sweden Wins The 2015 Eurovision Song Contest.
This year's Eurovision Song Contest was won by Sweden's Måns Zelmerlöw with the song "Heroes!" which scored 365 points to beat Russian entry Polina Gagarina singing who scored 303 points after particularly suspenseful voting.
The CzechRepublic returned to the contest for the first time in five years, but failed to make it among the 27 countries for the televised final from Wiener Stadthalle in ViennaAustria. The winner was perennial Eurovision powerhouse Sweden with Måns Zelmerlöw's "Heroes" — an uplifting but utterly bland song that did boast nifty live video effects. The program is massively popular, pulling in somewhere around a half a billion viewers every year, and inspiring rivalries between nations and fierce patriotism. Yes, the patriarch of the Russian Orthodox Church, who had called Eurovision "repulsive to our soul and our culture", was spared the experience of his country hosting next year's show, the mixed honour bestowed on winning nations. This year's runner-up was just as grandiose as the winning song but let's face it: Nobody asides from Moldova or Belarus wants the contest to be held in Russia in the near future, so Polina Gagarina didn't get enough votes to take her to the top.
The race between Russia and Sweden went back and forth for most of the evening as jurors from 40 countries cast their ballots, along a worldwide audience voting by phone and app. Running since 1956, the show is best thought of as a European-only (for the most part) musical World Cup or Olympics. "Heroes" has already gone to number one in Mans' home country, which shouldn't come as much of a surprise. Once a title is named as the country's representative, the nation stands behind and supports both it and its singer, and each country's competing song usually ends up achieving at least some modicum of success. Turns out the country is so mad about the contest, it was invited to participate just this once — never mind it's, oh, 12 trillion miles from Europe.
Ireland holds the record for number of wins at seven. "I just want to say that we are all heroes, no matter who we love, what we are and what we believe in," Zelmerow said as he clutched a crystal microphone given as the competition award. Zelmerlöw had attracted unwelcome media attention in the runup to what is, by tradition, one of the most LGBT-friendly dates on the mass entertainment calendar, won last year by bearded drag artist Conchita Wurst, now a global gay superstar. And Oz came prepared: Former "Australian Idol" winner Guy Sebastian pulled off a top 5 finish with "Tonight Again," a rousing Mark Ronson-type number. AFP PHOTO / SAMUEL KUBANI (Photo credit should read SAMUEL KUBANI/AFP/Getty Images) "Heroes" follows the recipe for a typical Eurovision song: it must be grand, inspirational, and it helps if the track is catchy enough to stand on its own. This year's Måns Zelmerlöw is no strangers to TV contests, having been on Idol 2005, Let's Dance in 2006, and on Melodifestivalen three times, also winning in 2015.
A celebrity in his homeland since taking part in a TV talent show in 2005 – the 28-year-old singer had twice before tried and failed to represent Sweden in Eurovision – Zelmerlöw courted some controversy last year when, appearing on a TV cooking show, he said gay sex was not as "natural" as that between a man and a woman. The competition isn't the hitmaker it once was (big names like Celine Dion and ABBA got their start thanks to the show), as most countries are more concerned with entering the sticky sweet ballads that are more likely to win, instead of something that would actually perform well in clubs and on radio were it not for the competition.
Such sentiments would seem jarring for Eurovision, especially in a year celebrating diversity, where host city Vienna installed special same-sex couple pedestrian traffic signals. Here we have a song, "Golden Boy," with a classic Eurovision chorus ("I'm a golden boy/Come here to enjoy/And before I leave/Let me show you Tel Aviv") and performed by a guy who's meant to be 16 but looks 35. The singer recounted how a friend came in and saved him from the bullying, and in the song Zelmerlöw now plays the rescuer to the stick figure of his younger self. Georgia missed the top 10 by just one spot with the belty Goth anthem "Warrior," in which the awesome Nina Sublatti boasts "I'm a warrior/Oximated/I'm gonna get up and be." Stare into the face of madness with this Serbian sensory overload. Russia faced some booing during the evening, and Zelmerlöw said he applauded the intervention of the hosts, who reminded the audience that the show was a song contest and not a political contest.
In "Beauty Never Lies" a Wagnerian power belter suddenly launches into a Hi-NRJ stomper, while a gaggle of interpretive dancers wearing masks out of "Sleep No More" writhe around her. Though the competition focuses on singers and musicians in Europe only—with the occasional "wild card" exception from somewhere else (this year it was Australian pop star Guy Sebastian)—it has developed something of a cult following in America, with thousands watching online and studying the brackets of which countries have made it to the next round, much as some would do with the NCAA's March Madness. Result: The land that gave us the Beatles, David Bowie and, er, Adele or something, ended up in 24th position — that's behind Latvia, Montenegro, Azerbaijan and Romania, among other pop strongholds.
And believe me, he does not want to silence this, or bury it under the carpet, he just wants the gay community to understand that he is so sorry for the words he used." The Eurovision organisers are nonetheless probably almost as grateful as the patriarch that next year's contest will not be in Moscow, given the scattered boos heard for Gagarina in Saturday's event, a possible product of Russia's anti-gay laws, which prohibit gay "propaganda" aimed at young people. And the song isn't even that bad! "I'm Yours" is like something you'd hear during one of those bittersweet "Grey's Anatomy" montages and the singer looks like Hozier.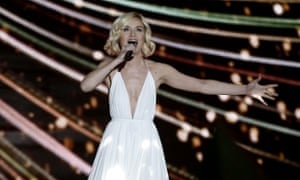 Share this article: