Suge Knight refuses to leave cell for court
Suge Knight Claims to be Too Ill to Attend the Court Hearing.
Los Angeles Superior Court Judge Ronald Coen said he almost ordered Marion 'Suge' Knight be forcibly removed from his downtown Los Angeles cell for Wednesday's hearing.
Former rap mogul Marion "Suge" Knight refused to exit his jail cell for a scheduled court hearing Wednesday, claiming he was sick, court officials said.Tracy Morgan says he's grateful his lawsuit against Walmart over a New Jersey highway crash that injured him and killed one of his friends has been resolved. The 50-year-old Death Row Records co-founder is charged, along with comedian Katt Williams, with stealing a celebrity photographer's camera in September. Knight is being held on $10-million bail on charges of murder and attempted murder for allegedly running over two men with a truck at a Compton restaurant earlier this year.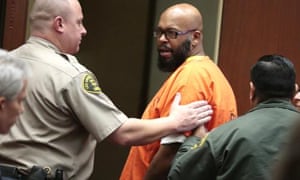 Knight has repeatedly complained of stomach issues and an ongoing medical complication after being shot multiple times last year at a West Hollywood nightclub. In Beverly Hills, sometime in September last year, along with his comedian friend Katt Williams, Suge Knight was accused of stealing a photographer's camera. Coen has determined there is enough evidence for Knight to stand trial in the case, but Knight's attorney Matt Fletcher is scheduled to argue it should be dismissed at Friday's hearing.

Knight, 50, was a key player in the gangsta rap scene that flourished in the 1990s, and his label once listed Dr Dre, Tupac Shakur and Snoop Dogg among its artists. He pleaded no contest in 1995 and was sentenced to five years' probation for assaulting two rap entertainers at a Hollywood recording studio in 1992.

Share this article: