Streaming services lead LGBT representation on TV, reports GLAAD
GLAAD report: TV still lacking racially diverse LGBT characters.
GLAAD released its annual "Where We Are on TV" report on Tuesday, revealing strides in LGBT representation on television, though not in the diversity of those characters. "20 years ago, GLAAD began tracking the number of lesbian, gay, bisexual, and transgender (LGBT) characters on television, and at the time, you could count them on one hand." That's how GLAAD C.E.O.(The Hollywood Reporter)Jeffrey Tambor may have won an Emmy this year for his portrayal of a transgender woman in Transparent, but LGBT representation is still sorely lacking on television, according to GLAAD.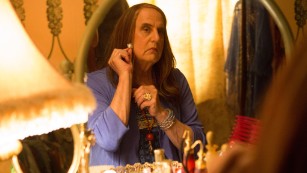 Tracking scripted series airing or expected to air in primetime between June 1, 2015 and May 31, 2016, the report finds that LGBT representation stands at 4 percent (35 out of 881 series regular roles) on broadcast TV, a tenth of a percent up from the previous measuring period. It's my job—part of it, anyway—to report on and critique the way LGBT characters are represented in pop culture, so I pay close attention to TV's gay characters and story lines. This year's report from the LGBT-focused media advocacy organization analyzed the overall diversity of primetime scripted series regulars on broadcast networks, as well as the diversity on cable and, for the first time, counted LGBT characters on original series that premiered on Amazon, Hulu, and Netflix. Consequently, when I read a GLAAD publication, I'm more likely to nit-pickingly find fault with its conclusions than to use it to learn about a queer plot line I wasn't aware of.

They learned that, of the 881 regular characters expected to appear on broadcast primetime programming (ABC, CBS, the CW, Fox and NBC) in the coming year, 35 (4%) were identified as gay, lesbian, or bisexual with an additional 35 LGB characters recurring. Out of the seven total trans characters on TV, only one is a transgender man. "The expansion of the television landscape into digital platforms is helping to spark needed changes, as content creators like Netflix and Amazon are making their mark with groundbreaking series like Sense8 and Transparent," said GLAAD CEO and president Sarah Kate Ellis. The primetime broadcast lineup will also include 35 recurring characters. (Frustratingly, GLAAD doesn't offer a definition of "regular" and "recurring," although the terms are used throughout the report.) Gay men make up the majority of broadcast's queers at 47 percent (33 characters), though lesbians increased five points from 2014 to 33 percent (23 characters). Bisexual representation rose two percentage points, and there are now 12 bisexual women and two bisexual male characters on network shows, but no transsexuals.

Gay men also dominate on cable, making up 41 percent of the made-up LGBT people, while 22 percent are lesbians, 23 percent bisexual women, 13 percent bisexual men, 1 percent transgender women (two characters), and 1 percent transgender men (one character). While bisexual characters, particularly bisexual men, did see an increase on broadcast and cable for this year, GLAAD determined that many characters were still written in a stereotypical fashion. LGBT people of color have remained underrepresented for years, and transgender men have been all but invisible in the media." The report specifically praises Fox's hip-hop mega-hit starring Terrence Howard and Taraji P. Henson as "one of the most inclusive programs on broadcast television," noting the drama's gay musician character, Jamal Lyon (Jussie Smollett), and bisexual singer, Tiana Brown (Serayah McNeill). The report notes that 16 percent of regular characters on broadcast programming this year are black — the highest since GLAAD began compiling racial data — but black women remain underrepresented.

On streaming it was 25% of a much smaller pool, with cable offering the least ethnic diversity. 43% of regular primetime characters are female (up from 40% last year), but this still doesn't reflect the general population, where women make up 51%. I yield to no one in my love of LGBT-themed television, but character counts and stats about the percentage of queer characters on streaming services who are gay men aren't what get my engines revving.

I'm interested in learning which shows—be they on broadcast, cable, streaming, or beamed in from outer space—have interesting and innovative queer storylines. However, the study argues that depictions of such characters tend to reinforce stereotypes associated with bisexual individuals (i.e. that they are untrustworthy, prone to infidelity, use sex as a means of manipulation or lack a sense of morality). Says Ellis, "The critical and commercial success of series like Empire, Transparent, and Orange Is the New Black can serve as an example to network executives that audiences are looking for stories they haven't seen before; indeed, there are still plenty of stories about our community yet to be told."

I'm curious about series that take surprising turns, like CBS's Person of Interest, where two female characters who had previously presented as straight realized they were attracted to each other. And I have an urgent need to make sure that people who pay a little less attention to this kind of thing than I do know that they should check out Sense8, Transparent, The Fosters, and Mr. Streaming video services prove once again that they offer more diversity than traditional platforms, boasting a nearly equal percentage of gay and lesbian characters (39 percent and 36 percent). There are 135 series regulars of color on broadcast, 59 of whom are black women, followed by 33 Latinas, 27 Asian Pacific-Islander women and 16 women who belong to another ethnicity or are multiracial (12%).
In addition to keeping track of LGBT representation, its authors also crunched the numbers on TV's gender balance and on representation of black, Latina/o, Asian and Pacific Islander, bi, and trans characters and of people with disabilities. But as the organization indicated in September, when it announced that it would no longer be compiling its Network Responsibility Index, GLAAD is gradually de-emphasizing its focus on counting. They must reject harmful, outdated stereotypes and avoid token characters that are burdened with representing an entire community through the view of one person.
GLAAD's spreadsheet ninjas deserve a round of applause—but as Ellis notes, "numbers only tell part of the story." We mustn't overlook the rest of the challenge.
Share this article: