Stone: "You loved it!"
Aloha review – inspiration overdose at the pixie-dust buffet.
And welcome to the summer movie season, even though you're not a sequel or a prequel or a remake or a spinoff, and even though there's not a superhero or a gunfight or a car chase or an incendiary explosion in sight.This week at the multiplex, we've got a rescue pilot in the midst of an earthquake ("San Andreas," starring Dwayne "The Rock" Johnson and Carla Gugino) and a former Air Force pilot in the midst of a love triangle ("Aloha," starring Bradley Cooper and Emma Stone). Crowe is undoubtedly grateful to his fetching cast for being likable enough to smooth over the film's very rough edges because, as charming as many individual moments and exchanges in Aloha are, the storytelling ability that Crowe demonstrated so vividly early on in his career, while it doesn't exactly desert him this time, let's just say it struggles to keep its footing. In the Hawaii-set romantic comedy-drama, she portrays Allison Ng: an aggressively peppy Air Force fighter pilot of Chinese-Hawaiian-Swedish decent who falls for an existentially angst-y military contractor played by Bradley Cooper.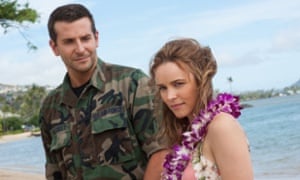 Brown as Humphrey Bogart, yet the high road of memory gives pride of place to terse men who breeze bravely through tough situations without a grumble or a frown, energetic women who blast blithely through complications with heads-up daring or heads-down heedlessness. If Crowe were a character in his own film, the fiasco of "Aloha," and nearly all of his post-"Almost Famous" movies, would provide the perfect intro. Bradley Cooper plays Brian Gilcrest, a cynical defense contractor and Air Force officer, wounded in Afghanistan, who returns to the United States' space program in Honolulu, Hawaii, the site of his triumphant military career. But in order to process this idea of Stone as a bi-racial character, as someone whose genetic lineage can be traced back to the Middle Kingdom by way of Polynesia, you must first get past the obvious stumbling blocks: her alabaster skin and strawberry blond hair, her emerald eyes and freckles—past the star's outwardly unassailable #Caucasity—if only because the movie hammers home her cultural other-ness in just about every other scene.

They live in a world that's all foreground with almost no background, their character and their qualities inscribed in their stardom and their destiny determined by typecasting. Most critics haven't had a love affair with anyone but themselves for so long, this type of modern romance tale will seem like Greek to their stone-cold hearts. Thanks to the character's half-Hawaiian-half-Chinese father, Ng ("Rhymes with 'ing'!") is a Hula dancing expert with a functional knowledge of Hawaiian folk guitar who rhapsodizes about the islander spiritual energy mana when she isn't attempting to save the archipelago from a creeping military-industrial complex. That's the world according to Cameron Crowe, whose new film, "Aloha," is a strange infusion of today's concerns into the style of movies from an era when such concerns would seem somewhere between eccentric and radical.

It's just another fascinating mess from an earnest and occasionally excellent filmmaker who can't seem to recreate the enveloping magic and charm of his earlier films. Ray Gaines (Johnson) is a Los Angeles Fire Department helicopter pilot who teams with his estranged wife Emma (Carla Gugino) to rescue their daughter after a massive earthquake ravages the Golden State. "San Andreas" is currently at 52% on Rotten Tomatoes' Tomatometer; check out some of the reviews here: Rotten: "'San Andreas' changes all too quickly from satisfyingly foolish to dismayingly dumb to genuinely stupid." — Joe Morgenstern, Wall Street Journal Rotten: "On the positive side: impressive special effects. It's asking a lot for someone like me—a longtime fan of Aloha's writer-director Cameron Crowe who happens to be of mixed Asian-white heritage—to make any kind of identification. In mood, it's an update of Greatest Generation heartiness and stoicism; Crowe offers that mood as a common-sense sincerity that rumbles down the middle of the road, as a great unifier that glides past the off-ramps of personal gratification and endemic cynicism.

It's an unfair standard for anyone, but it's hard not to hope for the best from Crowe, even if his past few films have taught us otherwise. "Aloha" was cut off at its knees from the start as one of the unwitting victims of criticism from sharp-toothed executives in last year's Sony hack, leaving Crowe fans wondering just how bad the film could be. He's now been given a second shot in Hawaii, where a flamboyant billionaire (Bill Murray) is paying him to negotiate with Hawaiian tribesman and put a satellite into orbit. Bradley Cooper is a wounded military contractor trying to get his career back on track by participating in a secret program to launch a telecommunications satellite that is actually carrying nuclear warheads. On the negative side: pretty much everything else." — Lawrence Toppman, Charlotte Observer Fresh: "An action hero with a rare kind of gravitas, Johnson has a stabilizing influence on all the silliness that surrounds him." — Kenneth Turan, Los Angeles Times "Aloha" has the kind of pedigree that should inspire confidence: it stars Bradley Cooper, Emma Stone, Rachel McAdams, Bill Murray, and Alec Baldwin, and it's directed by Oscar winner Cameron Crowe, the guy behind "Say Anything…" and "Almost Famous." Unfortunately, critics say it's a startling misfire, a romantic comedy that's short on romance, laughs, coherence, and tonal consistency.

The tightly wrought stories of classic Hollywood movies are works of extraordinary abstraction, which accounts for their success and their allure, but Crowe takes them at their word, as documentaries of populist can-do spirit. After all, he had a charming, of-the-moment cast, a compelling-on-paper story about a man reconnecting with a longtime ex while also falling for a pretty young thing and an idyllic location to work with. Greeting Gilchrist at the airport are his ex-girlfriend, Tracy (Rachel McAdams), ensconced with her new love (John Krasinski); as well as a fast-talking fighter pilot named Allison Ng (Emma Stone), who has been dispatched to babysit Brian while he's in Hawaii. While wishing away a half-century-plus of cinematic changes, he inadvertently throws out the political changes of the times as well; his self-consciously liberal film proves inadvertently reactionary. "Aloha" brings together two stories that connect only coincidentally but converge didactically. She looks spiffy in uniform, rattling off Crowe's dialogue in the great spirit of screwball, using her pep as a weapon, even as the dialogue pivots, in purest Crowe fashion, from mixtapes to the infinitude of space. "Tell me you don't believe in the sky," she implores on a moonlit drive. "It's the future, the pull of the great unknowable …" Ah the clipped sound of by-the-book F22 fighter pilots.

Writer-producer-director Crowe, whose impressive resume includes Almost Famous, Jerry Maguire, Say Anything, Singles, Vanilla Sky, and We Bought a Zoo, addresses the issue of the militarization of space as background for this romantic-triangle piece that also dabbles in Hawaiian culture and mythology and politics. Moreover, like most Eurasian people I know, have never been able to "pass." If anything, my racial identity has necessarily entailed a great deal of explanation to clarify that I am in fact Chinese-American/French-Canadian and not, say, Brazilian, Tibetan, Colombian or Filipino. The story, briefly, is about the once idealistic Brian (Bradley Cooper) who sold his soul to a military contractor (a nearly comatose Bill Murray) and has returned to Hawaii for a job.

Stone's real job, of course, as the female lead in a Cameron Crowe movie is to look into the eyes of the hero and believe in him until he can believe in himself again, goddammit. Which doesn't and shouldn't take anything away from Stone, a commanding screen presence whose bona fides as an Oscar nominee-come-Jimmy Fallon lip-sync battle champion and Millennial lodestar are beyond reproach.

The George Clooney-starring, Hawaii-set The Descendants, which shares a number of elements with Aloha, handled the juggling of same much more effectively. Chief among them: If Ng's Hawaiian pedigree is so crucial to the movie's plot, why not simply cast an actress—Olivia Munn for instance—whose racial profile is within the genetic ballpark?

Despite repeated testimonials to Gilchrist's recalcitrance, cynicism, and famed burnout – "Keith Richards looks like a teenager next to you" says one tribal leader – there is simply no disguising the fact that Cooper is an actor very much on the up. But Cooper, Stone, and McAdams are in the center ring, and perhaps it's the not only proverbial cutting-room floor that holds the secret to the film's essential confusion.

The launch site, however, is an ancient burial ground, and Brian's job is to get a leading activist of the indigenous community (Dennis "Bumpy" Kanahele, playing himself)—the so-called king, who asserts the independence of Hawaii from the United States—to approve a ceremony of benediction for the rocket site. There's a level of emotional sophistication directors sometimes reach – James L Brooks reached it, and Jonathan Demme reached it, and now Crowe – which is actually anathema to the daily spit and grind of drama. In the modern movie era, you're statistically more likely to encounter an alien marauder or murderous android splashed across multiplex screens than any identifiably bi-racial character.

The blessing on the rocket is predicated on its being a payload of peace, not a weapon, and that's exactly Brian's understanding; so he assures Dennis, and so he assured Allison. Rachel McAdams bats her eyes at Cooper in a series of moony close-ups, before revealing her hurt to him, but why not equip her character with a few defences or barbs? But, in the meantime, Brian has learned the truth: his boss is using the cover of a communications satellite (meant to improve Internet service for American allies in the South Pacific) to put a privatized nuclear weapon into orbit. Brian is endowed with more responsibility and power over military matters and their political implications than any one private individual should ever have.

Everyone remembers the final scene of Jerry Maguire in which Tom Cruise gives that long speech to win back Renee Zellweger, only to be cut off by "You had me at hello" – a joke made memorable in part because it takes a poke at Crowe's own verbal superfluity. Well, his movies are now drunk on that feeling – the hey-presto magic of someone digging themselves out of a corner with a deep chug of self-belief – all the time. Crowe throws a second plot into the blender: at the start, upon landing in Honolulu, Brian runs into Tracy Woodside (Rachel McAdams), a former lover who broke up with him thirteen years ago and who's now married, with two children. Crowe has a knack for writing good female characters – Tracy comes pretty close – but the childlike Ng is not a person who has or will ever exist.

Despite their acrimonious breakup there's still a spark between them, and its heat causes trouble between Tracy and her husband, the stiff and taciturn John "Woody" Woodside (John Krasinski), an Army officer working on top-secret projects that send him overseas at a moment's notice and prevent him from being more than monosyllabic about his day's work. The usually wonderful Stone, in a rare misstep, is lost here as the one-quarter Hawaiian F-22 pilot who calls Brian "sir" even after they've started to fall for each other. Complaints about the movie's insensitivity to Hawaii's indigenous population are deflected by the story itself: such insensitivity, and efforts to overcome it, are the movie's very subject.
Crowe sends Brian to a place about which he knows nothing—as Brian admits in a flashback, he also knew nothing about Afghanistan when he undertook his near-fatal mission there—and depicts Brian's journey up the learning curve. The story pivots on Brian's chance to do the right thing: to honor his verbal commitment to Dennis and his moral commitment to Hawaiian tradition; to honor his commitment to Allison; and—repudiating his longstanding cynicism regarding his work—to honor his own commitment to the truth.
Allison appears ultra-nerdy (Stone's fallback mode) at first, then turns deft and relaxed, and then—at a party where Brian's boss, Welch, holds court—becomes a swinger, resulting in an edited-to-death dance scene that signifies a sensual delight that Crowe never delivers. Along the way, the script emits sentimental jolts with an obvious delight that, for Crowe, seems sincere but exudes contrivance. (The two moments of inspired cleverness are a pair of tricks involving Woody's silence—or, rather, the unspoken bro-understanding between Woody and Brian, which comes off as Crowe's most deeply felt emotion.) Crowe's script is airtight, his enthusiasm in realizing it is conspicuous, and his messages are irreproachable. But the classic-Hollywood frameworks that Crowe borrows are themselves products of a time of nearly unquestioned exclusions and distinctions, whether of race or gender, religion or sexual orientation, politics or power. Alert: If you are facing problems with posting comments, please note that you must verify your email with Disqus prior to posting a comment. follow this link to make sure your account meets the requirements. (http://bit.ly/vDisqus) The best directors of the classic era developed elaborate aesthetic strategies and symbolic systems to reflect on, and break through, the very myths and exclusions that they were built upon.
He takes classic construction at face value; the typecasting, and the identification of characters and their fates with their social roles, mark "Aloha" as cavalierly reactionary. He has always been so, but the quality becomes increasingly obnoxious as the wars he re-fights recede deeper into the past, and as his nostalgia increasingly reveals an unwarranted pride in his obliviousness or indifference to the present day.
Share this article: