"Steve Jobs" teaser gives first look at Michael Fassbender as the Apple co-founder
FIRST LOOK: Michael Fassbender appears as Apple founder Steve Jobs as new trailer for hotly-anticipated biopic is released.
Universal Pictures' Steve Jobs biopic had quite the casting shuffle in its early stages, but it looks like Michael Fassbender was the perfect choice to portray Apple's late co-founder on the big screen.The debut trailer for Danny Boyle's long-gestating biopic of Steve Jobs has hit the web, powering up our first glimpse of Michael Fassbender as the late Apple tech guru. The German-Irish actor is seen in full briefly at the end of the trailer, receiving applause from the crowd at a product launch – expected to be the 1998 unveiling of the first iMac.
In the dramatic official trailer, he appears before a cheering auditorium in a black polo-neck sweater and jeans sporting the same thin-rimmed glasses as did his real-life character. The clip also provides a brief glimpse of Kate Winslet as former marketing chief of Macintosh, plus Joanna Hoffman, Seth Rogen as Apple co-founder Steve Wozniak, and Jeff Daniels as former Apple CEO John Sculley. In a scene reminiscent of the many conferences at which Jobs spoke, Fassbender smiles and waves to the crowd as the voices of his co-stars Kate Winslet and Seth Rogen reveal vital parts of the film.

I play the orchestra … I sat in a garage and invented the future … Because artists lead and hacks ask for a show of hands." There's a hint that Boyle and Sorkin won't hold back from presenting Jobs' darker side. Meanwhile Inherent Vice star Katherine Waterston portrays Jobs' ex-girlfriend and the mother of his child, Chrisann Brennan, while Perla Haney-Jardine is playing their daughter, Lisa Brennan-Jobs.

And while we get to see Fassbender in the iconic jeans and black turtleneck gearing up to address a cheering audience of tech fans, we're left eagerly awaiting what it is he actually has to say. Sorkin, the Oscar-winning screenwriter of Sony's The Social Network, has previously said he envisages a biopic comprised of just three scenes, each shot in real time and taking place just before a vital product launch. Steve Jobs is due for release on 9 October in the US, four days after the fourth anniversary of Jobs' death of cancer, timing which suggests a tilt at the 2016 Oscars.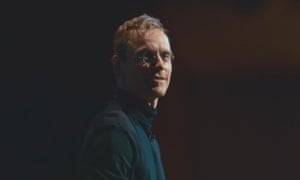 Share this article: