Simon Pegg says superhero movies are making people 'dumb'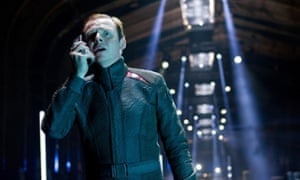 Sci-fi cinema is causing us to behave like children, says Star Trek's Simon Pegg.
Simon Pegg is no stranger to the big-budget sci-fi and action franchises that have dominated the box office for decades. He might have starred in one of the biggest science-fiction franchises of all time – but that hasn't stopped Simon Pegg from launching a startling attack on the genre.Pegg – who is currently co-writing the script for Star Trek 3 and has starred in the sci-fi franchise reboot as engineer Scotty – told the Radio Times: "Obviously I'm very much a self-confessed fan of science fiction and genre cinema but part of me looks at society as it is now and just thinks we've been infantilised by our own tastes.

Adults should be watching challenging fare that asks "moral questions", said Pegg, who has announced that he wants to "retire from geekdom" and take his career in a more serious direction. Pegg added: "Films used to be about challenging, emotional journeys or moral questions that might make you walk away and re-evaluate how you felt about . . . whatever."

Despite his reputation as a poster boy for geeks, he told Radio Times magazine: "Before Star Wars, the films that were box-office hits were The Godfather, Taxi Driver, Bonnie and Clyde and The French Connection – gritty, amoral art movies. In an interview published on 19 May,Simon Pegg – star of Spaced, about a sci-fi obsessed comic book writer, and Paul, about two comic book geeks meeting an alien, and the co-writer of the next Star Trek science fiction extravaganza – has admitted to worries about society being infantilised by an obsession with comic books and science fiction.

But Pegg may be ready to move on from all that genre fare, especially as he sees the prolfieration of these enormous movies as a "dumbing down" of what audiences expect from film. Now we're really not thinking about anything, other than the fact that the Hulk just had a fight with a robot.' The actor – who sprang to fame as the sci-fi obsessed, aspiring comic book artist Tim Bisley in Channel 4's Spaced – also dropped a hint about the direction his career might take in the future, saying he missed 'grown-up things'. 'I've become the poster child for that generation, and it's not necessarily something I particularly want to be. We're essentially all consuming very childish things – comic books, superheroes… Adults are watching this stuff, and taking it seriously! "It is a kind of dumbing down because it's taking our focus away from real-world issues.

I'd quite like to go off and do some serious acting.' At least there isn't a spaceship in sight in Pegg's forthcoming film Man Up, in which he plays a 40-year-old divorcee who mistakes a single, 34-year-old woman for his much younger blind date. I think the studio was worried that it might have been a little bit too Star Trek-y," he said of the original draft. "Avengers Assemble, which is a pretty nerdy, comic-book, supposedly niche thing, made $1.5bn dollars.

Star Trek: Into Darkness made half a billion, which is still brilliant. "But it means that, according to the studio, there's still $1bn worth of box office that don't go and see Star Trek. Alan Moore, writer of the Watchmen series, last year suggested that the current adult interest in comic book superheroes was "culturally catastrophic" and that"this embracing of what were unambiguously children's characters at their inception seems to indicate a retreat from the admittedly overwhelming complexities of modern existence". As suggested by the title of his autobiography Nerd do Well , much of Pegg's success has been based on playing characters with geeky obsessions who haven't quite grown up.

That includes his new role, as a romantic lead in the soon-to-be-released Man Up, and an appearance opposite Tom Cruise in Mission Impossible: Rogue Nation. In August he will star in Absolutely Anything, about a hapless, slightly immature 40-something given the power to do absolutely anything by "some very mad aliens".

Share this article: