Shooting 'The 33' made Antonio Banderas feel ill, but he welcomed the hardship
International cast digs into rescue of 'The 33' Chilean miners.
The Chilean miners who became celebrities after months trapped underground are now immortalized in a Hollywood film starring Antonio Banderas — but for some, real life has had no happy ending. The heart-tugging story strands unwind in the depths of the mine and aboveground, where the miners' families set up a makeshift city and Laurence Golborne (Rodrigo Santoro), Chile's young, green minister of mining, oversees the rescue efforts of a team led by chief engineer Andre Sougarret (Gabriel Byrne), with James Brolin making a cameo appearance as an American drilling expert.In 2010, millions of people around the world watched as 33 Chilean miners were pulled to safety from 700 meters beneath the Earth in Chile's Atacama Desert. Five years on, with movie "The 33" hitting screens across the United States on Friday, men who lived through the ordeal and their families are struggling on with lives of little glamour. "I have lived through these anxious years with him day after day, seeing how he gets depressed at not finding a job and at feeling cheated," she told AFP. Among the more distracting elements of the film is Juliette Binoche's turn as Maria Segovia, a hawker of empanadas whose troubled brother (Juan Pablo Raba) is one of the 33.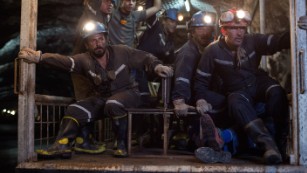 Her character's forthright defiance when Golborne shows up feels as forced as the bond they finally forge, not because the actors' performances aren't heartfelt but because their interactions are such transparent plot engines — one of which leads to an utterly unpersuasive aha moment in the rescue strategy. The film begins when the 121-year-old San Jose copper-gold mine collapses, and all 33 men in its lower regions survive, finding safety in a deep refuge equipped with benches and three days of food and water. Finally, one broke through near the emergency shelter where "Los Treinta y Tres" had somehow survived on three days' worth of canned tuna, milk and cookies.

The mine employs most of the local men, including an Elvis impersonator (Mexico-born Jacob Vargas), the husband, father and shift leader Mario Sepulveda (Spain's Antonio Banderas), shift foreman Don Lucho (American Lou Diamond Phillips) and a lone Bolivian youth. I was a news editor living in Chile's capital city, Santiago, and had expressed my doubts to a fellow journalist there on Day 16, a Saturday – not without sadness, but with a mix of horror and detachment for what that truly meant for the men (or what remained of them), and for their families.

Ten miners get "storylines," such as they are, some of them screen-written composites like Raba's angry alcoholic, who will undergo the DTs, repentance and redemption. Over the following weeks, as an international team worked to drill an escape route, the miners became media stars, especially their charismatic spokesman, Mario Sepúlveda, dubbed Super Mario by the media. There's a young father-to-be (Mario Casas); an unlikely and comical philanderer (Oscar Nunez, of "The Office:); an old-timer with rattling lungs (Gustavo Angarita) who's on his final shift before retirement; and an ostracized Bolivian newcomer (Tenoch Huerta).

So when cars in Santiago's streets started honking without stop – a cacophony of sound expressing alarm, joy and absolute shock – we knew what it meant. But mainly it's "Super Mario and the 32" as Banderas' character, a natural leader, rations meager food supplies among 33 starving men trapped beneath 700 tons of rock. So really, you've already seen "The 33." Performed in English, Hollywood's slick but workmanlike retelling stars Antonio Banderas as Sepúlveda in a cast that also features Juliette Binoche, Gabriel Byrne and Lou Diamond Phillips. Equipment, engineers and journalists came from all over Chile and soon the world, flooding the northern city of Copiapo until hotel rooms and vehicle rentals were in short supply.

The ex-foreman has also led a group of nine miners who sued their lawyers this month, accusing them of cheating them out of money from the rights to their story, including earnings from the film. Mario's role in the men's survival could not be more crucial; more than doling out canned tuna, he quells any violent or self-destructive impulses that arise. Critics have praised Tobar's narrative for its attention to gritty detail, but little of that has survived the process of condensing the story into a two-hour movie.

The miners had been underground for more than two months, NASA scientists, mariachi bands and entertainment clowns had come and gone, and thousands of journalists were camped out on site. Made with the cooperation of the miners and based on the book that tells their authorized story, the film somewhat surprisingly follows the news-media template that turned Mario into a star.

Sepúlveda's heroics are played up, but even though Banderas endows the character with his matinee-idol looks and rock-hard abs, he somehow lacks the exuberant humor that the real Super Mario showed as he spoke to the world on video. Directed by Patricia Riggen ("Girl in Progress"), who has a heavy hand, the film has its moments, among them a scene in which Banderas' resilient Sepulveda "chooses to believe" that they will be rescued and reunited with their families. Many of the characters border on outright caricatures – Bob Gunton's turn as Chilean President Sebastian Pinera, the Elvis-obsessed miner, the unnecessarily simple Bolivian and the wife-mistress duo – and the English-language treatment never feels right, mostly due to the odd mix of accents. To counteract this, Riggen smartly uses actual TV news footage, from a wide array of international sources, to explain the rescue mission and to convey how closely a worldwide audience was following the events in Chile. But a fantasy sequence involving food is ill-advised, and you may be confused, as I was, when a news reporter on the surface speaks in Spanish with subtitles.
Shooting in two working mines in Colombia, the director and her DP, Checco Varese, deliver an immersive sense of what it means to enter the tunnel on a road that burrows 2,300 feet beneath the surface. And one wishes the casting director had found someone with a more convincing Spanish accent to play the Chilean president than Bob Gunton (the sadistic warden from "The Shawshank Redemption"). There's an obvious but nonetheless deeply affecting spiritual cast to the play of light in the dark cave, the miner's helmet torches illuminating the skyscraper-size rock that seemingly has sealed their fate.
Massaging the facts to pump up the drama is a necessary evil in a film like this, but "The 33's" cinematic beats are so familiar that they undercut the sense of realism that would make it more compelling. As for the mine collapse itself, Riggen and Varese capture the enormity of the accident and the ensuing chaos with dynamic work that entails a strong, fluently integrated CGI assist. It was that time – long before most TV cameras had arrived, when the miners themselves didn't know if they would be found, consuming nothing but crumbs of tuna and a swish of milk every day or two – that was never easy to understand, or to imagine. A shot of the explosion breaking through the placid surface of Chile's Atacama Desert — the filmmakers used locations not far from where the disaster took place — is exquisite in its terrible poignancy. But as millions watching the eventual rescue understood, the strength of those miners and the unlikely hope of their families, was utterly captivating.
The superb sound design lends further dimension, not just during the collapse but in the hope-stirring rumbling of the rescuers' drills trying to reach the men through the rock.
Share this article: