'Screech' says stabbing was unintentional
Dustin Diamond says he did not intentionally stab man in bar scuffle.
The 38-year-old Diamond, who played Screech in the 1990s show "Saved by the Bell," is accused of stabbing a man on Christmas Day in Port Washington, about 25 miles north of Milwaukee.

PORT WASHINGTON, Wis. (AP) — TV actor Dustin Diamond testified Friday that he didn't intentionally stab a man in a Christmas Day barroom scuffle in Wisconsin and that other patrons had been harassing him and his girlfriend before the fight broke out. The man who was stabbed, 25-year-old Casey Smet, testified Thursday that he didn't know he had been stabbed until he left the bar and was talking to police. Diamond faces a felony charge of second-degree recklessly endangering safety and two misdemeanors — carrying a concealed weapon and disorderly conduct. Testimony in the trial concluded Friday afternoon with prosecutors arguing that Diamond recklessly endangered safety in wielding a knife in the midst of a fight.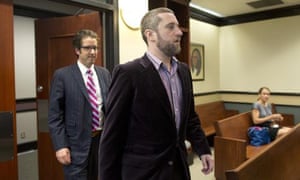 After maintaining a serious facade during most of the trial, Diamond grinned Friday when a defense attorney asked if he liked being compared to the character Screech. Circuit Court Judge Paul Malloy scolded Alberti and told him to remove it because it was "inappropriate." Diamond said he was trying to protect Schutz and that he became concerned when he saw her nose "pouring blood" from the brawl.

On Thursday, Bethany Ward, 25, testified that she punched Schutz in the face during a confrontation, but insisted that Schutz had initiated the conflict.
Share this article: