'Saved By The Bell' star 'pulled knife' during bar brawl, court hears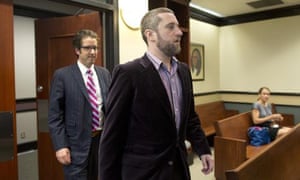 Dustin Diamond Testifies in Stabbing Case: I Didn't Mean to Do It.
PORT WASHINGTON, Wis. (AP) — TV actor Dustin Diamond testified Friday that he didn't intentionally stab a man in a Christmas Day barroom scuffle and that other patrons had been harassing him and his girlfriend before the fight broke out.

Diamond, 38, who played Screech on the 1990s show Saved by the Bell, is accused of stabbing a man on Christmas Day in Port Washington, about 25 miles north of Milwaukee. On Thursday, Bethany Ward, 25, testified that she punched Schutz in the face during a confrontation, but insisted that Schutz had initiated the conflict. The man who was stabbed, Casey Smet, 25, testified on Thursday that he didn't know he had been stabbed until he left the bar and was talking to police.
Share this article: