'San Andreas' to 'Armageddon,' which disaster films survive scrutiny?
'San Andreas' movie review: Formulaic disaster pic features lots of earthquaking, little ground-breaking.
If the earth is going to shake, rattle and roll underfoot, as it most assuredly does in San Andreas, is there another man on the planet you'd trust to face down such a seismic catastrophe, and tell it to shape up, shut up and knock that shit off? One of the smartest things about "San Andreas," the lumbering new disaster movie quaking its way into theaters this weekend, is that it sets out to do very little other than flatten most of California and go toe-to-toe with any disaster movie of the past.We all love movies that get us uncomfortable, shaking or hiding our faces when something happens, especially to the lead character that we usually identify with.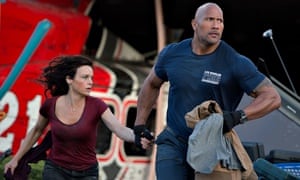 No, that earthquake will take one look at this unfathomably charismatic, angry half-Samoan – this box-office titan who has crafted an impeccable brand name, who started out in his movie career using a silly stage named pinned on him by a seemingly dodgy pro-wrestling corporation, and then utterly transcended that career (in which he was truly lord of all he surveyed), gradually pupating out of his old identity through a placeholder sobriquet (Dwayne "The Rock" Johnson) to his present identity under his real name – and it would sheepishly realign its tectonic plates once more and fall silent. The film features Dwayne Johnson, aka The Rock, as Ray Gaines, an Afghanistan War veteran who has become an absolute stud of an L.A. fire-rescue guy, but its real star is its earthquakes, which are epic and intense, creating mass devastation despite the lack of giant monsters or aliens. But the cringeworthy dialogue and unmoving earnestness are the biggest disasters in this mostly forgettable action flick (* * out of four; rated PG-13; opens Friday nationwide). This weekend you are as good as sorted as Dwayne 'The Rock' Johnson goes on a mission to save his family and everyone else in the 2015 adventure thriller San Andreas.

Screenwriter Carlton Cuse, best known for his work on "Lost," keeps things simple by keeping the cast small and manageable, leaving to die countless multitudes of faceless extras, focusing on the survivors we care about, and telegraphing early on who doesn't deserve to make it through all this. Ray (Johnson) is an L.A. rescue helicopter pilot unafraid of jumping out midair to save damsels in distress, even when their car is hanging off a cliff. After a devastating earthquake hits California, a Los Angeles Fire Department rescue-helicopter pilot (Johnson) and his ex-wife (Carla Gugino) attempt to leave Los Angeles and head to San Francisco to find and rescue their daughter (Alexandra Daddario). He was a bifurcated man, making cute movies for kids, his primary fanbase as a wrestler, such as Tooth Fairy, Game Plan and Race To Witch Mountain (I call these his "Pet Rock" movies), and bad movies for adults, iffy remakes like Walking Tall, and bad sports movies like Gridiron Gang, and illiterate thrillers like Faster.

It has a little of everything that once was a staple of the '70s: earthquakes, of course, plus collapsing buildings, crashing helicopters, an impressive tsunami, a hint of "Poseidon Adventure," and even a precocious British boy. Things are arguably more hazardous on the homefront, where he has a rocky relationship with his soon-to-be ex-wife Emma (Carla Gugino); he worries about losing his daughter, Blake (Alexandra Daddario), to her mom's new rich boyfriend (Ioan Gruffudd at his smarmiest). The film boasts of powerful stars such as The Good Wife's Archie Punjabi, Game Of Thrones' Art Parkinson, Todd Williams and Australian pop star Kylie Minogue. All that needs to be tabled when quakes annihilate the Hoover Dam and then move to California, where skyscrapers fall and bridges tumble dramatically.
His gay bodyguard in Be Cool was the only worthwhile thing in that D-minus Elmore Leonard adaptation. (Also worth underlining: macho man plays gay character, and it wasn't homophobic or cheap, which is something of a precedent, and entirely commendable.) He proved his comedy chops again in Reno 911!: Miami and Get Smart. Summer's upon us, and you could do worse than watch the undeniably appealing Johnson try to save the day while uttering the silliest dialogue imaginable. Blake gets lost in the streets of San Fran with a pair of English kids — one of whom (Hugo Johnstone-Burt) takes a shine to the girl, even with broken stone pillars screaming down upon them — and her parents reunite in order to bring her home safely. (It helps that Ray can drive pretty much anything with an engine.) Paul Giamatti co-stars as Lawrence, a noted Cal Tech seismologist and the movie's resident science guy that no one listens to about the impending doom. And there were pleasing oddities that suggested a venturesome actor not content to do as his agents told him, like Richard Kelly's extraordinary heroic failure of an epic, Southland Tales. Plus, if you live far from the West Coast, there's the juicy schadenfreude factor — though we can count on the inevitable sequel ("San Andreas 2: Eastward," perhaps?) to fix that.
Then he wisely attached himself to the slumping Fast/Furious franchise, a move that paid off earlier this year when the latest instalment coolly pounded a billion bucks out of the global box office. Director Brad Peyton (Journey 2: The Mysterious Island) spends much of San Andreas' running time on massive city destruction, but it's often a helicopter's eye view looking down, where humans are like ants simply falling to their fate.
And then there was Pain & Gain, the strangest, vilest, possibly greatest movie of Michael Bay's career, a bonehead kinda-masterpiece I'm still trying to figure out. The most visceral scenes are when the camera is pointed up, with chunks of building tumbling or a huge boat coming over the crest of a tsunami, giving the audience a real sense of danger.
Ray plucks Emma from a collapsing skyscraper, which features an absolutely amazing single-shot sequence of her getting to the roof, and the two make their way north in the hopes of rescuing Blake, who has teamed up with the hunky Brit Ben (Hugo Johnstone-Burt), whose shirt can barely contain his torso, and his resourceful little brother, Ollie (Art Parkinson). In a town that's short on macho action heroes these days, Johnson is probably the only man in Hollywood who looks like he could take on an earthquake and win. In fact, it destroyed his marriage to Emma (Carla Gugino), who, as we meet her, is about to move in with her new fiancé, a smarmy real estate developer named Daniel (Ioan Gruffudd, in a truly thankless role). There are a few instances of the signature cinematic bravado he's shown in the Fast & Furious films and other projects — a cocked eyebrow here, a lighthearted one-liner there — but it's sorely lacking overall.
His recurrent appearances on SNL, playing Hulk-like, shape-shifting Potus "The Rock" Obama, have been ridiculously endearing (especially whenever he flings Ted Cruz out of a window), and you haven't lived until you've seen him lip-sync Taylor Swift's Shake It Off with Jimmy Fallon ("Oh Jimmy, your ass is gettin' ready to know Tay-Tay!"). Gazing at a plan for his latest skyscraper, he says: "I guess I never had kids because I was too busy raising these." And that, dear reader, is what we mean by cheesy writing.
Many of the lines are met with a thud, and the worst of them induce groans and laughs: When Lawrence discusses history's biggest quakes in class, one student chirps, "Do you think something like that can happen here?" Now, you could say that the movie rests on the mighty shoulders of Johnson, who, quite honestly, has had more success as a supporting player than a leading man.
His appearances in the "Fast and the Furious" movies re-energized the franchise, and his charm and comic chops were on better display in "The Other Guys" and his recent "Saturday Night Live" appearances than in, say, "The Scorpion King" or "Hercules." But in "San Andreas," once again he's really riding shotgun to director Brad Peyton's vision of a destroyed San Francisco. This all a huge shock (pardon the pun) to everyone except one man: a geologist at Cal Tech, Lawrence (Paul Giamatti), who predicts much of the mayhem, but can't get anyone to listen. Giamatti brings all his nervous energy, but can't do much to liven up lines like: "This is NOT good." He's accompanied in many scenes by Archie Panjabi as a TV reporter who, if we're not mistaken, doesn't remove her stilettoes once, even when taking cover from the Big One. Sure, the CGI and the VFX are impressive, but the characters aren't, and rather than trying to break any sort of new ground, the movie simply churns it up.
But back to Ray, because, while this movie is prepared to kill off thousands of people in seconds, it cares deeply, as does Ray, about those close to Ray. Still, it's more muscular and streamlined than Roland Emmerich's spate of devastation films, which means that "San Andreas," while a disaster picture, isn't actually a disaster.
What works: The visual effects are nothing if not big — just what many want from a summer movie — and the considerable charisma of Dwayne Johnson in the lead role goes a long way.
Share this article: