Reese Witherspoon Is Going to Play Tinker Bell in New Live-Action Disney Movie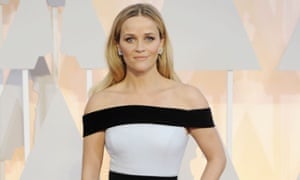 Reese Witherspoon in talks for 'Tink'.
Los Angeles: Actress Reese Witherspoon has been approached to star in 'Tink', a live-action film based on the 'Peter Pan' character Tinker Bell.

Reese Witherspoon will star as Tinker Bell in Disney's revisionist live action take on the classic Peter Pan pixie, according to the Hollywood Reporter. Witherspoon, currently experiencing a career revival following her Oscar-nominated turn in the true life biopic Wild, is reported to be attached to the film, titled Tink. Disney plans to rework the timeline and concept of JM Barrie's 1904 play, Peter Pan, and its 1911 novelisation, Peter and Wendy, to present an untold story about the mischievous fairy. The studio found box office success last year with the similarly pitched Maleficent, starring Angelina Jolie as a sympathetic version of the famous Sleeping Beauty villain. Disney has already seen live-action versions of 'Alice in Wonderland', Sleeping Beauty story 'Maleficent' and 'Cinderella' become box office hits, and the studio sees this as a formula that works as well for a comicbook film.
Tink, which will be based on a script from Victoria Strouse (responsible for the upcoming Pixar sequel Finding Dory), appears to have been rushed onto Disney's slate after rival studio Twentieth Century Fox announced its own live action Tinker Bell movie in November. Warner's version is due to star Bridesmaids' Melissa McCarthy, with Night of the Museum's Shawn Levy set to direct from a screenplay by Bad Neighbours' Nicholas Stoller. Disney is powerless to halt the rival project, despite having adopted the character as its own since the classic 1953 animated version of Peter Pan, because it does not own the rights – Barrie's book went out of copyright in the US in the early part of this century. However, setting up a high-profile alternative take on Tinker Bell may mean Fox will have to reassess its project's financial viability: another studio, Warner Bros, was forced to put the release of its Andy Serkis-directed live action Jungle Book movie Jungle Book: Origins back by a year (to 2017) after Disney's own version got out of the traps first.
However, the presence of a high-profile, Oscar-winning star such as Witherspoon in the lead would suggest the film amounts to more than just a spoiling project.
Share this article: