Ray Liotta, Bill Paxton Star in 'Texas Rising'
'Texas Rising' an exciting charge through the Texas Revolution.
The network's new miniseries, "Texas Rising," is not only executive produced by Leslie Greif and written by Ted Mann, part of the team responsible for the network's phenomenal "Hatfields & McCoys," but it also shares a leading man.

"Texas Rising," 9 p.m., History So many of the familar parts of Western stories have their roots in the 1836 Texas rebellion: the Alamo, the birth of the Texas Rangers, armed horsemen galloping across the plains.This five-night miniseries aims to rekindle the excitement of History's "Hatfields and McCoys," another sprawling, brawling tale from America's wild-child past. "Texas Rising" retraces the path by which Texas first declared itself an independent republic and then, in 1845, accepted annexation into the United States.They fought against the splendidly outfitted forces of General Santa Anna (Olivier Martinez) despite being heavily outnumbered and having no equipment.

The History channel takes those parts, throws in some Comanche warriors and freed slaves and builds them into a massive cliche in this five-night miniseries. A tremendous cast headed by Bill Paxton as Sam Houston can't really make headway with the script, which contains entirely too much speechifying and too little action. Texas turns out to be the ultimate pre-Civil War melting pot, with patriots, adventurers, Native Americans, rapscallions, dreamers, slaves, freed slaves, Mexicans and a bunch of smart, headstrong women just to keep things lively. Joffé and actors Paxton, Ray Liotta, Jeffrey Dean Morgan, and Martinez met with reporters at the Television Critics Association winter press tour to discuss the miniseries and bonding in the desert in Durango, Mexico — the same place "The Wild Bunch" was filmed. Oh whoops, sorry — I'm so incensed, I mean inspired, by the script of "Texas Rising," a new History miniseries, that I keep finding myself lapsing into its idiocy, I mean idiom.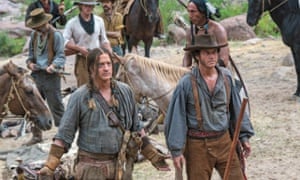 JOFFE: [It's] a story about consequence, because nobody goes through a war without consequence, and we see it in all those troops that return from Iraq and various places. Really, it's hard to believe that this five-part fail, I mean tale, made it onto History, whose other scripted projects — including "Vikings" and "Hatfields & McCoys" — have been better, I mean much, much better. The miniseries begins, Monday night at 9, with a few fast-scrolling paragraphs — always a fun opener — explaining what led to the first scene: the Alamo in ruins in 1836.

The action, such as it is, begins just as the Alamo has fallen and concludes with the capture and ransoming of Santa Anna in exchange for Texas independence. "Grace of Monaco," 9 p.m. From that point on, the story jumps among different camps whose men are violently trying to hold on to the territory, painting each camp with broad brushstrokes and in black and white paint. By contrast, the rangers are wearing rags; they seem to blend with the sepia-toned landscape framed by director Roland Joffe, who uses this have and have-not contrast to perk up the battle scenes (of which there are many).

Lifetime This notorious film about a critical year in the lives of Grace Kelly (Nicole Kidman) and Prince Rainier III (Tim Roth) is not nearly as bad as its early press clippings, but it's not quite good, either. The Mexicans and the Comanches are embarrassingly cartoonish, with the mustachioed Olivier Martinez doing his best Snidely Whiplash as General Antonio López de Santa Anna, the leader of the nasty, cockfighting Mexican soldiers. Even so, when one of the survivors, the plucky Emily West (Cynthia Addai-Robinson) — a free woman of color and Houston's former lover — learns that Santa Anna plans to poison the wells and fields as he advances on Fort Defiance in Goliad, Houston's challenge is to get his act together. Fortunately, a dedicated few, including the tubercular but still formidable Deaf Smith (Morgan) and fellow Rangers Billy Anderson (Fraser) and Henry Karnes (Christopher McDonald), know better.

A dispute between director Olivier Dahan and the Weinstein Co. ended with the film being pulled from theatrical release and shipped to Lifetime amid reports from Cannes that it was "Plan 9 from Outer Space" bad. Morgan proves he's become a go-to character actor, having the distinction of playing both the grizzled Smith and Joe DiMaggio — in Lifetime's Marilyn Monroe miniseries — in the same week. It's a remarkable story that after the Alamo fell in Goliad, that here was Sam Houston with an army of less than 1,000 men that weren't regular army.

Driven by his own troubled past, Houston is the only man who can take on Santa Anna, a man so villainous he engages in cockfights, with birds fed on his own blood. He's trying to retreat to find the right place to confront Santa Anna to where he might have a snowball's chance in hell, and that battle only lasted 20 minutes.

Two young Ranger wannabes, awkwardly scampering around and telling fart jokes, get an unfortunate amount of screen time and are nowhere near as adorable as everyone seems to think they are. More effective is Davies as whining and conniving deserter Ephraim Knowles, who in another time might have been known as "Pap" and played by Walter Brennan. I know the miniseries is set in the 1830s, but aren't we at the point now, in the 2010s, when we no longer want to see history reduced to offensive stereotypes and simplistic good versus bad morality? After a lot of dithering and boring discussion of military tactics, Houston gives his troops a rousing speech and we are off to the next stage of their conquest. Playing men as human as they are heroic — Houston fled a marriage that failed under mysterious circumstances; Smith is made vulnerable by a Mexican wife whom he deeply loves — Paxton and Morgan manage to make their characters believable in moments sweeping, swift and occasionally absurd.

They may not be enough to raise the entirety of "Texas," but they along with rich historical details that go well beyond the usual Alamo myths make the series worth watching. Just as they've seen Hatfields and McCoys and The Bible draw record numbers (and a couple of Emmys), this probably will too, appealing directly to the libertarian and conservative sensibilities of the macho-man demographic that tunes into the channel. It's like watching a historical re-enactment done by robots at the Texas pavilion of the Epcot Center, were Texas actually its own country rather than a state wishing it was a sovereign nation. It's a great group of guys, and very, very rarely — probably hardly ever — [do] you stay friends with the people that you work with, and we have and I think we always will.

They should really invest the money to do them properly, or at least pay for a screenwriter who can bring some kind of dramatic vision to the table rather than just rehashing history textbook-style. While they're not funny, out of this whole bean stew of characters, these slightly incompetent rascals carry the only bit of charm this show has to offer. There is a large cast of usually great actors including Brendan Fraser, Ray Liotta, Thomas Jane, Chad Michael Murray, Crispin Glover, Rob Murrow, and Kris Kristofferson as President Andrew Jackson. The scenes where they are trying to establish character (like Sam Houston pissing in a pot in full view of his lieutenants) are so heavy-handed that they will render more eye-rolls than engagement. This is not the stuck-in-the-mud realism of a western like Deadwood, but the production design is so well done you don't doubt the period setting for a second.

Share this article: