Rap mogul refuses to attend hearing
Rap mogul refuses to attend hearing.
AP This April 8, 2015 file photo shows former rap mogul Marion "Suge" Knight at a Los Angeles court, appearing on charges that he and comedian Micah "Katt" Williams stole a photographer's camera in Beverly Hills, California. Los Angeles Superior Court Judge Ronald Coen said he almost ordered Marion 'Suge' Knight be forcibly removed from his downtown Los Angeles cell for Wednesday's hearing.Marion Hugh "Suge" Knight Jr., a former American music executive and record producer who is currently facing charging for attempted robbery, murder, and attempted murder, did not show up for his court hearing regarding his robbery case on Wednesday, May 27th, due to an alleged illness.
Former rap and hip-hop mogul Suge Knight has fallen on some pretty tough times after being in and out of the hands of the law for the past couple of decades, and his time in jail is not making him any more co-operative. The 50-year-old Death Row Records co-founder is charged, along with comedian Katt Williams, with stealing a celebrity photographer's camera in September. However, Coen also informed Knight that should he claim sickness and miss his next hearing, coercive measures will be taken to ensure he shows up for court. At the end of January, Knight turned himself in after a hit and run accident that injured one man and left another dead and has gone through continuous dramatics in all of his court appearances.

Last year, he battled health problems after being shot during a party and has since collapsed both in and outside of court multiple times in addition to being hospitalized on numerous occasions. Knight is accused of deliberately running over Terry Carter, 55, who later died, and another man with his pickup truck following an argument on the set of a commercial for the film "Straight Outta Compton." He has pleaded not guilty in that case as well. Coen has determined there is enough evidence for Knight to stand trial in the case, but Knight's attorney Matt Fletcher is scheduled to argue it should be dismissed at Friday's hearing. Verified email addresses: All users on Independent Media news sites are now required to have a verified email address before being allowed to comment on articles. Knight, 50, was a key player in the gangsta rap scene that flourished in the 1990s, and his label once listed Dr Dre, Tupac Shakur and Snoop Dogg among its artists.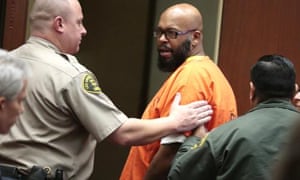 He pleaded no contest in 1995 and was sentenced to five years' probation for assaulting two rap entertainers at a Hollywood recording studio in 1992.

Share this article: