Periscope arrives on Android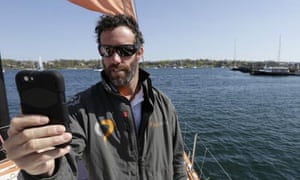 Live broadcasting Periscope app comes to Android.
Android users get Periscope on Tuesday and Twitter is rewarding them for their patience with a host of new features that are unique to the operating system. After a debut on iOS early this year, the company's Android app development under former Twitter for Android developer Sara Haider went full-steam on bringing Periscope to Google's mobile OS.

Most of the new features relate to Periscope's notification settings, and Android users will be able to opt in to be told when someone they follow on Twitter broadcasts on Periscope for the first time, as well as when someone they follow on Periscope shares someone else's broadcast. The Android version has all the functionality of the iOS version, but with some new perks, including a "return to broadcast feature" to jump back into a stream when pulled out to attend to something else on your device. Rival Meerkat actually beat Periscope to Android, with a private beta launch earlier this year followed by an open beta debuted at the beginning of May. But where Meerkat was clearly moving quickly, likely with MVP-level software to try to build up a first-move advantage, Periscope appears to have put a lot of care into making sure its app arrived on Android fully-formed, and even a few features ahead of its iOS equivalent for users to check out.
Periscope announced the launch in a blog post that said: "When we started Periscope, we wanted to build the closest thing to teleportation — by providing users with the best way to start or watch a live video broadcast. "As a small startup, our initial launch was limited to just iOS, but we've been working really hard to craft an experience that feels special on Android, yet still unmistakably Periscope. Users of Periscope on Android will need KitKat 4.4 or later, and the look includes elements inspired by Google's Material Design philosophy and guidelines. To get it, you can try this link, but we're hearing that it's still propagating though Google Play's servers, so it might not show up for you immediately. Moreover, if you're watching a broadcast on an Android phone and you're interrupted–maybe you get a text you must deal with right away–you can do what you have to do, then easily return to the Periscope app and the broadcast you were watching with a single tap. The company said that the iOS app attracted 1 million people in the first ten days following the Periscope launch, but hasn't revealed any user data since.
Meanwhile Meerkat, which also launched on the iOS platform and ahead of Periscope, released its own Android version a few weeks ago, again beating its Twitter-owned rival to the punch.
Share this article: