On Your Feet!, Gloria Estefan Bio Musical, Opens on Broadway; Red Carpet …
'On Your Feet' review: The good, the bad and the conga-licious.
The audience joins in the dance, and in a flash, Broadway is thrust into the vibrant, sparkling — and sometimes harrowed — world of Latin music's most successful crossover artist.
Miserable affairs, angsty German teens and sad-sack British royals — in shows like "Thérèse Raquin," "Spring Awakening" and "King Charles III" — have made the season a dour one.The recipe may be familiar, but the flavor is fresh in "On Your Feet!," the half-formulaic, half-original and undeniably crowd-pleasing musical about the lives of Emilio and Gloria Estefan that opened on Thursday at the Marquis Theater. As the first Latina singer to become a crossover sensation with tunes popular in both English and Spanish-speaking markets, Gloria has sold over 100 million albums worldwide during a career spanning three decades, and has earned seven Grammy Awards to boot. To cite the most unusual element: Many a musical could be described as a car crash, but I can't think of any in which such a calamity figures as a dramatic turning point. Beat." The infectious, earnest musical "On Your Feet!" initially stutters out the gate and ends somewhat awkwardly, but has a fun, percussive middle, even as it skates perilously close to melodrama.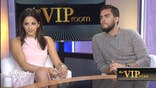 USA Network "Sirens" star Josh Segarra heads the cast as Emilio — for better or worse — and Broadway newcomer Ana Villafane, a fellow Miami Cuban who even graduated from the same high school as Gloria Estefan, is a dazzling as the lively songstress. But I wanted to create something just for this play." Deeply involved in the creative process from the show's conception to its pre-Broadway run in Chicago, the Cuban-born artist was sorting through old fan letters to use in the show when book writer Alex Dinelaris (Birdman) gave her a call with a specific assignment. "He said, 'I have the scene I want you to write the tune for,' and described a whole hospital scene with my mother on one side of me, and Emilio on the other side with [my son] Navid,'" she recalls. "I had the hook in my head right away." Based on a tune that daughter Emily originally composed for a high school music assignment, the emotional ballad "If I Never Got to Tell You" was a way to incorporate her youngest child into the production, whose story ends before her birth.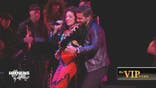 The musical about Estefan and her husband, Emilio, is a love story that uses their hits like "Turn the Beat Around" and "Conga" to tell how the budding singer and producer met, battled for crossover success, handled interfamily squabbles and overcame a bus crash that nearly claimed Gloria's life. But with her musical aspirations of her own, was the younger Estefan – a college senior – ever a candidate to portray her famous mother on stage? "Everybody tried to hound her into it, but she said 'Mom, I'd have to kiss Dad.

– Villafane is as resilient and magnetic as her part requires, and in her over-moussed curls, leather and sequin-laden jackets, she is certainly a believable Gloria. This biographical jukebox musical packages every showbiz cliché — rags to riches, tragedy and triumphs — between hits like "Rhythm Is Gonna Get You" and "1-2-3." If you have a weakness for sultry singers in leather chaps and bedazzled toreador pants, so much the better. Estefan and a commanding Josh Segarra as her husband and musical collaborator, neatly showcases the boppy dance-floor hits and swoony ballads that made Ms. Her sterling vocal ability, which does well to mimic Estefan's pop edge, shines most in Act 1's ballad "Anything For You," (an audition for Emilio's Latin Boys and duet with sister Rebecca), and the finale "Coming Out Of The Dark" — a portrayal of Estefan's 1991 American Music Awards performance following her bus accident. Ana Villafañe and Josh Segarra play the Cuban-American couple who at first struggled to sell their Latin-pop crossover — "rice and beans with hamburgers" — to mainstream America.

Backed by a band that includes five members of the Miami Sound Machine — the group that Emilio founded back in the mid-'70s as the Miami Latin Boys — Villafañe proves an alluring and vocally compelling stand-in for the pop star, who overcame record executives' efforts to confine her to the Latin charts. (At all times, the dancers backing her up execute Trujillo's exhilarating steps with sinewy pizzazz.) Dinelaris does a fine job, showing us the adaptability and business acumen of Segarra's Cuban-born, English-mangling Emilio, as he and Gloria set out to prove the experts wrong and expand their pop cultural reach well beyond their Latin-American base. It resembles "Motown: The Musical" in its look at the struggles minority musicians face and the show "Beautiful" in the way it celebrates songwriting. She herself told me, 'Mom, there's no way I'd be ready for something like that.'" Instead, Gloria is played by Ana Villafañe, a 26-year-old Miami native making her Broadway debut.

The show capably covers the couple's connection to the Cuba that Emilio, and Gloria's parents, fled in the midst of the Communist takeover; one of the most satisfying interludes is a flashback set in a Havana nightclub, where Gloria's mother (the excellent Andrea Burns), later an embittered Miami housewife, sings a sensuous "Mi Tierra." The evening's warm-and-fuzzy quotient is more than adequately filled by Gloria's doting grandmother (an expert Alma Cuervo), who encourages her magnetic granddaughter's ambitions even when Gloria's mother tries to rein in both her dreams and her feelings for Emilio. The play's moniker launches full force at the end of Act 1, when the monster hit "Conga" sends the ensemble into the crowd for a dance line, ripe for audience participation. The two share similar coloring, Cuban heritage and even attended the same all-girls high school, though Gloria insists when it came to casting her leading lady, she "didn't want a clone." "There was something about her demeanor," recalls Estefan of Villafañe's audition. "I went, 'Oh my god, this girl could be my daughter.

The Estefans' can-do attitude is on witty display in an early musical sequence meant to demonstrate the universal appeal of their rhythms: The Sound Machine's infectious energy turns every gig, whether a wedding, convention or bar mitzvah, into an exhilarating party with a Latin beat. It's not that she sounded exactly like me, but that's not what we were going for …I wanted someone who could interpret my life." It's a life that Gloria says hopes will inspire others, with its deeply personal narrative about love, loss, and getting back on one's feet. Sergio Trujillo's high-energy choreography — a mix of sensuous Latin ballroom and pelvis-busting acrobatics — propels the action, but the show belongs to its cast. Book writer Alexander Dinelaris, who penned the "Birdman" screenplay, has a knack for pulling everything down a notch when it seems to get too overblown, as he does by repeatedly mocking Emilio's heavy accent.

– The supporting cast is very strong, namely Estefan's parents, portrayed by Andrea Burns and Eliseo Roman, both best known for roles in "In The Heights." Roman delivers perhaps the show's most resonant vocal, during a duet of "I See Your Smile" with Villafane. Villafañe's Gloria is sexy in an approachable, likable way, while Segarra's Emilio is just as hot but also endearingly self-deprecating — half the jokes are at the expense of his thick Spanish accent. Singing improvised compositions and strumming her guitar, she listens to encouraging words recorded on a tape by her father, José (Eliseo Roman), who is away fighting in Vietnam: "You're a born artist, my angel. Despite Hispanic roots, the male lead's lagging, relentlessly raspy Cuban accent is grossly inauthentic, and his singing voice is sweet, but a mere whisper compared to the rest of the cast.

As Gloria's mother, Andrea Burns gives a vivacious, tart performance as a sort of anti-Momma Rose, whose disapproval of Gloria's ambitions stems partly from envy; her father quashed her chance early in life to become the Spanish voice of Shirley Temple. It may be barking up the wrong tree to expect tremendous conflict from a show designed for the crowd to sing and dance along, but besides the bus accident, Gloria and Emilio's career path isn't so exceedingly unique.

Yes, their decisions brought them to greater heights than most, but Gloria's mother wanting her to use her college degree, or the band struggling to get radio play is true of many acts. Like a Gloria Estefan concert — which is essentially what "On Your Feet" turns out to be — there's plenty of feel-good and excitement, but when the fans leave the theater, the conversation isn't likely to expand beyond "well, that was fun." – A pseudo-angelic ensemble scene, with the cast all draped in white — seemingly to portray heaven while Estefan undergoes a nine-hour back surgery — and slinking around singing "Wrapped" as Villafane spots her now-dead father and grandmother, is unnecessarily avant-garde in the otherwise stick-to-the-jukebox show. Then again, the energy sags and the invention flags when the musical reverts to the story of Gloria and Emilio's path to professional success. "You're Emilio Estefan. Estefan's and gives a feisty and funny performance that blossoms emotionally when Gloria's accident sidelines her career, and she and Emilio come into conflict over her comeback plans. Segarra brings a forceful magnetism and swarthy good looks to his performance, although his scruffy singing voice does no favors for ballads with lyrics like this: Still, there's no lack of zest in the musical, which has been directed with button-pushing professionalism by Jerry Mitchell.

It rarely misses an opportunity to flaunt its allurements, including a lively cadre of dancers and lovely sets by David Rockwell that evoke Miami and the old Havana gracefully. The conga that concludes the first act features a perky young boy in a skullcap (long story!) brandishing maracas as he sings and dances to the percolating beat, beaming a big smile to the balcony.

Share this article: