No harm intended in Winehouse biopic 'AMY', director says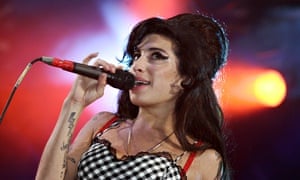 Amy Winehouse documentary hailed by critics at Cannes.
Every now and then in Camden in the early 2000s you'd see a mob of photographers moving like a single ball of flashing fire, and you'd know Amy Winehouse was in there somewhere.Amy – a powerful film by the British director Asif Kapadia about the late singer who died aged 27 in July 2011 of accidental alcohol poisoning – has been given five-star reviews. They're a scrappy bunch of 14-year-olds, licking lollipops, squealing, when suddenly Amy starts to shimmy and sing Happy Birthday as though she were channelling Marilyn Monroe crooning to President Kennedy.

At the time she appeared to have been roughly drawn in hair and Rimmel, but strong in the way a cartoon is strong, like anvils could fall on her and she'd be fine, once the birds had stopped circling. In a review in The Guardian, critic Peter Bradshaw said it was "stunningly moving and powerful: intimate, passionate, often shocking, and almost mesmerically absorbing." According to Lawless this is particularly poignant when a teenage Winehouse says at one point: "I don't think I'm going to be at all famousI don't think I could handle it." Kapadia, who made acclaimed documentary Senna about Formula 1 driver Ayrton Senna — another star who died young — interviewed 80 of Winehouse's friends, family and collaborators for the film, layering their words over footage of the musician from childhood onwards. There's a bit towards the beginning of the new Amy Winehouse documentary (it premiered yesterday in Cannes) when her father, Mitch, remembers the time her friends were urging him to send her to rehab. They recently criticised the film, calling it "unbalanced" and saying it suggests family members did too little to help the singer overcome her addictions.

Although Amy's husband Blake is cast convincingly as the villain, first introducing her to heroin and then keeping her using, her dad appears at best ignorant of his daughter's best interests, at worst exploitative – when she escaped to St Lucia to get clean, he turned up with a Channel 4 documentary crew. When she was a teenager, and told her parents about this great new diet where you eat as much as you like and then vomit it up afterwards, both her mum and dad thought: "Ach, it'll pass." Except it didn't, did it? I cringe today at the carelessness of silly jokes, because now, looking back at that life and rare painful talent, it looks awfully as though, if she had only been left alone, with just a fag and her voice, playing to the small jazz crowds she says she craved, she would have lived. It's the story of 38-year-old Joyce Vincent, whose body was found in 2006 decomposing in her bedsit in Wood Green after she died unnoticed three years earlier, surrounded by Christmas presents. While Vincent was a solitary, elusive woman, Winehouse was never alone – she was worth too much money to be left to walk down Parkway by herself – and yet the feeling you get when you reflect on their lives and deaths is similar.

In the Amy documentary, much of the footage looks like it was filmed by the paparazzi, which, as we see her through that blaze of flashes, adds an uneasy complicity.
Share this article: