Natalie Portman: I was 'woefully unprepared' for 'Black Swan'
Natalie Portman talks 'dark moments' during Harvard commencement speech, says she had to prove 'she wasn't just a dumb actress'.
The Oscar winner addressed the graduating class for Harvard's Class Day on Wednesday, and said that being asked to speak to them was "genuinely one of the most exciting things I've ever been asked to do." "Today I feel much like I did when I came to Harvard Yard as a freshman in 1999 …Natalie Portman advised graduating Harvard seniors Wednesday to use their inexperience to their advantage, saying she has learned that taking calculated risks can lead to life-changing rewards.

From Ian McEwan's stirring speech on freedom of expression to Robert De Niro's rather more terse "you're f**ked", household names have been delivering pearls of wisdom to universities the length and breadth of the US. I felt like there had been some mistake," Portman said. "That I wasn't smart enough to be in this company, and that every time I opened my mouth, I would have to prove I wasn't just a dumb actress." Portman, 33, said that she arrived at Harvard just after the release of "Star Wars Episode I: The Phantom Menace," and she worried that "people would assume I had gotten in just for being famous." "Some combination of being 19, dealing with my first heartbreak, taking birth control pills that have since been taken off the market for their depressive side effects, and spending too much time missing daylight during winter months led me to some pretty dark moments, particularly during sophomore year," she continued. "If I had known my own limitations, I never would have taken the risk. The Academy Award-winning actress, speaking at Harvard College's Class Day, cited her work in "Black Swan" as an example of a time she didn't know her own limitations — and it paid off. The film, "A Tale of Love and Darkness," recently premiered at the Cannes Film Festival. "Make use of the fact that you don't doubt yourself too much right now because, as we get older, we get more realistic," she told the graduating seniors. "Accept your lack of knowledge and use it as your asset." Portman's address was a highlight of Wednesday's events, which also included award presentations and student speeches.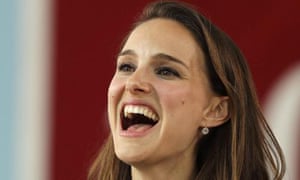 Share this article: