Nanni Moretti's "Mia Madre" at Cannes: Coming to Terms with Loss
Cannes 2015: Nanni MorettiItalian director Nanni Moretti said that he never considered casting himself in the central role of a film director in his semi-autobiographical new film, My Mother, which screens on Saturday at the Cannes film festival.Nanni Moretti's Mia Madre is warm, witty and seductive: his best film since The Son's Room, returning him to the themes of cinema, life, family ties and family guilt, though given here a gentler and more lenient view.

With the lack of women filmmakers a hot topic at Cannes, Italy's Nanni Moretti has shown the semi-autobiographical "Mia Madre" (My Mother) about a female director whose mother is dying and own life is out of control.You hear a lot of Italian spoken in Cannes this year, perhaps more than usual as films directed by Matteo Garrone, Nanni Moretti, and Paolo Sorrentino are in the main competition, all of them returnees. In a brilliant blend of comedy and pathos, the competition film shown on Saturday draws on a small pool of actors and actresses including Margherita Buy as the director Margherita, Italian stage actress Giulia Lazzarini as the dying Ada, and Beatrice Mancini as the director's teenage daughter. Buy, who previously worked for Moretti on his Berlusconi biopic The Caiman, and his papal satire We Have a Pope, plays a film-maker called Margherita, who is in the middle of shooting a very un-Moretti-like film about a violent workers' protest at a factory threatened by closure. Moretti, who was inspired to make the film when his own mother died while he was directing a previous film, further personalizes this one by playing Margherita's brother.

American John Turturro ("Barton Fink") is a buffoon actor named Barry Huggins whose Italian is nowhere up to the task of starring in the fictitious film-within-a-film about labor protests at an Italian factory. A director is midway through shooting a high-minded, if slightly schematic social-realist strike movie with the stirring and solidarity-minded title of Noi Siamo Qui (We Are Here); about factory workers staging a sit-in, protesting against the new owner's planned layoffs. In the film's most hilarious scene, Huggins claims to have been hired by Stanley Kubrick and kept waiting in a hotel for weeks for a part he never played.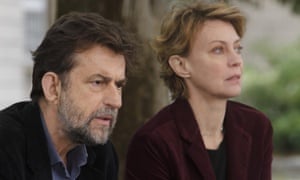 On set and in the real world Margherita's life is unravelling: she's broken up with her boyfriend, has an adolescent daughter to look after and is struggling to reconcile with the fact that her mother doesn't have long to live. Moretti's own family background appears to hew closely to Margherita's: his mother Agata, a much-respected Latin teacher who appeared in Moretti's autobiographical 1998 feature Aprile, died in 2010; while his brother Franco is a celebrated literature professor.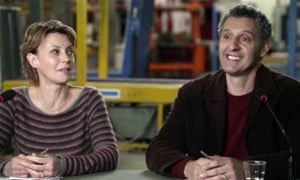 Her brother Giovanni (Moretti himself) is there to help, having quit his job to make their mother's stay in hospital as comfortable as possible, but Margherita's attentions are elsewhere – on her movie. But she must manage this situation with a growing crisis: her elderly mother Ada (Guilia Lazzarini) is in hospital, and Margherita is in denial about the increasingly grave situation. Moretti, who won the festival's top Palme d'Or prize in 2001 for "La Stanza del Figlio" (The Son's Room), said after his competition film's warmly received media screening that he hadn't planned those shots to be consecutive but it came out that way in the edit. "During the writing and the shooting of the film, we worked a lot to try to intermingle several levels of reality — you have dreams, you have memories, you have fantasies, and the times in the film match the times in the mind of Margherita where everything coexists," Moretti said.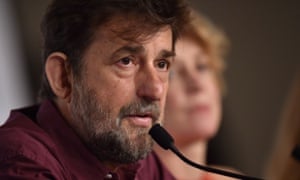 Margherita is out-of-synch and feels inadequate." The Italian director tickles our minds with this mise-en-abyme, especially with Margherita's insistence that the actor play themselves at the same time as they play a character. The shoot is complicated by the arrival of loud mouth American actor Barry Huggins (a brilliant John Turturro), whose loose grasp of Italian and larger than life presence cause huge problems. He also said that Buy's character was not meant to be his alter ego in feminine guise, but rather a woman who seems to be in complete control on the set. The strike-style "morale" banners that some patients' relatives hang up outside the hospital remind Margherita subliminally of the placards in her movie, and she is plagued with cinematically vivid bad dreams about her personal history, from one of which she awakens to a domestic situation in her flat which she (and we, the audience) at first think must be a bad dream as well. But her relationship has just ended, her new apartment floods overnight and her daughter by a previous marriage is having problems learning the Latin that the dying mother taught for a living. "The character is very different from other women characters who take care of other people or are very enveloping.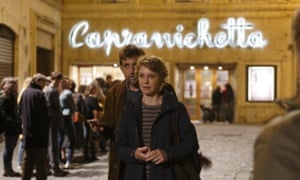 So she has to go to live in her mother's apartment, where she grew up, and the memories bring her close to a kind of hidden or unacknowledged breakdown. It's a tender account of long, drawn out loss, Buy brilliantly portraying a woman keeping her grief and guilt largely internalised but plain to see behind her weary, devastated eyes. I thought it would be interesting to give these characteristics to a woman rather than a man – they are very different to the caring qualities that are given to most women characters.

Brilliantly, Moretti allows the audience to assume that Margherita's mother is a little placid old mamma, and it is her children Margherita and Giovanni who are the first-generation prosperous intellectuals. But then Moretti challenges this assumption by having Ada remark that here in hospital, "the older you are, the dumber they think you are, when actually it's the opposite: you know more". This restraint is helped by the film's unusual flipside – the making of Margherita's movie, a socially conscientious drama about a factory being bought out by John Turtorro's entrepreneur. Saying he had first met Moretti at Cannes several years previously, Turturro professed himself delighted to be involved. "I don't do job just by the part, it's who you are going to work with. A day before "Mia Madre," Gus Van Sant offered his metaphysical tale set in Japan's "suicide forest." "The Sea of Trees" got a harsh reception from critics at Cannes, but the Palme d'Or-winner seemed unperturbed by the few boos that greeted his latest oeuvre after Friday's press screening.

These scenes play out like a broad comedy, with Huggins continually fluffing his lines, telling people about the time he worked with Kubrick (he didn't) and, in one laugh-out-loud sequence, driving a car with so many cameras mounted on the front he can't see out of the windshield. Furthermore, Moretti creates a second resonance within his style: tired and exasperated Margherita has to be a mamma figure to her big, spoilt, lovable baby of a lead actor — an American star called Barry Huggins, wonderfully played by John Turturro, who like Moretti has found his best form in years.
Barry is charming, effusive, childishly excited about being in Rome: keeping his indulgent hosts up late talking and drinking, boring them all with his reminscences of working with Kubrick, whose demands led him to miss the birth of his son. Just like the scenes in the hospital there's a self-conscious, meta element to the filmmaking comedy too – Moretti poking fun at his own quirks as a director. Academy Award winner McConaughey put on a relaxed face, too, telling a news conference ahead of Saturday's public premiere: "Anyone has as much right to boo as they do to ovate." Van Sant said: "I read one review this morning and it was very definitive. We wouldn't be surprised if Margherita's baffling advice that she wants to see "the actor stood beside the character" is a line Moretti has used himself once or twice.
At one point during a press conference on set Margherita responds to a question about her film's social conscience by saying audiences "ask us for films that aren't just entertainment." It's a request that Moretti has directly addressed with My Mother – a film that entertains, and much more besides. Shot simply but elegantly, it doesn't quite have the impact of Moretti's best work (it's too gentle for that to be the case) and the occasional flashbacks/dream sequences feel largely unnecessary or just downright confusing, but Moretti has returned to Cannes with his finest film in years. There is a subtle, unstressed feminist note to the movie: both Margherita and her mother Ada have or had jobs which in academia and film-making (still pretty conservative in their gender politics) are assigned mostly to men.
Share this article: