Minions Dominate US Box Office With $115.2 Million
'Minions' box office: $115.2 million. What's driving the appeal? (+video).
This weekend the highly anticipated "Despicable Me" spin-off "Minions" opened at the box office with record numbers, garnering $115.2 million in North America and making it the second biggest animated film opening in history.The Universal and Illumination Entertainment spin-off to Despicable Me just missed the domestic record set by Shrek the Third's $121.6 million kickoff in 2007, while continuing animation maestro Chris Meledandri's hot streak at the multiplexes.Universal Pictures' "Minions" now holds the record of the all-time biggest opening weekend for an animation title after grossing a spectacular P189-million in five days (July 8 to 12). A BuzzFeed list titled "15 reasons we wish we had minions" includes "minions are always down to party" with an image featuring a group of the yellow henchmen under a straw-thatched umbrella wearing leis and eating bananas.

What makes Meledandri so valuable to studios is that he keeps budgets low. cost $74 million to produce, a modest number considering that Pixar and DreamWorks Animation routinely spend north of $100 million on their animated features. "I'm not sure the public is mindful of what films cost, they're more concerned with how they resonate," said Nick Carpou, Universal's domestic distribution chief. "Chris is able to produce films that speak to families, to children, to people everywhere." The studio left nothing to chance when it came to reminding moviegoers why the loved the nattering, mischievous, highlighter-hued critters. It was the second-biggest opening ever for an animated film and an easy win for the sidekicks who took the spotlight after playing supporting roles in two previous Despicable Me movies.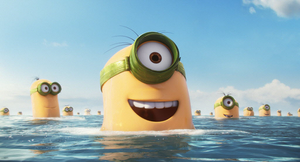 The list includes images of minions in all kinds of ridiculous situations, highlighting their appeal – their ability to make any situation humorous. Universal partnered with the likes of Snapchat, McDonald's, and Amazon to deliver nearly $600 million in publicity and promotions, according to a recent article by Bloomberg. What followed is a succession of daily demolished records: biggest Thursday (P22.9-M), biggest Friday (P32-M), biggest Saturday (P58.9-M) and biggest Sunday (P52.2-M). Fourth to tenth rankings are claimed by SM Mall of Asia (P6-M), Glorietta 4 (P4-M), Greenbelt 3 (P3.7-M), Alabang Town Center (P3.7-M), SM Cebu (P3.5-M), SM Dasmarinas (P3.2-M) and Eastwood (P3-M). According to Deadline, the campaign is the "largest and most comprehensive in its history." McDonald's is doing both an adult and kids promotion in its restaurants, with Happy Meal toys at the center.

Minions was a hit overseas as well, taking the No. 1 spot in 29 of the 30 other countries in which it debuted over the weekend, including Mexico, Russia, France and Venezuela. The horror thriller, The Gallows, finished fifth with $10-million, while the science fiction thriller, Self/Less, took in $5-million, good for eighth place. A store featuring plush toys prominently displayed the Despicable Me characters. "With anything that opens to over $100 million, you breach all demographics," said Jeff Bock, an analyst with Exhibitor Relations. "The Minions are the stars of the Despicable Me franchise… kids love them, teens love them, and adults love them." Minions also enjoyed a sprawling rollout, debuting in 4,301 theaters. As Deadline reported, "'Minions' originally had a release date of December, 19, 2014, but the studio moved the Illumination Entertainment film into summer 2015 and, by doing so, was able to extend the marketing push through a variety of promotions." David O'Connor, Universal's executive VP of global brand marketing and partnerships, explained the wild success of the marketing campaign saying, "The minions have permeated pop culture so [they have] broad appeal from ages 3 to 84.

We started hearing from brands [around the world], so it was a very coordinated global effort: we worked with all the local offices around the globe." And it seems like the "broad appeal" is still going strong. A Facebook page appropriately named "Minions Fans" has almost three and a half million likes and features thousands of pictures of minions along with funny phrases.

Entertainment 360 and Blumhouse Productions backed the picture about a high school play gone terribly, terribly wrong… and not in that teenagers putting on The Crucible kind of way. Ahead of Minions, Universal showed a trailer from a release for next summer, The Secret Life of Pets, which explores what pets do when their owners leave them at home unattended. Warner Bros. executives say the film is a modestly priced single, but was an important showcase for writers and directors Travis Cluff and Chris Lofing. "We're cultivating young filmmakers and giving them a chance to grow and prosper," said Jeff Goldstein, Warner Bros. distribution executive vice president. "These are really sharp guys, who have a long career in front of them." Focus Features' "Self/Less" was not so fortunate, picking up roughly $5.4 million from 1,953 locations. Jurassic World slid 54% to $18.1 million, bringing its Stateside haul to $590.6 million, while Inside Out dipped 43% to $17.1 million, pushing its domestic total to $283.6 million. The science-fiction thriller about a radical medical procedure is the latest film fumble for Ryan Reynolds, who is still laboring to get out from under the massive flops that were "The Green Lantern" and "R.I.P.D." The good news for the actor is that a trailer for "Deadpool," his upcoming R-rated comic book adaptation, rocked the Comic-Con crowd.
Overall ticket sales were robust, improving nearly 40% over the year-ago period when "Dawn of the Planet of the Apes" kicked off with $72.6 million.
Share this article: