Maureen O'Hara, smoldering Irish beauty of movie fame, dies at 95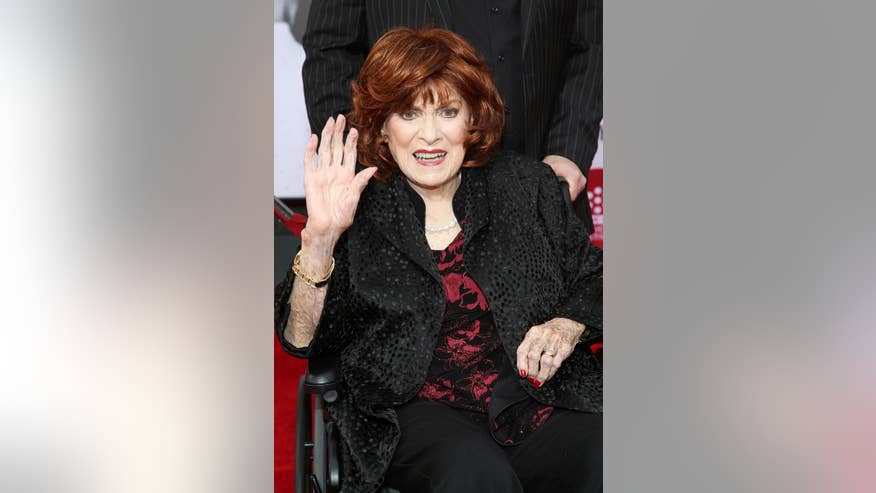 Irish-American actress Maureen O'Hara dies aged 95.
LOS ANGELES — Maureen O'Hara, the flame-haired Irish movie star who appeared in classics ranging from the grim "How Green Was My Valley" to the uplifting "Miracle on 34th Street" and bantered unforgettably with John Wayne in several films.Maureen O'Hara, a flame-haired actress whose screen career spanned seven decades and was largely defined by the sassy firecrackers she played opposite leading men ranging from John Wayne to John Candy, died Oct. 24 at her home in Boise, Idaho.

She was 95. "She passed peacefully surrounded by her loving family as they celebrated her life listening to music from her favorite movie, 'The Quiet Man,'" said a statement from her family. "As an actress, Maureen O'Hara brought unyielding strength and sudden sensitivity to every role she played. Maureen O'Hara, the Irish beauty whose striking red hair, crystal-green eyes and porcelain skin was so dazzling on the silver screen that she was dubbed "The Queen of Technicolor," has died. She was also proudly Irish and spent her entire lifetime sharing her heritage and the wonderful culture of the Emerald Isle with the world," said a family biography.

O'Hara, a precocious theatrical talent in her native Ireland, became a film star at 19 when she played the ravishing gypsy Esmeralda to Charles Laughton's Quasimodo in "The Hunchback of Notre Dame" (1939). During her movie heyday, she became known as the Queen of Technicolor because of the camera's love affair with her vivid hair, pale complexion and fiery nature. Later in life, she became the first woman president of a commercially scheduled airline in the United States. " "As much as Maureen cherished her privacy, she always appreciated the expressions of good will from people around the world and from all walks of life. While O'Hara became a leading lady in black-and-white films, she rose to stardom in the 1950s as Technicolor enhanced her flawless complexion and abundant red hair. She may be best remembered as the cynical working mother to a young Natalie Wood in "Miracle on 34th Street" (1947), a perennial Christmas favorite, and as the smoldering Irish beauty pursued by Wayne in Ford's "The Quiet Man" (1952), which airs on television every St.

Aside from Wayne, she was paired on-screen with Tyrone Power, James Stewart, Henry Fonda, Jeff Chandler and Anthony Quinn, to mention just a few of her co-stars. She performed many of her own stunts in movies and, in addition to Ford, worked with such famous directors as Alfred Hitchcock, Carol Reed, Henry Hathaway and Jean Renoir.

Other films included the costume drama "The Foxes of Harrow" (Rex Harrison, 1947); the comedy "Sitting Pretty" (Clifton Webb, 1948); and the sports comedy "Father Was a Fullback" (Fred MacMurray, 1949). She balked at her U.S. naturalization hearing in 1946 when she was described as a British subject rather than an Irish citizen; her protest triggered a change in U.S. policy. Later, she was equally candid in discussing her 15-year romance with a married man, as well as her marriages and her leading men, in "'Tis Herself: A Memoir," written with Nicoletti in 2004. She was proud when he remarked in an interview that he preferred to work with men — "except for Maureen O'Hara; she's a great guy." After her studio contracts ended, she remained busy. She performed in radio plays at 13 and a year later joined Ireland's famed Abbey Theatre, where she swept floors and painted sets before moving on to speaking roles.

O'Hara was lured from retirement to portray a domineering, bigoted widow who tries to shatter her son's romantic relationship in "Only the Lonely." Candy played her son, a Chicago cop. Still in her teens, she was cast opposite Charles Laughton in Hitchcock's "Jamaica Inn" (1939), a thriller for which she adopted the stage name O'Hara. Winning numerous awards and local attention, she earned a screen test in London and had one line in the British musical comedy Kicking the Moon Around (1938). Studio contracts, marriage and childbirth intervened before she saw Ireland again seven years later. "Whether I liked it or not, I was now a property of the powerful Hollywood studio system," she wrote in her memoir. He died in a plane crash in 1978. "Being married to Charlie Blair and traveling all over the world with him, believe me, was enough for any woman," she said in a 1995 Associated Press interview. "It was the best time of my life." She returned to movies in 1991 for a role that writer-director Chris Columbus had written especially for her, as John Candy's feisty mother in a sentimental drama, "Only the Lonely." It was not a box-office success.

Over the following decade, she did three TV movies: "The Christmas Box," based on a best-selling book, a perennial holiday attraction; "Cab to Canada," a road picture; and "The Last Dance." While making "The Christmas Box" in 1995, she admitted that roles for someone her age (75), were scarce: "The older a man gets, the younger the parts that he plays. The film, about a struggling Welsh family in a mining town trying to hold onto their way of life in the face of the Industrial Revolution, won the Oscar for best picture as Ford was given his third Academy Award.

Trained in fencing and fond of doing her own stunt work, she held her own in swashbucklers opposite Errol Flynn ("Against All Flags," 1952) and Tyrone Power ("The Black Swan," 1942). Through her father, she learned to love sports; through her mother, she and her five siblings were exposed to the theater. "My first ambition was to be the No. 1 actress in the world," she recalled in 1999. "And when the whole world bowed at my feet, I would retire in glory and never do anything again." O'Hara was admitted to the training program at Dublin's famed Abbey Theater, where she was a prize student. She accepted his behavior as the price of working near genius. "He treated Duke [Wayne] the same way he treated me, Ward Bond, Jimmy Stewart," she told the Los Angeles Times in 2004. "But when you'd think about it going home at night, you were proud of your day's work. She took on more mature roles in the 1960s, playing Hayley Mills' mother Maggie McKendrick in The Parent Trap (she was incensed that Walt Disney ignored her contract and instead gave Mills top billing) and the wives of Jimmy Stewart and Henry Fonda in Mr.

Her first husband was director George Hanley Brown, whom she met while making "Jamaica Inn." When she moved to Hollywood, he remained in England and the marriage was annulled. The film is an idealized portrait of the Irish countryside and the colorful wisdom of the locals, as when a chaperone tells Danaher while being courted by Thornton, "Have the good manners not to hit the man until he's your husband." Their screen romance blossoms in one of the most melodramatic movie kisses of the era, with Thornton taking liberties with Danaher as her wild hair and long skirt blow in a howling wind. O'Hara's career was threatened by a manufactured scandal in 1957, when Confidential magazine claimed she and a lover engaged in "the hottest show in town" in a back row in Hollywood's Grauman's Chinese Theater. Earlier, she was married to producer George Brown from 1939-41 (that union was annulled) and director Will Price, who she said was an abusive alcoholic, from 1941 until their divorce in 1953.

But at the time, she told AP, "I was making a movie in Spain, and I had the passport to prove it." She testified against the magazine in a criminal libel trial and brought a lawsuit that was settled out of court. Musing about what made her a star, O'Hara wrote: "I have always believed my most compelling quality to be my inner strength, something I am easily able to share with an audience. Her mother, the former Marguerite Lilburn, was a trained opera singer and had been a theater actress. "My parents gave us all the confidence I would need," Ms. But I was a tomboy; I loved football and boxing like my father." She also excelled at fencing during her many years of acting and elocution lessons.
She followed in anti-fascist wartime dramas that included Jean Renoir's "This Land Is Mine" opposite Laughton and "The Fallen Sparrow" with John Garfield. O'Hara, who became a U.S. citizen in 1946, also had a long reign in Technicolor action films such as "The Spanish Main" (1945) with Paul Henreid, "Sinbad the Sailor" (1947) with Douglas Fairbanks Jr. and "At Sword's Point" (1952) with Cornel Wilde. That film also marked one of her first returns to cinema after her triumph over a scandal sheet that had accused her of having all but sex with her "south of the border sweetie" in the back of Grauman's Chinese Theatre in Hollywood. Her advice to those younger performers was flinty and direct. "If you really want it, go after it," she told an interviewer in 2010, "and learn how to speak properly, for God's sake!"
Share this article: