'Mad Men' series finale: Daily News staffers weigh in on Don, Steggy and that …
Coke featured in 'Mad Men' series finale.
Perhaps now is the right time to at last regard Matthew Weiner's muddled but mesmerizing masterpiece for what it truly was: a novel. The series ended Sunday evening with a classic commercial, the "I'd like to buy the world a Coke" TV ad from 1971, an advertisement that, like all good advertising, is drenched in cheap sentiment, cynically concocted to sell a product that nobody really needs.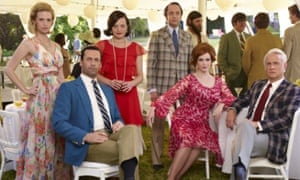 In the final season of AMC's "Mad Men," set in 1970, Atlanta-based Coca-Cola was mentioned as lead character Don Draper's potential perfect client, the one that would match the most brilliant mind in advertising with one of the most marketing-savvy companies in the world.Now that everyone's had time to digest last night's "Mad Men" finale, we've moved into the stage of grief known as Obsessively Nitpicking Over What Happened to Don, Even Though That's Not The Point.For a few minutes last night's finale of Mad Men became a rom com: co-workers Peggy Olson and Stan Rizzo realized they'd been falling in love all along.

A novel shelved not with the genre works like "Game of Thrones," but kept over there in the nebulous section called "contemporary literature," where the best endings are always the ambiguous ones. Creator Matthew Weiner does not say so explicitly, but the final scene on the show implied this fictional ad man came up with Coca-Cola's iconic 1971 advertisement "Hilltop." A spokesperson for Coca-Cola said the company provided the ad for the show to use but didn't know how it would be used.

Yet so many watchers held out hope that "Mad Men" would somehow shake itself out of its trance and deliver something, anything that screamed TV SHOW. The message captured how universal the Coke brand had become, that consumers from Africa to Asia to America were tied together by that sweet, fizzy drink. Don's little smile at the end wasn't the smile of a man reborn into a more honest person, it was the smile of a born ad-man who had just come up with something he knows will be iconic.

He concluded his quest, his shedding of the past – the point of drifting west – in California, at a retreat, in meditation, in a yoga pose, chanting. The show's unstoppable narrative drive from the hectic, bracing social change of the 1960s to the solipsism of the Me-Generation 1970s, was complete. Frankly, if you'd said the finale would end with Don jumping to his death and re-enacting the opening credits, I don't think anybody would've been surprised.

Sure, the writers have been hinting at a spark between the two characters for several seasons now, but it wasn't exactly a Rachel-Ross "will they or won't they?" plot that deserved a grand romantic ending. More of an ellipsis on the end of sentence rather than a period, it was nevertheless a memorable and moving image for a show that kept returning to the theme that the lies we tell ourselves are no different from the false sense of happiness that advertising always promises. As Roger Sterling's secretary Meredith pointed out, there are a lot of places better than McCann, or New York, although Don doesn't seem to be the best at finding them. Viewers looking for clues about the ending were rewarded if they took note of the request that Draper "fix" a Coke machine in the penultimate episode. Whether Don was truly buying all the Esalen-speak (and some of the group dialogue was laughable, but probably taken from life), I don't believe he went back.

The technology certainly exists to have Photoshopped Don in there, but Weiner's show was almost always about restraint, wasn't it?) The message seems rather clear: Don found peace and so should we. On the phone, Peggy tells Don that he can come back to McCann even though he just walked out, abandoning his life and the company — and Coke is the main argument she uses. Don — a fraud who stole a dead soldier's name and found success in Madison Avenue advertising and who is on the record as once confiding that he felt he was always trying to scratch through and experience real life as it was being lived by those around him — was moved to tears. He couldn't escape it even when he wanted to — remember last week when the motel owner was begging Don to repair his old Coca-Cola vending machine because he didn't want the new one?

If Joan got bored with living as a woman of leisure, Don probably isn't going to make it through the rest of his life meditating, especially when he doesn't have anyone keeping him in California since Stephanie took off with his car. We even had hope Betty would find her calling in psychiatry (until last week's episode – but even then, she and her family will have a chance to say their goodbye, which feeds into the hope that Bobby, Sally, and Gene will be able to process her eventual death in a healthy way). And if the show is, as it always has been, about how people don't really change — except in small ways that they end up fighting anyway — then sure, it makes sense that Don would eventually return to New York. If Trudy wants to board the plane to Kansas, she'd do well to abide by her own words from the penultimate episode: "I remember things as they were." But back to Peggy and Stan, who will surely be happy together, but at what cost? He connected with the office sap in the meeting, got in touch with his spiritual side on the cliff (temporarily most likely), and was struck with a great idea for an advertisement.

In other news, Peggy Olson (Elisabeth Moss) thought about and then rejected the offer made by Joan Harris (Christina Hendricks) to start a production company together. In an odd blend of the maudlin and the maddening, Peggy found true love with Stan, Joan chose business over love (a hint of the coming women's liberation movement that has been a thread stitched into the show's entire narrative arc) and Sally Draper became her mother Betty even as her mother approached death.

After all, as Pete Campbell (Vincent Kartheiser) told her as he was headed out the door to become an executive at Learjet, "Keep it up, you'll be a creative director by 1980." Also, Stan Rizzo (Jay R. The drawn-out scene, switching from phone conversation to in-person touchy-feely encounter, was brazen, stand-up-and-cheer sentimentality. "All I want to do is be with you," Stan says. "I'm in love with you." And there was a cuteness to Joan's decision to forge ahead in business, against all odds, that was satisfying but vaguely contrived. After years of us sitting and watching and over-analyzing, all while assuming a character would be murdered or predicting the demise of a relationship, Weiner drove home that point that you never actually "know"; that people are always capable of change and of breakthroughs and of taking risks.
Though we did not get see poor Betty Draper Francis (January Jones) all the way to the inevitable death from lung cancer that she so stoically accepted (I think she set a new record for dashing through the five stages of grief), there was that last, sad phone call with Don, where she told him that she didn't want him to raise their younger children after she's gone. This was less a neat summing up than it was like a musical diminuendo, a gradual decrease in loudness, until the only real noise was going on inside Don Draper's head. Stan and Pete's confessions of love (to Peggy and Trudy), Joan's business venture, Peggy's choice to stay at McCann-Erickson, Sally opting to tell Don about Betty, Don hugging Leonard – those were all risks that could've had very much the opposite outcomes. Think about that moment where Peggy returns Stan's honesty with: "I don't think about you." And then think about how we all wanted to collectively walk outside and scream at the moon, thinking she was sabotaging that vulnerability. Of all the things we really dread, the top one has to be Sally missing out on her life because she becomes a mother to her two younger brothers after Betty dies.
There is no other show like it that's on right now, with such a strong, literary sensibility and the strength to see things through precisely the way it was originally envisioned I've had my issues with "Mad Men" over the years; I'll bet you have, too. After all, Don was a character who endured enormous amounts of emotional trauma, and then continued the cycle of abuse by emotionally damaging everybody around him, all while remaining relatively unscathed (until season five). It didn't help when other viewers put their relatively unused master's degrees to work online and elsewhere by delivering long and often very thoughtful analyses of each episode, scrutinizing every detail in hopes of cracking its code and, to be sure, showing off a little. But in real life, we know that the cycle doesn't have to last, and that with the proper tools, you can break from the past and move on in a way that doesn't involve repression or surprising yourself by how much something never happened. Maybe Don finding solace in a new age movement is a little too 1970, or even too soft for a man who once told a beatnik he slept on a bed made of money.
— MIMA, heartsny The final episode was indeed very satisfying and brought us to a disturbing truth about the American dream and the fake values Madison Ave. provided to us on a silver platter.The hippie mantra of make love not war and acceptance was not lost on Madison Ave and they were brilliant at incorporating it into their messaging- hence the uplifting Coke ad. And because so much screen time was spent with new characters, the other major story lines were tied up quickly and neatly in bows as if writers from ABC hacked into Weiner's computer.
As a side note, it's hard to believe he could smoke like a chimney and drink like a fish (or rather, a school of fishes) and remain as unaffected physically as he seems to be. Is Don's ending really a spiritual awakening and a start to a new and positive chapter (as so many reviewers and viewers are writing), or is he just returning to his old ways? The whole show was about the hard wired patterns that get created when we are young and the inevitable battles that result between our ego, public self, and shadow. Instead, I think he started the recovery process and went on to live in peace, perhaps returning to gather his kids and be the good, loving dad that he never had. I see the very ending as a contrast between the spiritual life that was genuinely in store for Don Draper, free from the lies of Madison Avenue, and how the Ad world would (and did) manipulate the post-hippie "would be" world of the spirit to sell junk.
Perhaps it didn't altogether replace the institutionalized alcoholism depicted in the series, but represented a freshening, a "new possibility", some kind of epiphany for jaded seekers. "Come back, Don. Having worn men's plaid shirts over the years, I recall that the mark of a carefully-made shirt was, for decades, that the pattern on the pockets was perfectly aligned with the pattern on the body of the shirt.
At Esalen (or driving there) Dick-Don was wearing a plaid shirt with the 2015 style — pocket plaid not matching the body plaid — in, supposedly, the early 1970s, in a program that went to great lengths to reproduce meticulously contemporary neck-wear widths, sideburn lengths and other minutia!
Share this article: