Letterman's top 10 musical moments
David Letterman countdown: Jimmy Fallon, Jon Stewart, Keith Olbermann sing praises; CNN special pays tribute.
Since he debuted Late Night with David Letterman in February 1982 on NBC, David Letterman has introduced the world to countless new artists and sounds—and played host to some of late-night's most memorable musical performances.
"That was fantastic," gushed David Letterman, moments after Pearl Jam frontman Eddie Vedder delivered a powerful solo version of Better Man on the Late Show on Monday night.Twenty-odd years ago – and the years have been odd – Pierre Cossette (a dear, departed producer who brought the Grammy awards to TV) graciously invited ink-stained me to his Super Bowl party at Chasen's (a dear, departed West Hollywood eatery that smelled of equal parts chili con carne and Hai Karate).
My initial hunch was no—I mean, who among us hasn't been guilty of a laughably grievous and humiliating misjudgment based solely on a show's premiere episode?—until I actually went back and watched the very first episode of Late Night and was reminded just how weird and wonderful and obviously groundbreaking it was. Since he is leaving the desk for good this Wednesday, writers, wags and other cultural observers have littered the internet with top 10 lists dedicated to Letterman's best moments on the show. If, as has been argued persuasively elsewhere, you can find the seeds of a show's ending by returning to its beginning, this seems an opportune time to revisit Letterman's late-night debut, which aired way back on February 1, 1982.
As the host of the show, Letterman has also bid farewell to numerous greats over the years: Warren Zevon made his last public performance on Late Night, while Sammy Davis Jr. and Lou Reed delivered some of their final television performances in front of their friend. And, reader, I'm here to report that it's not only the most refreshing thing you'd be likely to find on TV 33 years ago, but the most refreshing thing you'd find on TV if they aired it again tonight. All right, carrying on: As his "Late Show" retirement draws near, Letterman is being saluted by other late-night TV hosts, as well as frequent guests. The night Dave came back from his heart surgery, he enlisted the Foo Fighters as the band to give him a rockin' return. "My favourite band playing my favourite song," he said emphatically, before the band ripped through their hit Everlong. The Hollywood Reporter took the easy route, and compiled a general list of the classics including Joaquin Phoenix's weird interview, Madonna cursing, Drew Barrymore's striptease and his post-9/11 return.
I've always appreciated his astounding influence on the world of television comedy much more than I've appreciated his actual televised comedy. (Though I did once laugh so hard while reading a collection of "Top Ten Lists" in a bookstore that I basically started hyperventilating and had to leave the store. Shoe-gazing Weezer frontman singer Rivers Cuomo, wearing pants four sizes too big for him, led his band (including founding member and bassist Matt Sharp) through a sizzling and energetic performance of their staple, Say It Ain't So. With a sigh, he lowered his camera, turned to his fellow photographers and bellowed a single word: Which, and trust me I'm getting to the point, is a big reason why I worship David Letterman.
On Monday night's "The Tonight Show Starring Jimmy Fallon," the host — who so often comes off as an overgrown kid, heaping praise on anybody who appears — was articulate and sincere as he saluted Letterman. The Beasties use the sidewalks of New York as the backdrop to the first half of their performance of Ch-Check It Out, eventually strutting into the studio to finish it off, and serenading Dave at his desk at the end. The episode opens with Calvert DeForest as Larry "Bud" Melman, intoning like Alfred Hitchcock and paraphrasing from Frankenstein: "We are about to unfold a show featuring David Letterman, a man of science who sought to create a show after his own image, without reckoning upon God.
They may be signature now—that chest pound, that wistful point to the furthest row, that bent-knee-side-shuffle-slide-thing—but when lead singer Samuel Herring performed his dance-rock exorcism during the group's Letterman debut, he blew everyone away—especially Dave, who greeted Herring with, "I'll take all of that you got!" Sonny and Cher were a husband and wife duo and bared their love for each other on "I Got You Babe." While the two divorced in 1975, they reunited on occasion to sing their classic '60s hit, including this emotional performance on Letterman, which, particularly when Cher flubs her lyrics, comes off like the greatest karaoke performance ever. Frequent guest Warren Zevon sat in with Paul Schaffer and his band for an entire show following his cancer diagnosis, with Dave begging him to sing Roland the Headless Thompson Gunner. Reading is hard, so LiquidGenerationTube (which sounds like an accessory from a Mad Max play set) compiled a video of the 10 craziest interviews so you can actually see Drew Barrymore flashing him or Cher calling him an asshole. He wasn't big on applauding celebrities for their "accomplishments" – instead of congratulating someone on their Emmy win, Dave might lead with, "Did I hear you bought a riding mower?" His quest was to reduce luminaries to Regular Joe status by aiming the conversation toward children, dogs, the weather, ailments, deer ticks – if a guest told Dave they had bunions or a beagle they got two segments, but God help the action-movie star trying to plug his summer tentpole.
It's one of the strangest tales ever told." I'll venture that Late Night is the first talk show ever to include the words "without reckoning upon God" in its premiere. There are a lot of the usual suspects, but also clips of Letterman working at McDonald's, a young Jon Stewart finding out his talkshow has been canceled and a scary story about bears. David Letterman was a champion of the innocent, making big shots cool their Gulfstream jets while he bullhorned his way through Manhattan seeking out delivery people and cabbies and disoriented tourists, asking common folk, "May we see your holiday photos, please?" and delighting in the spontaneous mayhem.
The debut episode then proceeds in what can only now be called Lettermanesque fashion. (At the time, the New York Times, without access to that adjective, declared, "The program's overall mix often strains for the unpredictable.") The post-Melman opening features a group of Rainbow Grill showgirl dancers in ridiculous peacock-feather headdresses. Sure, Letterman had plenty of people cooking on his show, but only Yahoo thought up the idea to compile a list of those celebrities who have grilled, shucked and boiled with the host, including Martha Stewart (duh), Julia Child, Tom Cruise and, yes, Liberace. His disdain for showbiz was palpable – ages ago, the Letterman show stopped providing tickets for industry weasels – and he sarcastically praised overblown talent revues like American Idol because such programs alleviated the nation's dire shortage of celebrities. He lifted all of our spirits, and he said to me — I'll never forget — 'Do not confuse cancellation with failure.' And I thank him for all the amazing years of television and for that wonderful piece of advice." Keith Olbermann, a frequent guest on Letterman's show, has written a tribute that's posted today on the Deadline.com site. Herring's soulful voice and funky chicken dance moves, made them a viral sensation the next day, with the clip for Seasons (Waiting on You) garnering over 4 million views on YouTube. "How about that!" a thrilled Letterman said.
He was a dog with a bone when it came to shining a klieg light on fakery (his obsession with "that thing on Donald Trump's head" is legendary) and he lived to lambaste the randomly eccentric – Dave's 2009 vivisection of a mute Joaquin Phoenix was Christmas morning for anyone fed up with celebs who cultivated attention by trotting out arbitrarily peculiar behaviour. GQ really did it right and had 10 of Letterman's regular guests choose their favorite moments so we don't have to guess which segments Amy Sedaris, Tina Fey, Jimmy Kimmel or Paul Rudd loved the most.
Paradoxically, Dave was a cynic with contempt for cynics, a late-night Holden Caulfield who wrote off any filmmaker or rapper or Paris Hilton who had already abandoned innocence and fallen off the crazy cliff. The first and only celebrity guest is Bill Murray, doing Bill Murray, circa 1982. (Dave's first show on CBS featured Murray, circa 1993, and later this week we'll get to see Murray again, doing Bill Murray circa 2015.) The other guest is Don Herbert, a.k.a.
Olbermann contrasts Dave with his fellow late-night hosts, Jay Leno and Craig Ferguson. "Craig would have said hello to you three times and hugged you twice by the time you came out onstage, which was warm and lovely. Zevon had been diagnosed with inoperable lung cancer around this time and with no plans to tour for his then in-progress album The Wind when he visited, he and Letterman likely knew his performances of "Mutineer," "Genius," and Letterman's favorite, "Roland the Headless Gunner," would be his final in public. That bunch he would gamely humour – in every sense of the word – but he visibly preferred the company of three distinct groups: superstars who merrily bought into satirizing Tinseltown (Bill Murray, Martin Short, etc.), unadulterated middle Americans (military heroes, his mother, eighth-grade kid scientists, the "Stupid Human Tricks" bartender from Pennsylvania who famously used his tongue to stop a high-speed fan), and Rupert Jee, the earnest proprietor of the delicatessen directly beside the Ed Sullivan Theatre. (Rupert's selfless, confused obedience during a Letterman bit was always for the good of the show; Rupert never made it about Rupert and he never flinched when Dave incessantly implied that the Hello Deli was overrun with vermin. Jay would come in to your dressing room and sit on the couch and talk to you for half an hour, which was also very generous (and entertaining; a producer once literally pulled him out of my room).
Mental Floss (apparently too indecisive to get with the program and limit their list to 10) has chosen 11 of his most memorable and ridiculous guest spots. Since you can't have the great without the horrible, Time magazine compiled the show's 10 worst interviews, including Kristen Stewart thinking she can drive from London to Russia, Michael Richards' ineffective apology and Crispin Glover trying to kick Dave. Left coast observers, spellbound by profound issues such as "who" a movie star was wearing, didn't appreciate Dave's "Uma, Oprah" routine and gave his performance two manicured thumbs down. A very shy Stipe refused to take part in an in-between song interview, leaving bassist Mike Mills and guitarist Peter Buck to do the chatting with Dave. The fact of the matter is that emcee gig was, is and will always be an exercise in blind adulation, an evening where kindergarten teachers and weary ER nurses might exist somewhere, but the real heroes of the universe are the kale-chewing gods who make motion pictures.
It's Letterman announcing that his fresh take on television will be informed, above all, by the fact that he simultaneously loves television and finds it ridiculous. When I started going on in 2006, for all I knew he was actually built into the desk like Captain Pike from the Star Trek pilot and they threw a tarp over him after the show was over." But, over time, Olbermann says, Letterman let down his guard, talking to him during the commercial breaks about "my dad when he was in the hospital, and we talked about his mom, and we talked about our respective cases of shingles — all the stuff Dave supposedly never talks to anybody about." Olbermann also lavishes praise on how Letterman handled the show in 2008 when then-presidential candidate John McCain did a short-notice cancellation, supposedly to return to Washington, D.C., in response to the economic crisis. Letterman had raised cracking wise to an art form, he was the unquestioned king of comedy – obsequiousness wasn't in his DNA, nor was venerating disposable pop culture, and the Academy should have known that. This sentiment—that you can both love something and find it ridiculous, and one need not cancel out the other—not only became the dominant mode of TV comedy, it became a dominant mode of consuming popular culture, and persists to this day.
Writhing around the stage, breaking guitar strings, even taking a breather on the guest-couch, it's all there—Letterman begging for an encore, included. Letterman is often accused of/credited with fomenting the culturewide triumph of cold, arms-length irony, but more accurately what he did was give us, the audience, permission to love the ridiculous and recognize the ridiculous in what we love, starting with TV. And now that he's retiring, while the rest of us post duck-face selfies and try to figure out our "brand," Dave will find a comfy chair, fire up a Double Corona stogie and leave us to our own rechargeable devices. The L.A. punk legends straight-up slayed with their raucous performance—but this clip is another classic example of Letterman getting candid with the bands on-air in his early days. Oblivious younger folks won't miss Dave any more than I miss Jack Parr or rotary phones, but they should appreciate the seismic nature of what Dave did, not merely to elevate television and reinvent comedy, but to keep the American ethos from becoming little more than a celebration of self.
The sensibility evident in Letterman's first episode is now so familiar as a mode of entertainment—not just from Letterman's subsequent run but from nearly everything else, post-Letterman—that it's not surprising to revisit, exactly. The Swedish singer made a triumphant return to Letterman when she came by and performed her essential track—perhaps that summer's most beloved pop song. And then the startled humor of 'can you believe this is happening now'" turned into poison blowpipe darts." CNN is also honoring Letterman, with the Tuesday night special report, "David Letterman Says Goodnight," an hour-long celebration hosted by Jake Tapper, and featuring guests such as Jimmy Kimmel, Seth Myers, Conan O'Brien and more. The rec-room, can-you-believe-they-gave-us-a-TV-show décor harkens to a time when actively undermining the artifice of TV still felt not just irreverent but borderline seditious. In one of Lou Reed's final televised performances (the Velvet Underground rocker died from liver disease in 2013), he performed alongside the Grammy-winning Blind Boys of Alabama in support of their duets album—that they covered Velvet Underground was a perfect send-off.
Letterman's debut, in hindsight, still seems miraculously revolutionary, largely because Letterman had the singular advantage of never having had to follow himself. Their Letterman debut may have been overshadowed by Madonna's f-bomb-filled visit that same night, but looking back, Adam Duritz and his backing band's moody visit stands the test of time. She touted her performance on Twitter with characteristic sarcasm saying, "whoring myself on letterman tonite americaa, see you there" but that couldn't prepare audiences for the trippy experience of watching nine doppelgangers performing her brash single behind her.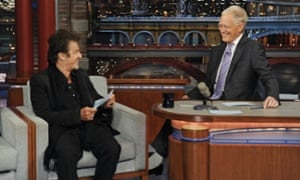 Share this article: