Lark Voorhies: 'Saved By The Bell' Star Allegedly Stars In Sex Tape Filmed By …
'Saved by the Bell' Star Lark Voorhies' Ex-Husband Threatens to Release Sex Tape.
According to the Daily Mail, Lark Voorhies' estranged husband is shopping a sex tape of the two of them to various news websites, offering to sell it to the highest bidder.Former Saved by the Bell star Lark Voorhies, a.k.a. the always fashionably on-point Lisa Turtle, is reportedly in the center of a possible sex tape scandal after her recent divorce from Jimmy Green after just six months of marriage. Voorhies isn't denying that the tape exists, but she does say that Green recorded it "surreptitiously" and she had no idea that he was taping them having sex.

Voorhies filed for divorce just days ago, reportedly citing "irreconcilable differences." The two were married in April after connecting on Facebook roughly a year earlier, though Green has now described the entire relationship as a "nightmare." Shortly after the marriage made headlines earlier this year, stemming mostly from Voorhies' mother's public disapproval of her son-in-law, the pair appeared on Entertainment Tonight in an effort to clarify the seemingly troubled relationship. "We're selectively together for all the right reasons," Voorhies said of the marriage, though the majority of the interview was decidedly less than conclusive: Now that Lark Voorhies wants to get rid of her obviously scandalous husband, Green is actively shopping around the sex tape that he claims to have made with the 41-year old former child star. The filings show that she is asking the court "to cut any chances of spousal support for Jimmy." Voorhies' mother, Patricia Voorhies, told People magazine in 2012 that her daughter suffers from bipolar disorder.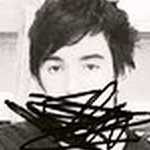 She also described Voorhies as "emotionally fragile." That may have contributed to the quick marriage, which Patricia has looked down on from the start — in June, she was granted a temporary restraining order against Green, whom she said was a member of a Los Angeles street gang. She accused him of throwing gang signs at her during arguments and of squatting in her home — after she asked him to leave, she said, she would find him sleeping in hidden parts of her house, including a closet.

Lark's mom also says her daughter is currently living with her and is "psychologically, mentally, and emotionally fragile and is currently under a doctor's care."

Share this article: