Killers' frontman Brandon Flowers tops British albums chart
Brandon Flowers goes deep on new solo album.
That's what Ariel Rechtshaid did when the Killers frontman, on the hunt for a producer for his second solo album, played Rechtshaid a demo of Still Want You, which Flowers had originally written for his main band's 2012 record Battle Born. "I was kind of reluctant to play it," the singer recalled recently, adding that Still Want You — a deeply earnest tune about holding on to love in the face of "climate change" and "nuclear distress" — had been received less than warmly by those who'd heard it, including his Killers bandmates. "But Ariel loved it right away." For Flowers, 33, that was a sign that the producer known for his inventive work with Vampire Weekend and the Los Angeles sister trio Haim was the right guy to partner with for his new album, The Desired Effect, no small thing given that Rechtshaid came from outside Flowers' trusted circle. With the Killers and on his 2010 solo debut, Flamingo, the singer has collaborated with the likes of Daniel Lanois, Flood and Steve Lillywhite, all high-profile veterans of U2's late-'80s/early-'90s era. But we shouldn't be disappointed either — mainly because these glistening sonic and stylistic homages to synth-pop, Springsteen and classic FM pop are laced with dark narratives, giant choruses and VIP cameos.
In the studio, Rechtshaid said, he and Flowers found themselves "going for a Hornsby vibe" but they couldn't quite get there on their own. "So we were like, 'Why not just reach out to him?'" "In my experience it's pretty bulletproof, just calling people," said Flowers, who added that he employed the same approach to get Neil Tennant of the Pet Shop Boys to appear on I Can Change. "You don't think they're going to say yes. In fairness, Flowers and his sparkling band – complete with rip-roaringly fabulous backing singers – create a compact, buzzy rock'n'synth show.
Decorating his guitar lines with edgy synths while deftly moving between blues-rock bombast, post-punk noise, orch-pop piano ballads, Albarnesque alt-pop and hazy hippie jams, the Modfather runs rings around the competition. Mr Brightside and Jenny Was a Friend of Mine are shaken up with fresh arrangements: Jenny's new-wave angularity gets the loverman treatment, with cocktail-lounge lighting and Flowers crooning at the mic stand, while Brightside is swirlingly dense, and slow enough to reveal how well his cut-up tenor serves its infidelity narrative.

When Hornsby's distinctive piano ripples through Between Me and You, which also features Tony Levin on the bass-like Chapman stick, it's not taking you out of the moment; it's boosting the emotion of a song about a family man's struggle to stay connected. The genre-mashing Ohio duo push their musical boundaries even further on their fourth album, nimbly and fearlessly goosing their synth-heavy indie-pop and self-deprecatingly dorky hip-hop with everything from ukulele-pop and EDM to dubstep — without forgetting the catchy hooks and melodies. He has mastered the craft of leaping on to monitors and jabbing fingers at pertinent moments, but the gospelish fervour of Can't Deny My Love and Lonely Town's Springsteen-goes-disco tumult would be far better conveyed by a singer with more rockstar in their DNA.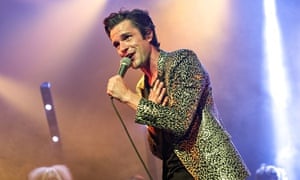 But I feel like something like Lonely Town could translate in a big arena." Then again, the Brandon Flowers road show is considerably more compact than the Killers'. In recent years the band has played Staples Centre and the Hollywood Bowl, but when Flowers' solo tour reaches LA in September, he'll be at the Wiltern. "Yeah, that's hard on my ego," he said with a laugh. "No, it's fine.

The inimitable U.K. weirdos' sophomore album mixes another fever-dream cocktail of sounds and styles, with punky guitar riffs set to groove-metal backbeats, psychedelic keyboards fuelled by proggy arrangements, and soaring vocals delivering twisted lyrics. But the truth is, the musical debut of X-Files star Duchovny is about what you'd expect from an actor who just started picked up guitar a few years ago. His husky baritone is amateurish and average, his lyrics substitute wordplay for thought, and his country-rock tunes clearly emulate heroes like Dylan and Cohen and Wilco. Well, if you're the soundtrack to this musical-comedy sequel, you up the ante with more bizarro a cappella medleys (including one that links America the Beautiful and Miley's Wrecking Ball), a new version of the single Cups, and cameos by everyone from Pentatonix to a Christmas-carolling Snoop Dogg.

The cavernous setting dilutes the sonic punch somewhat, but Springsteen and co. still deliver the goods, offsetting the synth-heavy '80s hits with '70s classics, covers and stories. Playful and easygoing, balancing mellow maturity with soulful pub-rock, this 12-tracker eschews the band's acerbic new wave punch for the earthier earlier fare. But with his ma Ruth lending her own six-string skills and stirring vocals to his breezy coffeehouse folk, he's half of Americana's most buzzed-about duo. The former (and possibly future) Guided by Voices leader's bazillionth solo outing is one of his most focused in years, boasting complete, sharply written '60s pop and glam knockoffs instead of snippets and noodling.
So those who remember O'Rourke from his experimental efforts with Sonic Youth and Wilco — and expect him to act accordingly on his first disc in six years — may find these '70s-style songs somewhat conventional. But on their 10th release in 17 years, these hard-hitting Swedes firmly remain what they've always been: A reasonable facsimile of classic Sunset Strip sleaze-metal and glam, cut with just enough spaced-out stoner-rock influence to stand out from the retro-pack. Unsurprisingly, these 10 cuts also return to familiar ground, in the form of grandly soaring arena-rock anthems decorated with lavishly layered prog and gently skittery electronica.
But that isn't stopping these banjo-pickin' Finns from getting in on the act with their own rustic renditions of AC/DC, Zeppelin, Maiden, Dio, GN'R, Metallica — and their own punny handle. And it captures Cave and co. at full strength, unleashing a career-spanning set that seamlessly shifts and segues between hard-hitting full-band material, solo piano balladry and plenty of audience interaction and requests. It not only invests leader Tony Dekker's guitar and vocals with some free reverb, but also serves as an appropriate setting for this typically beautiful and thoughtful batch of environmentally themed works.
Not only does this album feature 76 minutes of decent-sounding mono recordings capturing British blues legend Mayall in his prime — it also documents a short-lived Bluesbreakers lineup with guitarist Peter Green, drummer Mick Fleetwood and bassist John McVie, who soon formed Fleetwood Mac. Like its forerunners, the California Americana duo's third studio release consists of just two harmonizing voices, two delicately intertwined acoustic guitars and a lineup of simple, soothing folk gems that hark back to the classic sound of Simon and Garfunkel and the Everlys.
With her fittingly self-titled third solo album, the New Pornographers singer-keyboardist pulls a 180° from 2011's Bright & Vivid — she settles down and looks inward with richly atmospheric, adventurously produced ballads (plus a few hits of Stereolab electro-pop) that showcase her warm Karen Carpenter vocals.
Share this article: