Is That Ben Affleck Battling the Joker on the Suicide Squad Set?
Batman Battles With The Joker in Action-Packed Car Chase in Suicide Squad: First Photos!.
Photos surfaced Thursday from the set of David Ayer's highly anticipated comic book flick that show a mysteriously dimple-chinned Batman hitching a ride on the Joker's pink sports car. Earnest anticipation for forthcoming superhero epic Suicide Squad appeared to be well justified on Wednesday evening as filming commenced on the streets of Toronto.When Warner Bros announced a slate of 10 new superhero movies based on its rights to the DC Comics back catalogue last October, it's fair to say that Suicide Squad wasn't among the obvious highlights. Cast and crew were gathered for a pivotal outdoor scene in the Canadian city that involved a fast-paced battle between Batman and iconic nemesis The Joker. Most expected the Dirty Dozen-style antiheroes outing to be Warner's answer to Guardians of the Galaxy, a little-known proposition (outside superfan circles) which would allow the studio to rev its engine in a remote corner of the DC cinematic universe without too much fallout if fans didn't bite.

Jared Leto (starring as the green-haired super villain) appears behind the wheel in the photo, with his sidekick, Harley Quinn (played by Margot Robbie), riding shotgun. Also seen was Australian actress Margot Robbie – dressed in character as fictional supervillain Harley Quinn and seated in the rear of cohort The Joker's sleek red Infiniti G35. Following the announcement of a supremely starry cast, including Jared Leto as the Joker, Will Smith as Deadshot, Joel Kinnaman as Rick Flag and Margot Robbie as Harley Quinn, David Ayer's movie has begun to look a far more attractive proposition.

While there's still a chance this Suicide Squad Batman is the same brooding hero from Zack Snyder's Batman v Superman, the Bat in this photo is unfortunately not Affleck. With cameras surrounding the action packed scene Batman actor Ben Affleck's stunt double leapt atop the moving vehicle and endeavoured to tear a hole in the roof. Warner Bros. has been silent on the speculation so far, but with DC Comics (which owns the rights to Batman and the Suicide Squad) looking to consolidate its movie universe – à la Marvel – there's a good chance we'll be getting two Batfleck appearances in 2016. Suicide Squad is set for release next August, just five months after Batman V Superman: Dawn of Justice, which marks Ben's first appearance as Batman, hits cinemas.

The film follows a group of supervillains imprisoned in an asylum who are offered clemency by a secret government agency in return for carrying out covert black ops. They are forced to take on blackops suicide missions for the US government in exchange for commuted sentences, which helps to explain why the Joker and his ilk never seem to be behind bars for long (though the clown prince of villainy is not known as a core member of the team in print). Back in January, Forbes reported that Batman's storyline in Suicide Squad would be linked to The Joker, paving the way for Jared Leto's incarnation of the iconic villain to appear in the planned standalone Batman movie. Batman has occasionally found himself getting caught up in the Suicide Squad's affairs, so there's nothing canonically wrong with Ayer introducing Bruce Wayne into proceedings. Cara Delevingne, Will Smith, Scott Eastwood, Adam Beach, Jai Courtney, Karen Fukuhara, Joel Kinnaman, Adewale Akinnuoye-Agbaje and Jay Hernandez also star.

Of course, this could all mean we've just about had enough of the caped crusader by the time Justice League parts one and two rollout around 2017 and 2019, but that hasn't happened so far with Marvel characters such as Iron Man. The newcomer's only shared universe effort so far is middling Superman reboot Man of Steel, while Marvel has already delivered half a dozen bona fide critical smashes.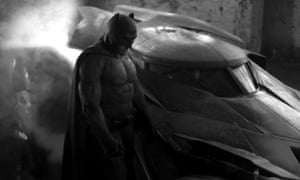 Share this article: