Ice and the Sky review – powerful eco doc fronts up to climate change deniers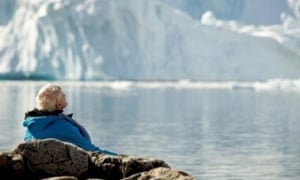 'Ice and the Sky' ('La Glace et le Ciel'): Cannes Review.
The Cannes film festival winds to a solemn close with this documentary from Luc Jacquet, previously responsible for one of the mega-hits of eco-cinema, March of the Penguins. Ice and The Sky by Luc Jacquet retraces the life of the glaciologist Claude Lorius, now 82 years old, the inventor of the "isotopic thermometer" and the pioneer of the glacial chronology of climate, who explored some 420,000 years of climate change to draw an alarming picture of a world bruised by man. The documentary wrapped up the 68th edition by foregrounding an issue so central this year it overshadowed even the debate over whether high heels should be compulsory at premieres. Claude Lorius met his destiny at Charcot, a burrow under the ice of Antarctica, where he took the first snow crystals measures with a pioneering spirit during the International Geophysical Year, a set of coordinated research on 40 worldwide observatories in 1957. Jacquet presents his film very much as a head-on challenge to climate change deniers: by simply talking us through Lorius's career, and the progress of his work, we understand the methodical processes by which he came to his conclusions.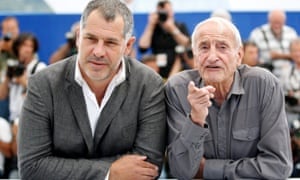 Since he was the first one, using dating of ice cores extracted in Antarctica, to prove that climate change can be attributed to humans all the way back in a 1985 Nature cover story — oddly never mentioned in the film — it's not a surprise that Jacquet's feature has something of an activist, call-to-arms edge. Since then, his unreasonable love for Antarctica led him to frequently return to the largest desert in the world to make there major discoveries about the past and the future of the planet.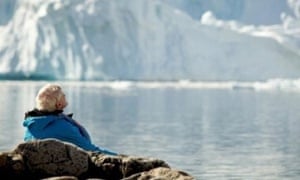 Essentially, it's a rebuttal to background-noise deniers' complaints about flawed science: Lorius says what he found, and what it means, with calm, unflappable detachment. But in terms of its form, the film is rather classically assembled, combining a voice-over narration with archive material (some of it never previously seen) and spectacularly filmed and staged shots of the now 83-year-old Lorius as he witnesses the havoc, caused by the climate change he saw coming some 30 years ago, in various locales around the world. We are taken through the stages: Lorius's first trip to Antarctica to study snow; the realisation that the ratio of "light" hydrogen atoms to "heavy" in each snowflake corresponds precisely to the ambient temperature of the day of the snowfall; then decision to take core samples to study the change in temperature over time. Jacquet decribes a rather entertaining eureka moment: when ancient ice is used for a celebratory whisky, Lorius realised the trapped air that escapes can be analysed too, for its gas content. Like in Jacquet's last film, Once Upon a Forest, the gravitas-filled tones of Michel Papineschi again provide a voice-over that holds the entire enterprise together, with Papineschi speaking in the first person, as if he were Lorius, to recount his memories of his exploits and discoveries.

His findings scientifically reveal that for 100 years the temperature has risen exponentially, a rise never experienced before in history… In 2006, Luc Jacquet won the Best Documentary Oscar with La Marche de l'Empereur, and, encouraged by this global success, the director created the Wild-Touch association. As the voiceover describe's Lorius' deep-drilling operations – first to 900m, extracting ice around 40,000 years old; and then with the help of engineers at a remote Soviet base, to 3600m and 400,000 years – the simplicity of Jacquet's method begins to hit home: this amassing of data makes the emotional charge of the film unanswerable. The text is occasionally poetic and never too technical — indeed, the film might have benefited from a smidgen more on the science behind glaciology — and, overall, very accessible even for adult audiences with no scientific background whatsoever, though those that don't believe in climate change will find nothing here that speaks to their (according to Lorius intentionally ill-informed) point of view. Born from the postwar fervor, the era of exploration in the 50s and 60s have man believe that the world belonged to him and he could dele upon it a reign supreme.

The optimism of the 1950s and 1960s is quickly sketched, as "machines that were invented for war were now used by science," and scientific progress seemed to have only benefits and no apparent cost. But I make fierce cinema, political cinema, cinema that has no choice." Lorius, now 83, said he hoped that among those moved by the movie would be decision-makers attending the Cop21 summit on climate change in Paris this winter. "It's essential. Roughly the first half-hour is dedicated to Claude's first polar experience at the French Charcot Base, which would prove to be the beginning of a lifelong love affair with the Antarctica ("I shall forever be 23," he says about the formative power of that first expedition). Lorius and two others spent a year in a single, 250 square feet underground space, heated to just 45°F, that was a 28-day trek away from the Antarctic coast.

It's here that Lorius laid the groundwork for his later discoveries, initially mapping the mountains and valleys of the continent that lay hidden under 6500 feet of snow and ice. These include one in 1959 he got to do in lieu of military service, about which Lorius states that the weather was so brutal that "windless days with a temperature of -13°F started to feel like a heat wave," and a harrowing experience in the 1970s, when a U.S. plane meant to get them out of Antarctica caught fire as they took off and a second plane, brought in to replace the first, then suffered a similar fate. On Monday, Chariots of Fire producer David Puttnam announced a major new movie about the Arctic 30, the Greenpeace activists imprisoned in 2013 after protesting against Russian oil-drilling in the Arctic.

The scientist's biggest breakthrough was the fortunate discovery that the chemical composition of snow allowed him to calculate the exact temperature on the day it fell, which means that samples of thousands of years ago could be surveyed to get an idea of the rise and fall of temperatures over extended periods of time (the documentary shows samples of up to 400,000 years old). It was, he said, a reaction to his disillusion with conventional activism and the backlash to the 2005 Climate Change Bill, which he helped oversee. "Rather late in life," he said, "I've had to come to terms with the fact that the only professional tool I have at my disposal is that of a one-time producer." Footage also premiered at the festival of Richard Branson-backed drama Chloe & Theo, starring Fifty Shades of Grey's Dakota Johnson as a homeless woman who befriends an Inuit man who travels to New York after his Arctic hometown is submerged beneath the sea. Charlize Theron cautioned that the drought and deserts depicted in Mad Max: Fury Road would likely become a reality unless action was taken. "What makes [the film] even scarier is that it is something like that is not far off if we don't pull it together." Even actors whose movies don't directly engage with the issue appeared to be reading from the same script. Speaking to the Guardian, the actor Gabriel Byrne, whose film Louder than Bombs is freighted with generalised anxiety about the future, said there is "no greater crisis" than global warming. "If we don't get climate change under control it doesn't really matter what else we aspire to.

We need to make people aware of the real danger of annihilation." Byrne compared the current disengagement to Third Reich Germany. "This is everyone's responsibility. Otherwise, editor Stephane Mazalaigue impressively maintains the delicate balance between narration, new footage of Lorius and pre-existing material, while the latter, which was often silent, is greatly enhanced by expert, very atmospheric soundwork.

Resting nicely in a cocoon of apathy is such a betrayal of the people who come after us, if they come after us." As well as using cinema as a consciousness-raising tool, the festival has also attempted to forge new ways to make movie production more eco-friendly. Composer Cyrille Aufort's score helps ensure that the rhythm doesn't lag or things become too dry and scientific, with the frequent use of percussion foregrounding the adventurous elements of Lorius's amazing life story. Directors such as Bernardo Bertolucci, Wim Wenders, Walter Salles and Atom Egoyan were among those who endorsed an initiative by Film4Climate to reduce cinema's impact on the environment. I am looking forward to see testimonies about the climate changes." "It's time for a global creative and influential alliance to tackle the climate crisis," added programme manager Lucia Grenna. For his part, Jacquet agreed that the innovation involved in such action could be a source of new excitement. "If everyone really tackles these issues they will cease to be issues; they will be a source of creativity.

If we make a collective effort we will all be stronger after it." Lorius echoed the optimism, saying that the spirit of collaboration – between France, Russia and the US, at the height of the cold war – which had enabled first his research served as a model for the future.

Share this article: