I Snuck Into Shia LaBeoufs #ALLMYMOVIES
I Snuck Into Shia LaBeouf's #ALLMYMOVIES.
I like to think I have many talents. It started as just another "crazy Shia LaBeouf art project," as weird and self-indulgent as the time he sat in a Los Angeles art gallery and cried from behind a paper bag.
The former child star has spent the last two days cooped up in an art-house theater in New York City watching all his movies in reverse chronological order. Twitter, or at least my corner of Film Twitter, exploded when the marathon began on Tuesday, with this year's little-seen Man Down. "Watch Shia LaBeouf watch his own terrible movies!" we crowed, with no small amount of schadenfreude. "Will he really manage to sit through Transformers: Dark of the Moon?" we wondered. He could be seen wearing a green raincoat and white hooded sweatshirt during an early-morning screenings of "Charlie's Angels: Full Throttle" and "I, Robot," in which he has small parts.
He spent Tuesday and Wednesday plowing through his more recent work — supporting turns in "Fury" and "Lawless," lead roles in the "Transformers" series and the last "Indiana Jones" installment. But like any joke that keeps going, it changed; Shia took a nap during Transformers: Revenge of the Fallen, and we couldn't help thinking of the physical toll this kind of stunt would have taken.
When I got to the door, security told me the tickets were fake and, I kid you not, thirty minutes later I was inside watching the show – from backstage. Shia ordered pizza for the other people in the theater, and even though he still wasn't speaking to his fellow moviegoers, he started seeming a bit more human.
The tide began to turn, even for us looky-loos just playing along on Twitter; to peek at the schedule and then watch Shia watching himself as an animated penguin in Surf's Up was to retake that journey of watching him grow up on-screen, and glimpse again, through that silent live-stream feed, the boy who's spent most of his life on camera. Thursday afternoon, when The Even Stevens Movie began playing around two P.M., LaBeouf looked livelier than ever—laughing, staring with rapt attention, even wiping away some tears. Shirtless and with bizarre hair, a ratty ponytail sitting wetly on his shoulder, Shia rapped enthusiastically, if clumsily, at a group of very supportive onlookers.
We can't support his comparisons to Tupac, but we like the bit where he called Transformers "the dummy rap", even if that doesn't mean anything. We can't really know—he's an actor, after all, and these emotions we're reading on the silent live stream could all be part of the "art." But #AllMyMovies can be our Rosebud, at least a very Shia LaBeouf–specific one. Here's the kid we made a star for some good reason way back when, who's managed to make something fascinating and poignant out of the most navel-gazing art project imaginable. In Amsterdam, he dashed 144 times around Stedelijk museum, dressed in purple leggings and a mint green vest. 1) That is an impressively athletic art performance. 2) It is dead dead meaningful, showing us both the essential futility and repetitiveness of life, in which we so often walk the same paths over and over again until we can't go on anymore, and also how we are so busy running that we fail to notice beauty, like he'd find inside the museum if he weren't so busy charging past it. (We came up with that old nonsense just now.

I asked the ticket counter guy if there was some sort of expedited press line, to which he said "nope." So I bought a ticket for whatever movie was playing next, I think it was I Smile Back. It was clear that no one was really watching the movie, not just because Transformers is a terrible movie, but because it's impossible to take the film seriously when one of the actors is present. But when LaBeouf said he "dropped the ball on the legacy" with Indiana Jones and the Crystal Skull and that Transformers was "just a bunch of robots fighting each other" there weren't many people who disagreed.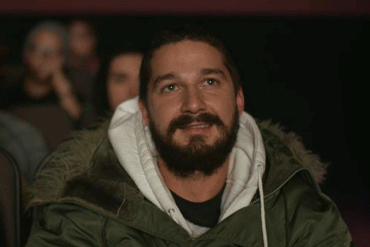 Most of the internet does it constantly, but few go to as much effort as Rob Cantor, who gathered a full orchestra, choir and dancers for a performance piece about LaBeouf as a cannibalistic killer. Following some daft questions, LaBeouf stormed out of a press conference for Nymphomaniac with the words, "When seagulls follow the trawler it's because they think sardines will be thrown into the sea". Ahead of the graduation show for the Central Saint Martins art college LaBeouf and his artistic collaborators, Nastja Sade Ronkko and Luke Turner, asked students for a few words to sum up their work.

Share this article: