Huppert stars in Trier's bereaved family film at Cannes
'Louder Than Bombs': Cannes Review.
Norwegian film-maker Joachim Trier and his longtime screenwriter Eskil Vogt – a director himself – won golden opinions at Cannes in 2011 with their film Oslo, August 31st, which showed in the Un Certain Regard sidebar.With Isabelle Huppert and Gabriel Byrne in Monday's press conference lineup for Joachim Trier's competition entry Louder Than Bombs, there was a sizeable wealth of experience assembled.This achingly tasteful, very well acted film – playing in the main competition at Cannes – tiptoes cautiously around the family of a newspaper photographer who has recently killed herself by driving into a lorry.

In the 35 years since "Ordinary People," American cinema has told and retold stories of how a death in the family can reveal the dysfunction no one wanted to admit was there. "Louder Than Bombs" is just such a picture, studying how a widower and his two sons cope with learning the "circumstances" of the accident that killed his war-photographer wife, but it also manages to be the opposite of nearly every other film in the genre. Directed by Joachim Trier, who's certainly gifted enough to have turned in a passive-viewing tearjerker, "Bombs" asks audiences to bring their brains, eschewing grand catharsis in favor of subtle psychological nuance, resulting in a film that runs both slender and cold on the surface, but rewards the arthouse audiences willing to give it a deeper reading. In his first film role (he has previously been seen as a younger Louis C.K. in the TV series Louie), the actor plays a teenager dealing with the family fallout from the suicide of his mother (Huppert) and his growing animosity towards his father (Byrne).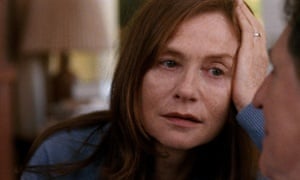 Gabriel Byrne plays the numbed widower failing to rally his two sons: teenager Devin Druid is psychopathically uncommunicative; twentysomething Jesse Eisenberg is drifting from his wife and new baby. While it's well acted and has strong moments on a scene-by-scene basis, the film lacks an emotional center, keeping the impact cool and diffuse where it should be affecting. Nonetheless, Trier's intelligent, multilayered stories (Reprise and Oslo, August 31st) have the texture and depth of a good novel, balancing several characters and themes with a casual grace.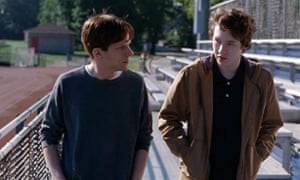 It is about a supposedly renowned war photographer, preposterously played by Isabelle Huppert, who evidently specialises in those apoliticised, stereotypical images of women in veils in the Middle East and of nameless people getting blown up: we are naturally invited to admire her courage in getting these images published in the face of placid, heartless Western indifference. (Worryingly, Juliette Binoche played a similar role in the film A Thousand Times Goodnight: another posturingly daring "war photographer" who is not believable for a single moment.) A major retrospective exhibition is organised after the photographer's tragic and untimely death, along with a lengthy profile in the New York Times by her close colleague, played by David Strathairn. Switching to English is no trouble for Trier, who studied at the U.K.'s National Film & Television School, although there remains something far more alien about the cinematic syntax and language he uses to express his ideas. For his next trick, he's taken on one of the most disreputable cinematic subgenres: the sentimental dead-family-member melodrama. finds the Danish director once again collaborating with cowriter Eskil Vogt to tell an original story that's part of an old Hollywood awards-season tradition. She's delved into both the mother and father figure in my life, she's always been there for me and is supportive of everything I do, especially with something like this," he said. "And she's ready, geared up every time, not complaining about a single thing. But the character observation is both less original and less consistent than usual, and though this is a contemporary drama, it often feels awkwardly like a period piece, at times recalling Ang Lee's superior The Ice Storm in tone.

She just wants to help me and my younger brother reach our dreams of what we want to do," he said. "I don't know how she does it, she's a superhero. They meander blandly about bland suburbs and work through bland traumas that we are forced to assume must have something to do with the missing Huppert. Consider the title, which, apart from being a reference to the Smiths' classic compilation album, feels like false advertising for such a quiet film, which is carried along by Ola Flottum's low, trancelike score, yet is set so far away from the front lines where Isabelle Reed (Isabelle Huppert) is out trying to change the world.

Supermom, I love you." Aside from praising his young co-star, Byrne also called working with Huppert a "lifelong ambition." He added: "Someone once asked who my favorite actress was, and I said her." We learn via a quick montage of award speeches, interviews and news reports that Isabelle did her best work by remaining in conflict zones after the tanks pulled out, in order to capture the consequences of war. Eisenberg becomes the father of a baby son and wanders through the hospital in search of food for his ravenously hungry wife; he comes across his old girlfriend, in the same hospital to care for her ailing mother – a clever, ambiguous scene ensues. Obviously, such a career can ruin a person, too, making it impossible to readjust to a society that's not only too calm, but too far removed from the action to raise awareness, creating a domino effect where post-traumatic stress is concerned.

Weaving together flashbacks with present-day brooding, revealing hurtful family secrets and offering observations on the alienation of modern life, Trier's film approaches terrain that's been covered in everything from American Beauty to Little Children to Men, Women & Children. Gene asks for time to tell his withdrawn youngest son Conrad (Devin Druid), who was just 12 when his mother died and has been spared any knowledge of her apparent suicide.

For Times colleague Richard Weissman (David Strathairn), Isabelle represents a fallen hero whose memory he seeks to honor by writing an in-depth column timed to coincide with a posthumous retrospective of her work — a story in which he intends to reveal that Isabelle's death was almost certainly a suicide. The two sons bond over the weirdness of everything that is happening, and the poor old dad tries to bond with his younger boy over first-person fantasy computer games. For Isabelle's husband, Gene (Gabriel Byrne), that deadline means having to re-examine his feelings toward his wife, as well as breaking the news to his sulky teenage son, Conrad (played by "Olive Kitteridge's" promising Devin Druid). While carrying on an affair with the lad's teacher (this makes the film sound more eventful than it actually is), he worries over the right strategies.

The narrative unfolds in non-linear style, and while editor Olivier Bugge Coutte brings fluidity to the back and forth between past and present, this adds to the film's uncertainty about where exactly its heart should be. Meanwhile, older sibling Jonah (Jesse Eisenberg, once again typecast as the neurotic academic) seems more well adjusted at first, having just fathered an infant son, though he clearly has no shortage of issues to work through as well.

He's the kind of character that tends to get trapped in the downtrodden and struggles to get out of it, and yet here his character displays an emotional spectrum most actors in this position tend to ignore. Frankly, the sight of these characters coping with Isabelle's death isn't nearly as rich or ambitious as another parallel theme that Trier and writing partner Eskil Vogt have opted to explore with the project: the issue of artistic ambition and how committing to a creative career (or abandoning it, as the case may be) shapes our lives and the relationships we maintain with loved ones. An overachiever who's just about to begin a professorship, he has also just become a father—a development he welcomes, even though he runs into his beautiful ex-girlfriend (Rachel Brosnahan) in the hospital, reigniting an old spark.
Shifting to English, and the template of Anglo-Hollywood, has perhaps created a tonal and structural difficulty for Trier, and the resulting film feels not merely like a knockoff of American Beauty, but like a pastiche of something by Atom Egoyan or Denis Villeneuve: a tiresome Euro-American pudding. There is one very striking closeup sequence of Isabelle Huppert's face, reminding us what potential this performer will always bring to any film project.
When it later emerges that Jonah is no less messed-up than Conrad, it's hard to summon much feeling for the supercilious neurotic, even if he does show tenderness in reaching out to his younger brother. Both of Trier's previous features, "Reprise" and the suicide-centered "Oslo, August 31st," concern themselves with tortured intellectuals who question their own existence, vacillating between whatever force drives them to create and the equally compelling impulse to self-destruct. But Richard lets Gene know he's going to be honest in the piece, revealing to the world what he, Gene and Jonah know: Her car crash wasn't an accident but, rather, a suicidal act. When we meet the kid, he seems awkward and angry, although in time, by replaying a series of events through the character's perspective rather than his father's, we see that he, too, has artistic talent, as a writer — a career for which Trier himself sometimes seems more suited.
Moments of self indulgence (black and white, dreamlike cut scenes) are forgiven, simply due to the fact that the chemistry of its characters can really be quite something. It's perhaps true to life that the resentment of both sons toward their father is explored only in vague terms, but this just leaves Gene moping around the edges of the story without much to do, beyond being the standard concerned, misunderstood parent, clueless about how to communicate with his fractured family. After all, behind the pic's highly technical framing is a literary-minded helmer who appears to view screenwriting as an extension of the Nouveau Roman (or "new novel") tradition, constantly bending the rules and toying with such elements as narrative continuity, structure and form in bold but always elegant ways. With patience and novelistic flair—although, blessedly, without the portentous voiceover narration that usually saps such stories of vitality—Trier creates a portrait of three men still grappling with their memories of Isabelle. In Trier's hands, storytelling becomes a political act — not the sort that sees Isabelle's reasons for repeatedly putting herself in harm's way as being worthier than whatever domestic satisfaction she might take from staying home, but rather the kind that challenges the accepted modes of cinematic expression.
Typically, these movies will include flashbacks that tease the existence of some deep, dark secret that, by the end, will be revealed, bringing healing to all. The director indulges his taste for literary detours by having Jonah read Conrad's journal, a mix of direct experience, online adventure, rant and rapture that allows for some interesting visual flourishes. But this interlude, along with an English-class reading exercise that becomes a romantic fantasy, sit rather heavily like chunks of refined prose lobbed in amidst the naturalistic drama. Conrad shuts down Gene's every attempt at father-son communication, including a desperate workaround Gene attempts, going undercover in his son's favorite role-playing game. The device works better with Isabelle's dissection of her own surreal existence, a free-flowing reflection on the difficult adjustment of coming home from bomb blasts and death to a normal life in the leafy suburbs.
At first, Johan has more encouraging words for Conrad, but then, in a horrifying conversation on the school bleachers, we realize just how scarred and cynical his older brother is. While she's deceased throughout most of the action, Huppert's depressed character is the most vivid person onscreen, and her shaded performance is a nice study in contrasts — intense yet subdued, brittle but also soft and warm, removed though still accessible. It's as if all the trauma Isabelle took upon herself were passed on to her family, the battle scars she wears with pride internalized by those who spent every day afraid she might die in the field. Trier has meaningful things to say about the ways in which tragic, incomprehensible loss can make us hyper-protective, jealous, even dishonest with our private memories and with the picture we present of the loved one who's gone.
Those looking for a sexy in-the-trenches thriller would do better to track down "1,000 Times Good Night," in which Michael Haneke's other muse, Juliette Binoche, also plays a war photographer. Production companies: Motlys, Memento Films Production, Nimbus Film, in association with Animal Kingdom, Beachside Films, Memento Films International, Memento Films Distribution, Bona Fide Productions Trier doesn't intentionally resist such a tidy conclusion, but his ending is in keeping with the film's insistence that the trauma of one ordinary family, if viewed from the proper perspective, can be engaging, insightful and open-ended.
Share this article: