Highlights of Red Nose Day USA 2015
Chris Martin v George RR Martin: watch Coldplay's Game of Thrones Musical.
So we're not quite sure why the veggie burger loving singer, who called his daughter Apple instead of Storm Lady Dragon Hell, was picked to record a Game of Thrones musical but he made a pretty good go of it. It's all been rather downbeat in Camp Chris Martin of late: the divorce, the subsequent songs about the divorce, the (alleged) fending off of beautiful young Hollywood a-listers.This sketch for the US debut of Red Nose Day is actually really very funny as Martin's first attempt to get the musical off the ground flops when only two actors show up. The Coldplay singer directed proceedings as cast members Kit Harington, Nikolaj Coster-Waldau, Emilia Clarke, Iwan Rheon, Thomas Brodie-Sangster, Mark Addy, John Bradley, Rose Leslie, Alfie Allen and Charlotte Hope belted out tunes based on their adventures in Westeros. Harington shows off his rock star swagger with a cover of Wild Thing with the title changed to Wildling while Emilia Clarke becomes Rastafarian Targaryen.
Stars who lent their support included, Julia Roberts, Coldplay, Jennifer Aniston, Julianne Moore, Jodie Foster, Reese Witherspoon, Sienna Miller, Paul Rudd, Eddie Redmayne, Benedict Cumberbatch, Sir Ian McKellen, Orlando Bloom, Simon Cowell, Naomi Campbell, Will Ferrell, Jack Black, Emily Blunt, Michelle Rodriguez, Gwyneth Paltrow, Sam Smith, John Legend, Christina Aguilera, Pharrell Williams, Bill Gates, Jeff Goldblum, Sean "P. Entitled Game Of Thrones: the Musical, the band's most important venture yet includes Coldplay's "first romantic song about incest" and Khaleesi singing a reggae track. George R Martin meets Chris Martin, what could go wrong?" says Clarke just before the video pans to her in studio, rasta hat on, laying down some smooth vocals. The tongue-in-cheek parody aired last night as part of the charity telethon, which also featured a host of other stars including Benedict Cumberbatch, Matt LeBlanc, Robert Pattinson, Simon Cowell, Gwyneth Paltrow, Chris Pine, Julianne Moore, Sam Smith and Jennifer Aniston.
Watch it below. "I'm a Rastafarian, Targaryen / I got some dragons and they are very scary / Been here and there and then I been everywhere again" sings Khaleesi as she busts some serious moves. Clarke has played the mother of dragons Daenerys Targaryen in the hit HBO fantasy drama since the first season and has yet to be knocked off unlike many other unfortunate characters. Earlier on in the week Peter Dinkladge took to the stage to perform "A Man of All Seasons (still Going Strong)", a song about his staying power in the show. "Characters get cut for various reasons/ Some people's parts just ain't very long/ But not me, I'm still going strong!" were just some of the golden lyrics dropped by the Lanister dwarf.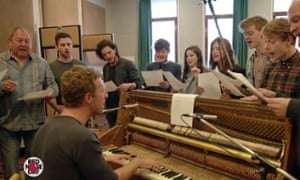 Share this article: