Gnarly! Chance the Rapper and Friends Drop Surprise Album 'Surf'
Chance The Rapper finally releases 'Surf' album … for free.
It's been a full two years, a lot of touring, and one borderline life-changing Lollapalooza performance since Chance the Rapper's Acid Rap, and finally we get the next project with his name on it: Surf.Last night Donnie Trumpet & the Social Experiment—the band he plays in with Chance the Rapper, Nate Fox, and Peter Cottontale—dropped their highly anticipated album for free via iTunes. From Lil Wayne's perpetually delayed final Carter album to early releases/leaks forcing Earl Sweatshirt and Kendrick Lamar's hands, often things are mothballed or shunted forward by forces well outside of an artist's or label's control. This is Donnie Trumpet's album, and the debut project for his Social Experiment band, for which Chance does the vocals and some of the arrangements.
Segal's vibrant, fluid playing is the glue for Surf, which is packed with guest vocalists and rappers: Busta Rhymes, Erykah Badu, and Jeremih are among the big names on the bill; King Louie and Migos member Quavo hold things down on "Familiar"; Noname Gypsy and J. Cole drop verses on "Warm Enough"; and Pivot Gang's Saba, who has been on a tear since last year's Comfort Zone, chews up "SmthnthtIwnt" largely on his own. Cole, doesn't highlight the booming brass that (wonderfully) punctuates this album, but it does low-key satisfy on a breezy summer day like a Frank Ocean jam and a drink with an umbrella in it. That's the alias of 21-year-old trumpeter Nico Segal who is joined by other members Nate Fox, Peter Wilkins and drummer Greg "Stix" Landfair Jr, while Chancelor Bennett is billed just as another part of the group.
What's now clear is that Surf is a cinematic and moody offering, with touches of modern jazz and elements of the now-defunct hip hop head-benders cLOUDDEAD in its DNA. In a Billboard interview last year Chance talked about the influence of the Lion King musical, and there's a strong theatrical pulse to the flow of Surf. It's not just that these tracks sound huge—like they should be performed on a stage with a moving set design similar to the one the band rolled out in the "Sunday Candy" video—but that the album sports a loose narrative structure; the songs fit together but are distinctly different from each other.
Opening track Miracle sees him take centre stage while he spits staggering, complex and meandering lyrics (that defy the GZA's recent assertion that lyricism in modern rap is a lost art) over backing that could be provided by Steve Winwood's psych rockers Traffic. Over the course of The Good Life becoming a proper band, they released a strong handful of hyper articulate, wildly depressed indie rock records, chief among them 2004's Album of the Year.
But he's far from the only attraction: Slip Slide alone features a cornucopia of rappers and singers including an in-form Busta Rhymes, BoB, BJ the Chicago Kid and Janelle Monaé. In the many recent instances in which a pop artist has dropped a surprise album, I've generally experienced the initial rush of excitement from the confines of my apartment, crouched over my computer and combing through a flood of hot or lukewarm takes. Some have said this isn't a rap album, but if that's the case it does a pretty good job of pretending to be one with King Louie, Big Sean, J Cole and Quavo of Migos fame all showing up and well, rapping. I watched 30-second previews of the video portion of Beyonce's self-titled album around the same time I noticed the news hit Twitter; I happened to be sitting in front of my laptop when I got the news that Kendrick Lamar's To Pimp a Butterfly came out a week early, and started listening on Spotify before snapping it up on iTunes; and though I wasn't by my computer when I found out about Drake's If You're Reading This is To Late, a couple hours later I plopped down on the butt imprint on my "office" chair to get plugged in.
Everybody's Coming Down is out August 14, and if its first single is any indication, this comeback is worth paying attention to, at least lyrically. "Everybody's saddled with sadness/ A longing they can't quit/ Everybody knows this is transient/ They're trying not to notice," Kasher sings atop an organized mess of riffs and feedback, which gives me major Built to Spill and Modest Mouse vibes. I didn't want to repeat the same pattern with Surf, and I didn't want to wait to hear it till I was home, so I jumped to the iTunes store on my phone and downloaded Surf—it's the only album I've downloaded straight onto my year-old (ish) iPhone that wasn't forced onto the device by U2 or Apple. This is how Tim Kasher does a big anthem. "If it ain't broke, don't fix it" is not an idea I usually support with regards to an artist's evolution, but with Disclosure, I don't hate the approach.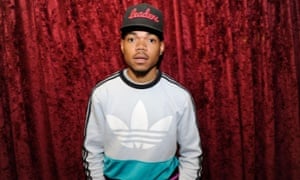 Other stand-out moments are found in collaborations such as on Rememory, where Erykah Badu emerges as a benevolent matriarch asking Chance how his day has gone, as if she's channeling Alfre Woodard's character in Spike Lee's Crooklyn. Their strong 2013 debut, Settle, spun house music into something modern pop fans could grasp and more importantly, move to. "Holding On" would fit in well on Settle, and that's not a bad thing after a brief hiastus from the Lawrence brothers. Perhaps the most poignant track, however, is Wanna Be Cool, where Chance is the singing, rapping, I-can-do-it-all front man while he spells out his reluctance to be held up as just that, singing: "I don't want to be cool, I just want to be me" over smooth, brazenly joyful Jam and Lewis 80s-style production.

In her debut solo single, Feeding People singer Jessie Jones takes the ambling, folkie route towards retro piano pop bliss. "You can kiss the ground that I walk on," Jones sneers sweetly, with a strong nod towards '60s girl groups. Live he, Donnie Trumpet and the Social Experiment have already proven potent and now on record they've gone into the studio and done something even more impressive by pulling together the energy of their live offering and moulding collaborators from across the rap-world spectrum into it. It wasn't the ideal circumstance for listening to Surf: the gorgeous textures and subtle tone changes often got drowned out by bustling Blue Line trains, revving motorcycle engines, and crowds filtering out of bars.

But I didn't care too much about the quality of the sound, or how silly I looked running to cross the street while angling the tail-end of my phone toward one of my ears. His lyrics are consistently the most interesting, his flow the most original and here he sounds content, as if in the group setting he is completely comfortable with being (in his mind at least) just one of the guys. Music is likely an important part of life to anyone who has ever been in a similar position of wanting nothing more than to listen to something right now. Still, I must turn your attention towards it again in honor of "Stage or Screen." The band's leader, Ruban Nielson, is best when he edits down his tendencies towards psychedelic jamming while still keeping some semblance of sideways looseness. "Stage or Screen," a clever song about acting out in a relationship, does just that. Bonus link: Shamir covering Kacey Musgraves' "Merry Go Round" for BBC Radio 1's Annie Mac is the center circle in a venn diagram of my musical interests.

And with the weather as lovely as it was last night, and with the sun-rising warmth of Surf bursting out of those tiny speakers, it felt like what I'd been looking forward to since winter put me in its vice grip so many months ago. His androgynous voice proves oddly perfect for country covers once again (seriously, check out Shamir's take on Lindi Ortega's "Lived and Died Alone" if you haven't soundtracked many a gloomy afternoon to it already).

Share this article: