FX sets 'Louie' return, nabs next Louis C.K. comedy special
'Louie' returns in April; FX sets new pilot.
FX has set April 9 as the premiere date for its Billy Crystal-Josh Gad comedy "The Comedians," which will bow in tandem with the fifth season of "Louie." At its Sunday presentation at the Television Critics Assn. press tour, FX also said it has ordered comedy pilot "Better Things" starring "Louie" player Pamela Adlon. "Louie" auteur Louis C.K. will co-write the comedy with Adlon and direct the pilot, which revolves around an actress trying to raise three daughters by herself. Additionally, FX also announced that it closed a deal to televise C.K.'s next stand-up comedy special, which will again debut on the comedian's website. As for why there are so few episodes, FX head John Landgraf had an answer: "He wants to keep making the show, which is an intense process, and we are trying to give him as much flexibility as we can. ET/PT), and the comedian is busy on other fronts: He'll sell his latest standup comedy special, Louis CK: Live from the Comedy Store, on his website, and then will air it on FX this spring.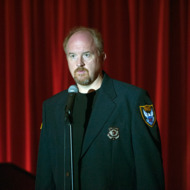 Better Things stars Adlon as Sam, a working actor trying to earn a living, navigate her three daughters' lives, having fun with a friend or two, and also — just maybe — squeezing in some sex once in a while. To be honest with you, I have to admit he was a little burned out… and needed time to recharge his batteries." Indeed, C.K. has been working hard: He added a record-breaking fourth show at Madison Square Garden to end his tour and he will also be writing, directing, and producing Pamela Adlon's new show Better Things. Louie's new season will follow The Comedians, starring Billy Crystal as the star of a sketch-comedy series who is reluctantly paired with a younger partner, played by Josh Gad.

The pilot hails from FX Productions and C.K.'s Pig Newton Productions. (FXP has an overall deal with C.K.'s production company, which is also behind Louie and upcoming comedy series Baskets, starring Zach Galifianakis.) Adlon is a two-time Emmy nominee for her role on Louie and took home the prize for her voiceover performance as Bobby Hill on King of the Hill. Her life is funny to watch, but you wouldn't want to live it (except sometimes)." When Louie returns in three months, it will be partnered with The Comedians, which stars Billy Crystal and Josh Gad. The pickup joins an FX pilot slate that also includes animated comedy Bigfoot, comedies Death Pact, Donald Glover's rap comedy Atlanta, Bill Burr's Pariah and Kurt Sutter's The Bastard Executioner. The next installment of American Horror Story is expected to air in October, per usual, while Ryan Murphy's other new anthology project, American Crime Story—which will be centered on the murder case vs.

Share this article: