French film 'Dheepan' wins Palme d'Or in upset Cannes finale
Cannes 2015: Jacques Audiard wins Palme D'or with refugee film, Cate Blanchett misses out on best actress.
Jacques Audiard, 63, took the Grand Prix (or runner-up award) five years ago for A Prophet, and competed at the festival three years ago with Rust & Bone. CANNES, France — The 68th Cannes Film Festival was brought to a surprising close Sunday with Jacques Audiard's Sri Lankan refugee drama taking the festival's coveted top honor, the Palme d'Or.Jacques Audiard has said he hopes the Palme d'Or win at Cannes for his seventh feature, Dheepan, will "help the situation" for migrant workers in Europe. His new film is a less-starry affair than those two; the tale of a former fighter in the Sri Lankan civil war trying to make a new life in France with a fake family.

Dheepan, which was gripping, subtly detailed and remarkably unpredictable given that it dealt with a subject of daily headlines, was directed by French favourite Jacques Audiard. Hou's film "The Assassin", a slow-burning drama set in ninth-century China, cost Tw$450 million ($14.78 million) and took the Taiwanese director 10 years to make. The biggest surprise, however, was the decision to share the award for best actress between Emmanuelle Bercot and Rooney Mara, snubbing crowd-favourite Cate Blanchett. It sees a trained female killer, played by Taiwanese actress Shu Qi, sent back to her home province to kill its governor — who is also the man she loves. "The innovation and its colourful way of telling the story has inspired a new trend in the arts of film and shone in international skies, vying glory for Taiwan," he said.

This year's Grand Prix went to 38-year-old debut director László Nemes for Son of Saul, the Auschwitz-set story of a prisoner working as a Sonderkommando, guiding Jews into the gas chambers and then disposing of their bodies. Jury members, though, said "Dheepan" was chosen for its overall strength as a film, rather than any topicality. "We all thought it was a very beautiful movie," said Ethan Coen, calling the decision "swift." "Everyone had some high level of excitement and enthusiasm for it." Audiard, springing to the podium at the Palais des Festivals, accepted the award with warm gratitude, bowing to the jury. The country's culture ministry said that Hou would be awarded Tw$5m ($164,200) to celebrate the feat, praising the movie's newly created martial arts style.

He was joined by the makeshift parents of his film: Kalieaswari Srinivasan and Antonythasan Jesuthasan, who himself was Tamil Tiger child soldier before finding political asylum in France. "To receive a prize from the Coen brothers is exceptional," said Audiard, who added that only receiving one from the Luc and Jean-Pierre Dardenne, the Belgian filmmaking siblings, could equal it. On the rough housing estate on the outskirts of Paris where they settle, Dheepan is forced use his battlefield experience to keep the three of them safe.

Carol was the first real festival hit; in a year with an unusually strong showing of female protagonists and great feminine performances, Blanchett was widely expected to scoop the prize. The director thanked his producers and actors, including Colin Farrell and Rachel Weisz, who play single people who must find a mate within 45 days or be turned into a wild animal. Her character, a wealthy wife torn between her real longings and the pretence of respectability she must maintain to keep custody of her daughter in 1950s America, unquestionably drives the drama.

Taiwan is currently recognised by only 22 countries, as China considers the island part of its territory and demands that all diplomatic allies cut off official ties. Some expected Nemes' horrifying plunge into the life of an Auschwitz worker to take the top award, but it's been 26 years since a debut film (Steven Soderbergh's "Sex, Lies, and Videotape") was given the Palme. The film follows a member of the Sonderkommando, the group of Jewish prisoners isolated from the camp and forced to assist the Nazis in their mass extermination. Rooney Mara took the gong for her role as an inexperienced shopgirl in 1950s New York who begins a relationship with Cate Blanchett's unhappily married mother-of-one. When he thinks he recognises his son among the bodies in the gas chamber, Saul decides to give the boy a decent burial, in a final bid to retain his human dignity.

Hollywood heavyweight Martin Scorsese filmed his forthcoming drama "Silence" on the island, to be released in 2016, while Taiwan-born, US-based director Ang Lee also shot his 2012 Oscar-winning 3D adventure "Life of Pi" in the country. Haynes, accepting the award in Mara's absence, said both he and she were "completely blown away and surprised" by the honour. "I love you, I wish you were here," he said. Hou Hsiao-Hsien, the masterful 68-year-old Taiwanese filmmaker, won best director for his first feature in eight years: "The Assassin," a lushly painterly martial arts drama. Once the competition was under way, however, critical favour started to slip between the Chinese entrants – Hou Hsiao-hsien's The Assassin and Jia Zhangke's Mountains May Depart – and the more stylistically daring Europeans, Yorgos Lanthimos's The Lobster and Oscar-winner Paolo Sorrentino's Youth, with Michael Caine and Harvey Keitel as two elderly artists facing the gloomy reality of their fading powers.

But Spanish actor and fellow juror Rossy de Palma did draw parallels between the film and "the people in the streets you see and wonder where they come from. I am not a famous actress, I am not a young actress, and that's what makes her so special: she doesn't care about the norm, she doesn't care about what's done or what's not, when she has an idea, she carries it through whatever. Veteran French star Vincent Lindon earned prolonged applause as he took the stage to pick up the best actor award for Stéphane Brizé's The Measure of a Man, in which he plays a man crushed by his job as a supermarket security guard.

It was given to both Rooney Mara, half of the romantic pair of Todd Haynes' '50s lesbian drama "Carol," and Emmanuelle Bercot, the French star of the roller coaster marriage drama "My King." (Bercot also directed the festival opener, "Standing Tall," about a delinquent teenager.) Any split was presumed to go to Mara and her "Carol" co-star, Cate Blanchett. Lindon beat the likes of Michael Caine ( Paolo Sorrentino's Youth), and Tim Roth, who plays a traumatised palliative care nurse in bleak drama Chronic.

Starring opposite Vincent Cassel, Bercot plays Tony, who, following a bad skiing accident, is forced to spend several weeks in a rehabilitation centre, where she takes time to think back on her passionate and tumultuous relationship with Georgio. The visibly moved Lindon won over some big-name competition, including Michael Caine, the star of Paolo Sorrentino's unrewarded "Youth," a wry, melancholy portrait of old age.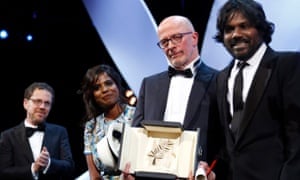 Speaking after the ceremony, Nemes addressed the film's contemporary relevance. "Europe is still haunted by the destruction of the European Jews," he said. "In Hungary you can feel it. It's the veteran actor's first ever award in a career spanning three decades. "Without a director who really appreciates him and wants the best for him, an actor can't achieve anything," Lindon told euronews. "So I share this award with Stéphane Brizé. The jury chose to reward Chinese slow cinema doyen Hou Hsiao-hsien with the best director prize for The Assassins, his visually lush take on a martial arts story. The Coens themselves took the Palme in 1991 for "Barton Fink." The last two Cannes winners have been three-hour art-house epics: the glacial Turkish drama "Winter Sleep," chosen last year by Jane Campion's jury, and "Blue is the Warmest Color," as picked by Steven Spielberg's jury. After his speech, Augusto continued the musical theme of this year's ceremony by leading the audience in a rendition of Happy Birthday to Reilly, who turned 50.

The Lobster, set in an indeterminate future where anyone uncoupled who fails to find a new partner is turned into an animal by the powers-that-be, won the Jury Prize. Best director went to Taiwanese film-maker Hou Hsiao-hsien, whose martial arts epic The Assassin marks his return to cinema after an eight year absence. Some of the films that drew the biggest raves ("Mad Max: Fury Road," Pixar's "Inside Out") played out of competition, while some in it (like Gus Van Sant's "The Sea of Trees") drew loud boos.

The festival was dominated by discussion about gender equality with many — from Blanchett to Jane Fonda — speaking about female opportunity in the movie business. "You hope it's not just the year," said Blanchett of the attention to women in film. "It's not some sort of fashionable moment." An honorary Palme d'Or was also given to French filmmaker Agnes Varda, the first woman to receive one and only the fourth director after Woody Allen, Clint Eastwood and Bernardo Bertolucci. Artistic director Thierry Frémaux's programme was at pains to promote homegrown talent, with nine of the 19 competition films either French productions or co-productions and US and UK directors thin on the ground. The pair forged a plan to work together at the after-party. "You should always treat festivals as a way of getting employment," said an ebullient Roth, calling himself Franco's "Mum, when Mum can't be around". But although there has been an absence of high-profile turkeys such as last year's opener, Grace of Monaco, the number of flat-out classics was also been felt to be down. Franco used the platform of the press conference to do what he'd forgotten in the ceremony: dedicate the prize to his grandmother, whose suffering after a stroke inspired the movie.

Last year's festival saw the premieres of Leviathan, Winter Sleep, Mr Turner, Jimmy's Hall, Foxcatcher, Wild Tales, Clouds of Sils Maria, Mommy and Two Days, One Night. Juror Jake Gyllenhaal praised the director's subtlety and bravery in handling "very complicated" subject matter. "The concept of assisted suicide is an interesting one, which should be brought into the conversation." The Camera d'Or for best first film went to César Augusto Acevedo for Land and Shade. The 38-year-old Nemes's first feature, this movie was widely acclaimed for taking audiences into a Nazi concentration camp and showing the Holocaust in a different way. Instead, the headlines were dominated by the midnight screening of Gaspar Noé's 3D sex movie, Love, and by "flatgate", which saw the festival under attack after security guards banned a number of women – including an amputee – from premieres for not wearing high heels.

Jane Birkin presented the honorary Palme d'Or to veteran director Agnes Varda, now 86, who made an emotional tribute to her late husband, the film-maker Jacques Demy, who died 25 years ago. The three Italian films in competition – including new movies from Nanni Moretti and Matteo Garrone – all failed to score an award, as did Justin Kurzel's stylish adaptation of Macbeth starring Michael Fassbender.

Dolan, whose new movie begins shooting in 24 hours, said the process had been unique. "Never have I discussed movies with such generosity and emotion. I somehow feel like a better person." Joel Coen echoed the sentiment, saying that "an experience this intense changes your life", while de Palma expressed her enthusiasm for "making love to cinema all day".

Share this article: